by Bill Mehlman
Before grabbing that little place in the city, there are a few things you need to know.     
For many New Jersey residents, "having it all" means something more than a blissful suburban existence. It also includes having a small Manhattan apartment. In the chaos of our current economy, some Garden Staters—through skillful investing or trading down their now-empty nests to smaller houses—have turned this longstanding dream into a reality. The process is complicated, but it can be simplified by breaking it down into four decisions: finances, type of transaction, size, and location (probably in that order). And, of course, finding professionals who can help you to make each decision a realistic one. We'll leave the money issues to you and your accountant. Just keep in mind that, in any real-estate transaction, you can expect to spend more than you planned to—and in Manhattan, you can depend on it. You'll also want to investigate any tax advantages that might accrue to you as the owner of a condominium or co-op.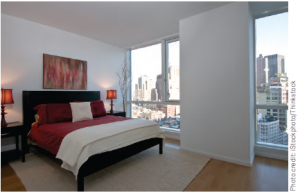 CO-OP VS. CONDO VS. RENTAL It's worth mentioning here that, contrary to the situation in most American cities, co-ops are much more common than condos in Manhattan. One real estate broker, a specialist in co-op and condo sales, made a point of explaining that, all things being equal, condos provide a wider choice to the out-of-town owner, since many co-op boards will decline to approve buyers who want a pied-à-terre. Most board members will favor full-time residents, who are less likely to turn their keys over to a parade of friends who want to spend a weekend in the city. If you can't find what you're looking for in the price range you've established, you may want to explore a rental apartment instead. It often involves a lower total monthly outlay than a condo, but keep in mind that you're not building any kind of equity as a tenant, and that Manhattan is rumored to have been an Algonquian name meaning "Island of Soaring Rents, Major Capital Improvements, and Two-Year (sometimes one-year) Leases." If you or your spouse works in the city, there may be a way to write off part of the monthly rent as a business expense, but as a rule the tax advantages of renting are not as attractive as owning.
SIZE, LOCATION & FEATURES These are the "fun" decisions, less fraught with legal and financial issues and easier to figure out. The price of an apartment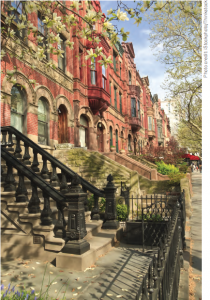 is determined by a combination of the square footage, location and amenities. The more you know about the value of each in the constantly shifting sands of New York City's co-op, condo and rental market, the more bang you'll get for your buck. The bells and whistles that drive up the price include having a doorman, a terrace, a non-closetsized kitchen and a good view. But you knew that already. Not everything, however, is intuitive to the out-of-towner. For example, discrepancies in prices between one-bedrooms and studios may not be overwhelming. Neighborhoods that seem on-the-fringe when you're visiting the city may actually be on the cusp. And that Upper East Side neighborhood that used to be out of reach when you were twentysomething and just out of college? Well, there's good news on that front, too. Manhattan has changed dramatically (Gothamites like to do everything dramatically) in the last 20 years. Areas like Tribeca, the Flatiron district, the Lower East Side, and the Meatpacking district—where most apartments were once cheap, but often of dubious quality and lacking in amenities—have become the hottest residential neighborhoods in town. Consequently, the Upper East Side, once the magnet for people of means looking for apartments, has become relatively reasonable. It's one of six neighborhoods in the city that offers good deals, interesting features or a little of both: Wall Street: Numerous palatial old office buildings in the Financial District, abandoned by brokerage firms, have been converted to apartments.
They feature high ceilings, great detailing, and virtually bomb-proof construction. Many have extraordinary harbor views. The neighborhood is safe, because there's almost no activity down there after the offices close up in the evenings and on weekends. Great transportation, good values, peace and quiet—but you'll be trekking to Chinatown for groceries. Battery Park City: Safe, serene, secluded and new—the oldest buildings only date to the mid-'80s. Self-contained, with stores, restaurants, doctors, and a movie theatre. There's a yacht basin, should you choose to navigate back and forth across the Hudson. The negatives: getting anywhere else in Manhattan can be a chore, and, somehow, the grit and energy of Manhattan are muted, almost mallified (if not mollified). Chelsea: Between 14th and 23rd Streets, west of Sixth Avenue. Restaurants by the score, endless nightlife, lots of culture (music, dance, theatre, and one of the city's biggest gallery scenes). The far western reaches are a bit isolated, and most of the bargains are gone, but you're in walking distance of most of what makes it worthwhile to put up with the city. The Garment District/Flower District: Roughly, Sixth to Eighth Avenues, 23rd Street to 42nd Street. Until recently, a desolate stretch of loft buildings, factories, storefronts, and tenements. Largely rebuilt, including an eye-popping stretch of towers on almost every block of Sixth Avenue from 23rd to 34th Streets. Variable values, and the area retains distinct traces of funky, unsanitized, pre-war New York, but there's easy access to the Flatiron, boasting one of the biggest groupings of topflight restaurants in the city, and the bright lights and theatres of Times Square. Tudor City: A little-known enclave overlooking the United Nations. Very safe, lovely parks, river views from some apartments. Walking distance to midtown, frequent buses to the Theatre District. A word from a broker who has done many deals here: caveat emptor—the apartments tend to be smaller than in other areas, and this is an older development—some of the units will need work. Nonetheless, the values are excellent and there is a distinctly Old World flavor that many find enchanting. The Upper East Side: Overbuilding, and the preference of many young singles for more exotic neighborhoods from Williamsburg to Harlem, has left a lot of empty apartments here. There's no fire sale; prices have held steady, as landlords anticipate the economy's resurrection, but you can negotiate a good deal if you do your homework. This is the famous Silk Stocking district, ancestral home to the rich and famous. Proximity to some of the world's greatest museums, such as the Metropolitan, MOMA and the Guggenheim (although the Whitney is moving to the Meatpacking district), world-class restaurants, Central Park and, depending on how far east you go, river views.

DOLLARS & SENSE All well and good, but you're still asking, "How much?" There's no easy answer. However, speaking with various knowledgeable brokers, and checking the Real Estate section of The New York Times and the listings in Trulia you can come up with some ballpark figures. There is a large stock of condos—particularly studios and smaller one-bedroom—in areas that are neither too pricey nor too unappealing, that are listed for anywhere from $200,000 to $600,000. You can, of course, pay multiples of those prices for apartments with particular features, but that's the range for the typical pied-à-terre in a fun and convenient neighborhood. Rents in the same neighborhoods for something decent start at around $2500 a month and skyrocket from there. To get a feel for the city, which seems to change overnight, link to blogs like Curbed NY, New York Condo or, for the statistically literate, UrbanDigs. But in the end, the best way to find your dream pied à terre is to put on some comfortable shoes and start walking. New York has always been a town for strolling, and that's how you'll find the true, and often not immediately evident, nature of its neighborhoods.