by Lisa Milbrand
Planning to step up your game after the holidays? Worried that you're not up to the challenge? Listen to your body (and your doctor) and you'll avoid the sprains, trains and stress that send others to the bench.  
Three cheers for medical science. Although staying fit still takes hard work and commitment, remaining injury-free is easier than ever. Whether you're a weekend warrior training for your first triathlon or you live on the tennis courts, you have two missions when you're pushing the performance envelope: Do your best… and make it home in one piece. The key to success (or survival, depending on your sport) is recognizing that there are three important components where your body is concerned: BEFORE, DURING, and AFTER. Understanding the basics of each not only gets you on the court or field or road—it's what ultimately will keep you there.
BEFORE
The right preparation can save you a world of hurt, but often people skip this step. Here's how to ensure you're ready to take on all comers:
Check yourself out. Most people know it's wise to consult your doctor before starting a new exercise routine, but there's another professional who might be just as key. "I'm a strong advocate of having a person trained in physical therapy take a look at the muscular-skeletal system," says Jim Dunleavy, PT, MS, Administrative Director of Rehabilitation Services for Trinitas Regional Medical Center. "We all come with little quirks that we may not know we have. For instance, if someone has resisted motion in their hip, that could cause a knee or ankle problem. After the assessment, they can make sure that their exercise program attends to those potential issues."
Ditch the heels. Women who wear heels put themselves at risk for injuries in sports. "If you wear heels during the day, your calf is shortened all day long, and you won't have the flexibility and the strength to participate in your activity without hurting," Dunleavy says. You'll need to engage in some extensive stretching of your lower legs before and during your activity to help minimize the chances of injury.
Be sure you're balanced. You may be working hard to get your muscles in shape for your particular sport, but you can't ignore the rest of your muscular system. "You need to pay a little attention to your core muscles, to A Special Health & Wellness Section from Trinitas Regional Medical Center balance things," says Dr. Richard Mackessy, Chairman of the Orthopedics Department at Trinitas. "If you overdevelop one area, like your chest, but haven't done anything to the back, you've created an imbalance in your shoulders that makes it so they're pulled forward constantly, and creates a risk of pain."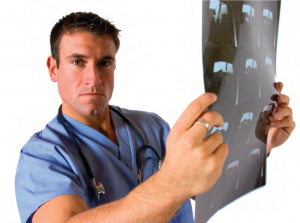 DURING
While you may be concentrating on squaring up to the ball or keeping your marathon pace, there are other things to keep in mind before you shift into high gear:
Warm up. There's been so much debate on how to get rolling—just stretching, stretching and warm-up, or full speed ahead—but most experts agree that a warmup is essential. "You don't want to just walk onto the field and play the toughest match without doing anything," Dr. Mackessy says. "We recommend going through a period of warming up, where you're going at half the pace. If you're playing tennis, you might hit balls at a very relaxed pace for a few minutes, then stop and do some stretches before you really start playing."
Don't go crazy. Weekend warriors may be all gung-ho about doing the activities they love when they have the time, but it's best to work up to an all-day round-robin. "If you're working 9 to 5, your body is not built up to withstand the constant stress that's placed on the body with a prolonged sports activity," Dunleavy says. "Your body can only take so much—overuse can result in inflammation, making it very difficult to use that area without pain."
Stop if you have pain. Forget that old No pain, no gain adage—if you're hurting, take a break. "If you have pain, you need to stop playing," Dr. Mackessy insists. "You don't need to hurt yourself and be laid up for six weeks."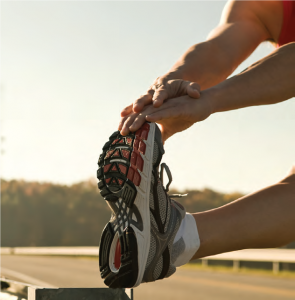 AFTER
When you're ready to pack it in for the day, there are a few tricks you can use to help ensure you'll be ready to achieve peak performance the next time out:
Stretch it out. After a brief cool-down (like the warmup, you're going at a more relaxed pace), be sure to give your muscles a well-deserved stretch to keep them limber. "Hit all the common stretches—legs, arms, shoulders," Dr. Mackessy suggests.
Nurse your wounds. If you do have pain and inflammation—the most common results of overuse injuries—there are a number of steps you can take to decrease the swelling, either at home or under a doctor's care. "Swelling is going to retard the healing process, so you need to cool down the tendon with ice," Dunleavy suggests. "We can also try to stimulate the healing process by increasing blood supply with electricity, heat and ultrasound, or by injecting medications, like cortisone or steroids. We can even load medication into an electrode and use electricity to drive medication into an area."
Assess your performance. Play Monday morning quarterback and see what you can improve at your next sporting event. "John MacEnroe once said that he learns more from losing than from winning," says Dr. Rodger Goddard, Chief Psychologist and Director of Wellness Management Services for Trinitas Regional Medical Center. "Being able to look back at what was disappointing in our performance and devise a plan to improve our technique, execution and strategy in these areas is an important skill."
Editor's Note: Lisa Milbrand is a New Jersey-based writer whose articles on health and relationships appear in Parents, Arthritis Today and Modern Bride. Her blog themamahood.com celebrates the life of a working mother.