by Lisa Milbrand

"Everyone knows someone who has lost their job… people have a lot on their minds."Your house is worth a half-million less than it was last summer. Your portfolio is in freefall. That Christmas bonus was a little short. And you'll be waiting a bit longer to retire. It's enough to give you nightmares—if you could actually fall asleep. As stress rises, so does the risk of insomnia and other sleep disorders. In these trying times, more and more people will try anything to get some decent shuteye.
Unfortunately, chronic insomnia isn't something you can make up for with a Starbucks run. Consistent sleep problems can take their toll on everything from your mood to your mortality. "There is no substitute for sleep," says Vipin Garg, MD, Medical Director of the Comprehensive Sleep Disorders Center at Trinitas Regional Medical Center, who is board certified in pulmonary medicine and sleep medicine. "If you don't get adequate sleep, you're going to have consequences." "People who have chronic sleep problems find it hard to concentrate and are often much more irritable," adds Christopher Jagar, MD, a psychiatrist with the Department of Behavioral Health & Psychiatry at Trinitas Regional Medical Center. "It can affect performance on even the simplest tasks."
It can lead to dozing off for milliseconds at a time, called microsleep. That can affect your ability to carry on a conversation, follow a meeting—or get behind the wheel safely. And sleeping disorders often go hand in hand with other serious health issues, which makes it doubly important to diagnose and treat them. Sleep apnea, a chronic interruption of a person's breathing during sleep, has been linked to several life-threatening conditions, including heart attack, congestive heart failure, hypertension, obesity and diabetes. "Treating sleep apnea can not only affect the quality of your life, but also how many years you live," Dr. Garg says. While disorders like sleep apnea have their roots in physical issues, many of us bring our nightly problems on ourselves. "Lifestyle is often a factor," Dr. Garg says. "Using stimulants—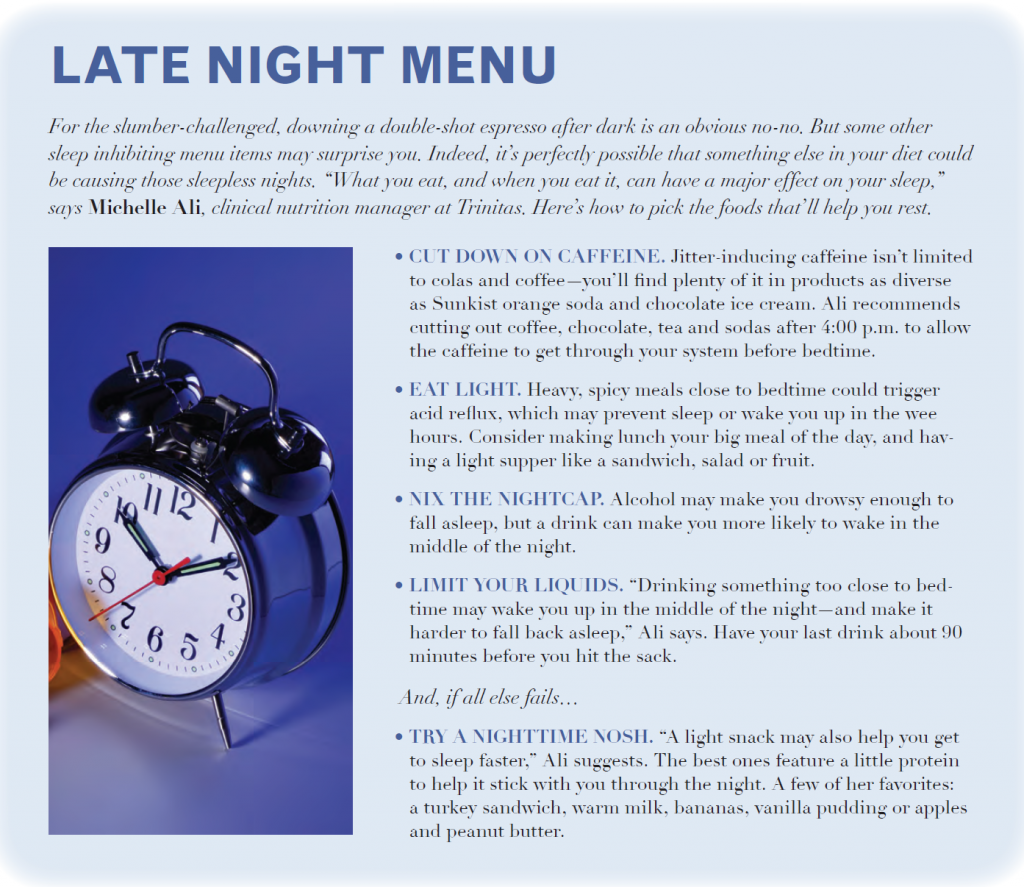 caffeinated beverages, cigarettes, chocolate—can cause sleep problems. If the room isn't dark enough, or if you leave a TV on, that can interfere with sleep. Engaging in some sort of stimulating activity, like an office conference, an argument or a workout, can make it hard to fall asleep." Even something that's often considered a sleep aid—we're talking nightcap here—can backfire. "Alcohol may make you drowsy enough to fall asleep, but you'll wake up again in a few hours," explains Cheryl Krempa, RPh, MBA, Director of the Pharmacy at Trinitas.
Routine Tweaks
The upside? You may be able to cure your own insomnia with a few tweaks to your routine. Dr. Garg recommends keeping a diary of your daily activities, diet and sleep quality, to see if any patterns emerge—like a case of insomnia every time you knock down an order of crab-cakes. Or watch CNBC. Or talk to your mother. If stress is causing your sleep issues, try some common stress reducers—regular exercise early in the day, meditation, deep breathing—and take time to wind down before bed without bright lights or stimulating activities.
Even something as simple as a notebook by the bed could help you relax. "You can write down your thoughts in your diary before bed, so you've unloaded the problems that are keeping you up at night," Dr. Garg suggests. If anxiety, depression or another issue is contributing to your insomnia, consult with a mental health professional. "Treating the underlying psychiatric problem usually solves the sleep issue as well," says Dr. Jagar. Should lifestyle changes fail as a fi x, resist the temptation to load up on Tylenol PM or other sleep aids. "Over-the-counter sleep-inducing products use diphenhydramine hydrochloride, the active ingredient in Benadryl, to help you fall asleep," Krempa says. "But they can make you feel drowsy the next day, so you'll need more caffeine to be alert, and a vicious cycle begins."
Instead, it may be time to see your doctor. "If you try all these techniques and they don't work, you should see a physician to determine what could be causing it, so it can be dealt with correctly," Dr. Garg recommends. Following diagnosis at an accredited sleep disorder center, apnea patients are often set up with positive airway pressure machines (CPAPs or BiPAPs), which keep the airways from becoming obstructed and enable a good night's sleep. Other sleep problems may disappear after starting cognitive therapy or even light therapy, when you spend part of each morning lounging under a bright, sun-like light. Dr. Garg sometimes restricts the amount of sleep a patient gets each night to try to concentrate the sleep and avoid frequent night wakings. Still, stress-related sleep disorders can sometimes be even more difficult to overcome. "People have a lot going on right now—everyone knows someone who has lost their job. Things are dire," says Dr. Jagar. "People who are under a lot of stress have a lot on their minds, and they often have a harder time falling asleep and staying asleep. They simply don't feel rested."
If the lifestyle changes and stress relievers don't work, your doctor may be able to prescribe one of the newer medications that have fewer side effects and are less likely to cause next-day drowsiness. "There are numerous formulations out there, so it's easier to tailor the prescription to your exact problem," Krempa says. Some medications, like Sonata (zaleplon) and Ambien (zolpidem) wear off quickly, so they work best for people who just need help falling asleep; others, like Lunesta (eszopiclone) help you stay asleep. It may take a few tries to hit upon the solution to your sleep issues, but once you do, you'll feel like a whole new person. "Sleep disorders affect every part of your life—you become more irritable and take it out on your loved ones, and you have a harder time enjoying the things you love when you're fatigued all the time," Dr. Jagar says. But after you've caught up on your rest, you'll be ready to take on the world, with all of its worries.
Editor's Note: For more on sleep and sleep disorders log onto njsleepdisorderscenter.com or call (908) 994–8694.