by Porter Van Dien
"The hay-smoked duck that brings art to the science of the senses comes with a silky puree of eggplant and a dab of jammy fig."
By Andy Clurfeld
OSTERIA RADICI
4 South Main Street, Allentown
Phone: (609) 223.2395 • www.osteriaradici.com
All major credit cards accepted. BYOB. Open for dinner Tuesday through Saturday. Two five-course tasting menus each at $84 per person; a la carte options offered. Reservations accepted.
The leg of duck looks lightly lacquered as if it might crack if I spear it with a fork and prompt a popping sound that would snap me to attention if I weren't already sitting high on my seat. I'm on alert because the smoky aroma isn't the beach bonfire kind I'm used to, but something of the field. Is burning waves of grain possible? I can't wait any longer to figure it out; I dig in.
The duck, hay-smoked as it turns out, tastes like a cross between a confit from Southern France and a subtle version of a spit-roasted bird from China. It doesn't have that totally melting mouth-feel of confit, nor is there a tinge of stickiness from something cloying. It's pure duck, cunningly gamey, irresistibly tender and beguilingly layered, infused with the flavor of fire at all levels. It challenges every sense.
It's the way Randy Forrester cooks, and the result is an intimate, highly personal, provocative cuisine that only can be found at Osteria Radici, the 24-seat restaurant he and his wife, Ally, own and run in one of New Jersey's smallest burgs, Allentown. Mark it as the capital for instinctive, individualized cooking on your culinary map
Osteria Radici, ostensibly, is Italian. Regional Italian, to be sure, with menus that change constantly, are tweaked daily and always reflect what's happening on the Garden State's farms and in the waters off its shores. For Forrester, that's not the only jump-off point when he works in the kitchen. The Forresters travel, they read, they forge relationships with food artisans. The chef has cooked in celebrated big-city restaurants alongside big-name personalities, but he's his own man in this storefront, doing food his way. Forrester, and Radici, remind me of Marc Vetri when the James Beard Award winner was first cooking at Vetri in Philadelphia.
The hay-smoked duck that brings art to the science of the senses comes with a silky puree of eggplant and a dab of jammy fig, which take turns doing a two-step with the star of the show. Follow it with Chinese long lamb sausage and topped with nonna-style ricotta salata, and you're rolling. Keep it going with malloreddus, a kind of ridged gnocchi Forrester makes from semolina, as in its native Sardinia, and tosses with pork cheeks, shreds of green cabbage and nuggets of mushroom. The dish is inexplicably, delightfully juicy; it practically washes itself down.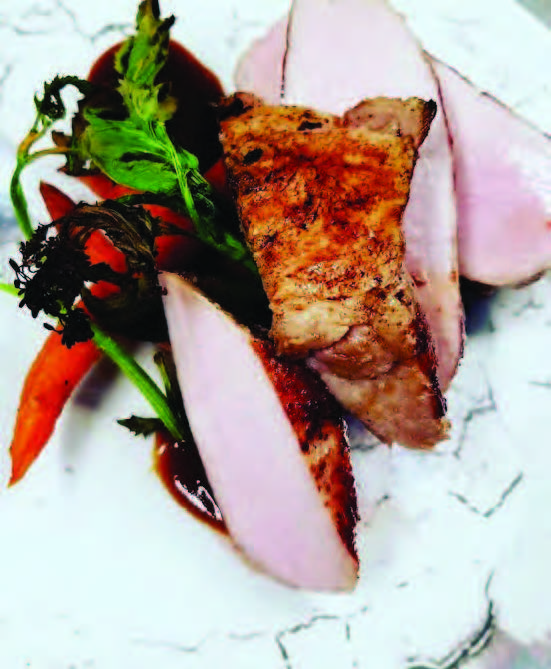 Forrester can do stately and elegant, too. Veal loin, thickly sliced, roasted till rosy and stacked on a potage of corn flecked with kernels, is given a couple scoops of aged gorgonzola, whose sharpness bites into tender, dense meat and tames the sweet corn. It's a genius combination, these three elements I can't remember ever eating together. By the time I'm onto the olive oil semifreddo with its plush peanut zabaglione and clever pretzel crumble, I also can't remember feeling slighted that it took me till age 64 to have veal and corn and gorgonzola as an ensemble.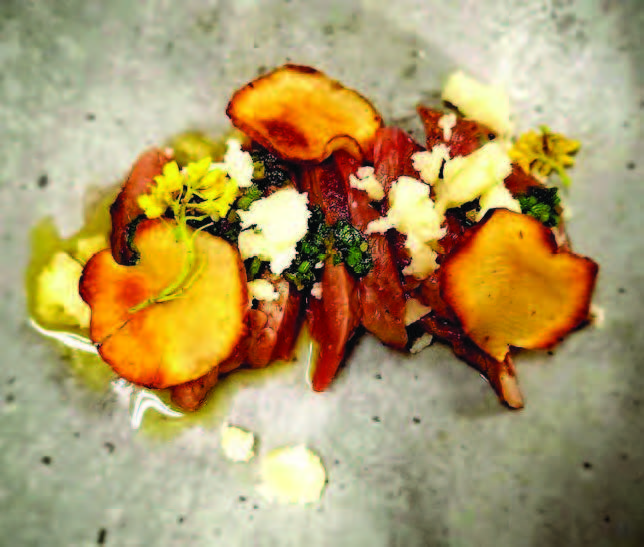 All that, the duck-and-eggplant, beans-and-lamb, pasta- and-pork, veal-and-corn, and semifreddo-zabaglione, is one of Randy Forrester's new tasting menus; it's the "Dalla Terre," the meat menu. There's also a "Dal Mare," a seafood-focused menu. You need to do both.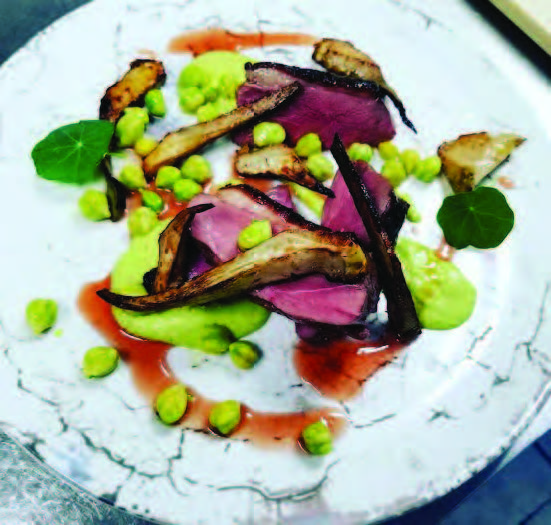 While doubtlessly Forrester's menus will have evolved, you may this fall be lucky enough to catch the chef taking liberties with New Jersey's best-anywhere sea scallops by seducing the sultry-sweet hunks with something that resembles a relish— only his is made of the yellow squash variety called gold bar. There's a tinge of heat from chilies and a swoon from just the right herb, opal basil.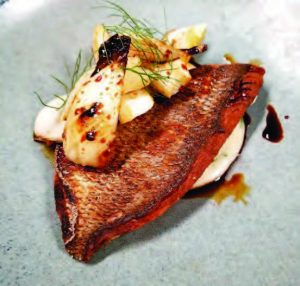 Forrester's octopus transcends the cephalopod's continued trendiness. He chars it, then tosses it with red grapes, fried capers and fennel pollen to make a kind of stew that tastes at turns sprightly and fresh and cuddly and warming. That's some feat.
I may be most charmed, though, by Forrester's pastas. He tends to focus on just a few ingredients, and coaxes out of them a world of flavor. He winds white anchovies and peperonata through strands of spaghetti, then punctuates the dish with specks of parsley. Nothing is out of balance: There's not a too-salty, too-sweet, tooanything note about the dish that's a tribute to the red, white and green in every way. Speaking of speck, the spiced cure of this particular pork proves an intriguing accent to the rich flesh of cobia, which is served on a petite ragout of chicory and green onions. Seeping out from under this splendid dish is a broth worth bottling.
This fish menu is capped by a peach custard that's as light and frothy as a soufflé and harbors hints of sweet vermouth; it's finished with finely grated almond. Now that's how you end a seafood dinner.
You can, if you wish, pick and choose from what's listed on the two fixed-price menus and order a la carte; all perdish prices are printed on the menu. But don't do that; at least not your first time at Osteria Radici. 
Randy Forrester has a masterful understanding of all things culinary and is that rare chef who can fuse science with art and make it all taste so, so good. His tasting menus are symphonic, and they flow perfectly. Eat, and learn. And remember you were there at the beginning of a career that will do Allentown, and New Jersey, very proud.
WHO ARE THESE TWO?
Is Randy Forrester the best chef you've not yet heard of? Well, if you're tuned into the James Beard Awards circuit, you likely are aware that little Osteria Radici in Allentown was on the national list of nominees for Outstanding New Restaurant this past year. A 24-seat BYOB from a teeny town in New Jersey usually isn't a contender for this award. But Osteria Radici, which opened in October 2017, only a few months before the Beard nominees were announced, already had attracted the attention of the culinary cognoscente – and chefs.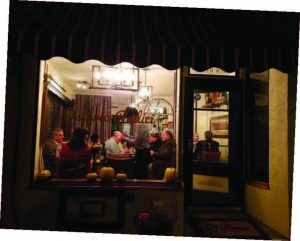 Randy and Ally, who grew up in Central Jersey, first met and became friends while students at the Peddie School in Hightstown. They went off to college (she, Wellesley; he, Boston) and, after reconnecting, began dreaming of creating their own restaurant. In the meantime, Randy amassed serious kitchen credentials, working with Scott Conant at L'Empero and Fabio Trabocchi at Fiamma, and, closer to home, The Ryland Inn and Harvest Moon Inn. They chose Allentown to both stay close to family in the Hopewell Valley and to farmers and artisans they'd grown to admire.
Today, Ally is a teacher by day, while Randy does it all from scratch at the restaurant. Both work the five evenings a week—Tuesday through Saturday—that Osteria Radici is open for dinner. They travel widely; last March, for example, during Ally's school vacation, they went to Umbria with their daughter Giada, now 2. Giada, by the way, already speaks Italian—taught by her father, who speaks it (and cooks it) fluently.