by Mark Stewart
Laughter may be the best medicine… but in Tinsel Town medicine isn't always a prescription for laughter.
By Mark Stewart
There is nothing inherently funny about doctors and hospitals. Their business is deadly serious, no pun intended. Perhaps that is why, over the past century, Hollywood has churned out just a handful of feature-length medical comedies—and why the good ones are truly few and far between. Television has had somewhat better luck with this genre. Half-hour sitcom scripts don't leave room to delve too deeply into the grim reality of trauma and illness, enabling a show like Scrubs to bang out nine successful seasons. Even so, it's worth noting that the show's main plot device was to explore the daydreams of Zach Braff's character, Dr. Dorian. His reality?Not so much.      
The best medical sitcom, by almost any measure, was M*A*S*H*. It lasted 256 episodes over the course of 11 seasons thanks to a superb ensemble cast and a stable of thoroughbred television comedy writers. More than 125 million viewers tuned in for the final episode in 1983. That was before anyone had a DVR and, speaking purely from personal experience, before most folks figured out how to program their VCRs. 
So it should come as no surprise that the film that tops the list of all-time Top 5 medical comedies is that very same anti-war doc-pic. What do the five movies have in common, other than their watch-ability? Not a one actually takes place in a traditional hospital setting. 
Interesting, don't you think?
1) MASH (1970)
The concept was deliciously brilliant: Use the Korean War to make a biting mainstream satire of the Vietnam War. Director Robert Altman cast some of the top young actors of the day in the now-iconic key roles: Donald Sutherland (Hawkeye), Elliot Gould (Trapper John), Robert Duvall (Major Burns), Tom Skerritt (Duke) and Sally Kellerman (Hot Lips). Their understated performances coupled with the gritty cinematic style of Harold Stine gave this film a gripping reality that made the subversive, anti-authority wit and humor scalpel-sharp. And yet it was silly when it had to be. MASH won the grand prize at Cannes and went on to earn the Golden Globe for Best Picture and five Academy Award nominations, winning an Oscar for Ring Lardner Jr.'s adapted screenplay of Richard Hooker's 1968 novel. 
Little Known Fact: The lyrics of the movie's (and TV show's) theme, "Suicide is Painless," were written by Mike Altman, the director's 14-year-old son. Mike made more from the song's royalties than his dad did for directing the film. 
2) High Anxiety (1977)
After his runaway hits Blazing Saddles and Young Frankenstein, Mel Brooks took on suspense thrillers for his next parody, High Anxiety. His character, Dr. Richard Thorndyke, starts a new job as head of the Psycho-Neurotic Institute for the Very Very Nervous. We know something's not quite right at the Institute when he meets his staff, which includes Cloris Leachman and Harvey Korman, two of the great comic kooks. Thorndyke suffers from vertigo, one of many tips of the hat to Alfred Hitchcock, including an unforgettable scene inspired by The Birds. He must overcome his affliction to save his love interest, played by Madeline Kahn. The shower scene from Psycho is also parodied. 
Little Known Fact: Mel Brooks actually worked with Alfred Hitchcock on the screenplay for High Anxiety. After the film was released, Hitchcock sent Brooks a case of 1961 Chateau Haut-Brion. 
3) Nurse Betty (2000)
The charm of this comedy—besides the spot-on performance of Renée Zelweger in the title role—is that it is utterly unpredictable and follows its own rules. That's a tribute to Neil LaBute, a playwright-turned-director who maximized the skills of an eclectic cast that includes Morgan Freeman and Chris Rock (as ruthless hit men), Aaron Eckhart (as a sleazy car salesman), Allison Janney (as a Hollywood producer) Crispin Glover (as a small-town newspaper reporter), and Greg Kinnear (as a soap opera doctor). After witnessing the murder of her husband, Betty enters a fugue state and becomes a character in her favorite daytime drama, A Reason to Love. Kinnear's send-up of a shallow, self-absorbed Hollywood actor is priceless. Zelweger won a Golden Globe for her work.
Little Known Fact: Wizard of Oz fans who spotted references to the 1939 film in Nurse Betty weren't imagining things. Production designer Charles William Breen said he was inspired by the classic movie, and Renée Zelweger clearly channeled Dorothy in her portrayal of Betty.
4) A Day at the Races (1937)
Author Norman Cousins (a New Jerseyan, for what it's worth) famously cured himself of ankylosing spondylitis with mega doses of vitamin C and a steady diet of Marx Brothers movies and other comedies. A Day at the Races is considered one of the brothers' best. Standish Sanitarium faces ruin when Mrs. Emily Upjohn, its wealthiest patient, is deemed sane enough to be discharged. Enter Dr. Hugo Hackenbush (Groucho Marx), who is hired as Chief of Staff to personally treat Mrs. Upjohn. Hackenbush is actually a veterinarian, but Harpo and Chico help him escape detection. Meanwhile, the fate of the sanitarium hangs on the performance of a racehorse named Hi-Hat, piloted by Harpo in a wild final ride.
Little Known Fact: Many of the movie's best scenes—including the classic Tutsi-Fruitsy Ice Cream exchange between Groucho and Chico—were perfected on the Vaudeville stage by the Marx Brothers in the months prior to filming
5) Dr. Dolittle (1998)
Eddie Murphy plays John Dolittle, a San Francisco physician who had the ability to talk to animals as a boy. But that was then and this is now—he's a family man and partner in a lucrative practice that's about to be sold for big bucks. A bump on the head restores Dr. Dolittle's unusual powers, and he begins communicating with a sarcastic dog (voiced by Norm McDonald), a sassy guinea pig (voiced by Chris Rock), a wounded tiger (voiced by Albert Brooks) and a variety of other creatures. The movie got a PG-13 rating for its ceaseless scatological humor, but was marketed by 20th Century Fox as a family film. Among the other voices you'll recognize are Jenna Elfman, Gilbert Gottfried, John Leguizamo, Julie Kavner, Garry Shandling, Paul Reubens, Ellen DeGeneres and Brian Doyle-Murray.
Little Known Fact: The late-1990s marked the beginning of Eddie Murphy's transition from movies aimed at adult audiences to family-friendly fare. The Nutty Professor (1996), Dr. Dolittle and Shrek (2001) revived his box office power. In 2007, Murphy won a Golden Globe and was nominated for a Best Supporting Oscar for playing R&B star Jimmy Early in Dreamgirls.  EDGE
SHORT STUFF
Two of history's most uproarious medical comedies were 18-minute "two-reelers" that were screened between the main movie-house features.  Interestingly, both were set in traditional hospitals.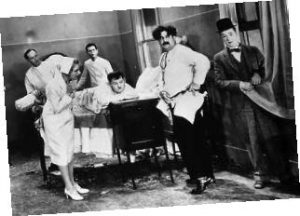 In County Hospital (1932), Stan Laurel plays the all-time worst hospital visitor, arriving in the room of Oliver Hardy, who is in traction with a broken leg. Billy Gilbert, whose mere appearance on the screen generated peals of laughter in the 1920s and '30s,
plays Ollie's doctor. He throws them both out after a near-death experience.
If the Three Stooges turn you on, Men in Black (1934) is one of their most important short films. Larry, Moe and Curly play a trio of doctors who graduate from medical school with the "highest temperatures in their class."  
The boys received their Columbia Pictures lone Oscar nomination for Best Short Comedy for Men In Black, which was meant to be a spoof of Men In White, a serious film starring Clark Gable and Myrna Loy.  
NOT THAT BAD
Steve Guttenberg fans will argue that Bad Medicine (1985) should sneak into the Top 5 and they may have a point. Guttenberg plays a slacker who attends medical school in Central America and finds himself—both as a doctor and a solid citizen. The school is run by autocratic Alan Arkin and the students learn more from Marcus Welby reruns than from their professors. A fun movie that was largely ignored at the box office and video rental stores…hey, remember video rental stores?
EDITOR'S NOTE: An unnamed EDGE staff member suggested that Mother, Jugs & Speed be reconsidered as a Top 5 medical comedy for this story. He is no longer permitted to speak at editorial meetings. Mark Stewart has authored two "Top 10" books on film: Ultimate 10 Movie Blockbusters and Ultimate 10 Movie Characters, both in 2009.