by Sarah Rossbach
You don't need a Swiss bank account to afford a week on the French Riviera.
By Sarah Rossbach
The last time you walked the red carpet was at a wholesale flooring outlet. The closest you've gotten to royalty is eating chicken a la king. Okay, I get it. The jet set is not for you. The good news is that you can still vacation on the Cote d'Azur and live like a prince (or princess) on a pauper's budget.
Yes, that Cote d'Azur: glamorous Eden, inspiration for impressionist painters and Jazz Age ex-pats, playground of European aristocrats and Hollywood celebrities, location of the Cannes Film Festival and Monaco Formula One Grand Prix race, harbors full of yachts, grand hotels and casinos—a dreamy Neverland of privilege, beauty and opulence. The fact is, you too can enjoy the good life…without laying out$750 per night for a room or $40 for breakfast. Indeed, for years I've been visiting this exclusive resort area on less than the cost of a Disney vacation (airfare not included).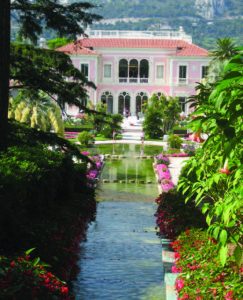 My secret? For three decades, I—and now my family of four—have been enjoying a two-bedroom efficiency villa at the family-run Domaine de la Source, just 10 minutes north of the Menton beaches and a half-hour from Monaco for around $1,000 for a week in high season. Once an olive grove, Domaine de la Source offers twelve rental apartments and two pools. It's hardly the region's only bargain-priced accommodation, just the one we swear by. We make our own breakfast in the closet-sized but clean kitchen and venture out each day to explore this remarkable part of the Mediterranean coast.
On our most recent visit, we piled into our economy rental car and headed for Monaco, the small but densely populated city-state that for nearly a millennium has been ruled—on and off—by the Grimaldi family. The present ruler is Prince Albert II, son of Grace Kelly and Prince Rainier III. He runs the principality as a shrewd businessman, with shares in many local moneymaking concerns. At the Royal Palace, for about $12 you can saunter through ornate staterooms and galleries. Built in the 12th century as a Genoese fortress, at a strategic point high above the sea, the palace has been restored and added to over the centuries. In the square outside the structure, it's fun to view the hourly changing of the guards, and within the palace courtyard, periodic summer concerts are held. I attended one a few years ago and Prince Albert II was seated just two rows in front of me. From there, we walked through the old town to the cathedral where Princess Grace was married and then visited the Oceanographic Museum and the botanical gardens, planted with over 1,000 species of succulent plants. At sea level, the marinas are filled with enormous yachts manned by uniformed deck hands. Up the hill are the casinos, five-star hotels and high-end shops.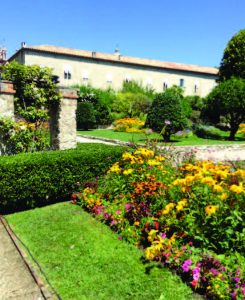 Just west of Monaco, the gardens and museum at Villa Ephrussi Rothschild in Cap Ferrat are like a journey back to the Belle Epoque era. The villa was built in 1905 by the eccentric Mme. Beatrice Ephrussi de Rothschild of the famed banking family, who divorced M. Ephrussi—scion of Russian wheat merchants of The Hare with the Amber Eyes—before his gambling debts and ill-advised speculations could ruin her. The villa showcases her eclectic tastes, ranging from Meissen china and Aubusson carpets to genre art of Boucher and Fragonard to a collection of embroidered silk shoes for Chinese bound feet. Though childless, she treated her dogs, monkeys and mongoose as family, once throwing a lavish mock wedding for Diane and Major, her two poodles. The event featured printed invitations and hundreds of human and canine guests (all in formal attire), including a bulldog sporting a top hat. During the ceremony, the "bride" had a gold ring set in diamonds slipped onto her paw. Mme. Ephrussi de Rothschild was just as passionate about gardening. The grounds offer nine different restored gardens that overlook the Mediterranean and choreographed fountain displays. An audio guide is well worth the $20 fee.
There are a number of less quirky, smaller museums in the area that are both impressive and affordable: Musée Picasso ($10) is housed in an ancient chateau overlooking the sea in Antibes; Musee Bonnard ($8) in Le Cannet (a suburb of Cannes); Matisse Chapel ($8) in Vence; Fondation Maeght ($22) in St. Paul de Vence; and Musée Jean Cocteau ($9) in Menton. The Musée Matisse is situated in the hills above Nice, next to a Roman aqueduct, and just down the road is a peaceful cloister garden overlooking the port—all of which you can visit for free.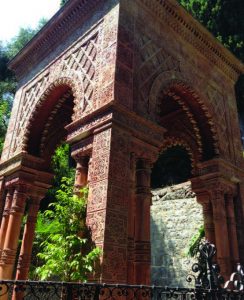 We especially enjoy touring the medieval hill towns, sited centuries ago high above the sea to protect the populace from pillaging Saracens. Eze, built above Cap Ferrat, is the most heavily trafficked by tourists. Its narrow lanes, which lead to a chateau, evoke life in the Middle Ages and the town has a stunning panoramic view of the Cote d'Azur. There is a two-Michelin-starred restaurant, Le Chevre d'Or, which is well worth the splurge for a meal (or maybe just a kir royale) near the top of Eze. The less-touristy hill towns of Roquebrune and Gorbio require stellar driving skills and steel nerves to negotiate the narrow roads and hairpin turns. The charming hill towns of Italy, near the French frontier, are also lovely and relatively tourist-free.
With its pleasant climate, the Cote d'Azur is a gardener's Eden. You could spend days just visiting the renovated botanical gardens planted with exotic flowers, trees, shrubs and succulents. Gardens are in the height of full bloom in June. My favorite is Val Rahmeh ($10) in Menont (below). Lord Percy Radcliffe, a former Governor of Malta, created the terraced Botanical Gardens of the Val Rahmeh in 1905. In 1957, Miss May Sherwood Campbell acquired the property and merged it with a bridge to a second garden. The most striking element is a pond she installed with water hyacinths, water lilies, and papyrus. On the road from Menton to Gorbio and Domaine de la Source, Serre de la Madone ($12) is interesting and being refurbished. It's a small garden designed by Lawrence Johnstone, an American who designed Hidcote Manor's gardens in England.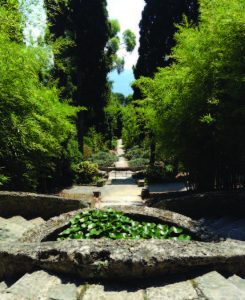 Across the border from Menton, in Italy, is Hanbury Gardens (left), near Ventimiglia. Built in the 19th century by Lord Hanbury, a British diplomat—who like many travelers of that age gathered exotic flora from far flung lands of the former British Empire—created a landscape with Moorish and Oriental follies. The garden is quite vertical and dramatic, stretching down to the Mediterranean.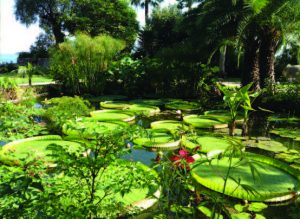 The food in the port towns along the Cote d'Azur does not require a second mortgage. There are any number of small restaurants offering thin-crust pizza, fresh salads, mussels, and pain bagnat (a Niçoise version of a tuna sandwich) for a reasonable price. Menton (right) is a lovely old port town with affordable shops and pizzerias and a large Beaux Art farmers' market selling artisanal baguettes, cured meats and cheeses that are perfect for a beach picnic.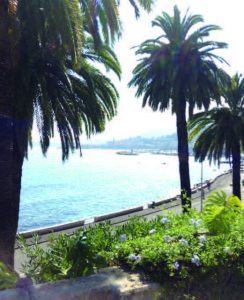 With the Euros we save on pauper-priced lodging, attractions and meals, we like to treat ourselves to at least one gourmet French meal fit for a prince or princess. There is a Michelin two-star restaurant right on the water and right on the Italy/France border called Mirazur. It's worth every penny of the $100 per person (not including wine) price tag, and you will definitely need reservations. And of course, there are the grand hotel restaurants of Monaco—many on rooftops overlooking the water—which prepare true gastronomic adventures. They are delicious…mais tres cher!