by Mariah Stewart
In search of the ultimate Generation Z vacation
Can spring vacation be just around the corner? For families who embrace the idea of advanced planning, it most certainly is. In decades past, New Jerseyites typically targeted Florida, the Bahamas or the Caribbean. But with the startling growth of eco-tourism industry—and the development of top-of-the-line sustainable and responsible luxury resorts—there is now no reason not to consider a different kind of spring break.
Children today are growing up in a different world than their parents did. From an environmental perspective, it's a world that past generations have done a remarkable job screwing up. Plant and animal species are being extinguished from the planet at an unprecedented rate and the job of reversing this biodiversity crash will soon fall upon our kids. What better way to foster an appreciation of the natural world than to combine it with an unforgettable family vacation?
Both sustainable tourism and responsible tourism are centered on "sustainable development," which is shorthand for meeting the needs of the present without compromising the ability of future generations to meet their own needs. The Global Sustainable Tourism Criteria establishes the minimum global standards for what qualifies as sustainable or "green" tourism practices, and there are a total of 23 criteria that lodging and tour operators must meet. They fall into four major categories:
Demonstrate effective sustainable management.
Maximize social and economic benefits to the local community and minimize negative impacts.
Maximize benefits to cultural heritage and minimize negative impact.
Maximize benefits to the environment and minimize negative impact.
The broader concept of ecotourism ties together the values of sustainable tourism, conservation, and nature-based tourism—and is roughly defined as "travel to natural places." The International Ecotourism Society defines ecotourim as "responsible travel to natural areas that conserves the environment and improves the well-being of local people."
In order to experience and support true ecotourism practices, vacationing families must focus on the following objectives:
Minimize impact.
Build environmental and cultural awareness and respect.
Provide positive experiences for both visitors and hosts.
Provide direct financial benefits for conservation.
Provide financial benefits and empowerment for local people.
Raise sensitivity to host countries' political, environmental, and social climate.
Every year, the range and depth of ecotourism possibilities increases. There are destinations for older vacationers, singles and adrenaline junkies. Great options for families are out there, too. Safety and security are, obviously, of paramount concern and in this regard many families will opt for highly rated properties that offer a blend of traditional amenities along with natural-world experiences. Needless to say, these internationally recognized eco-resorts and lodges tend to be pricey. They are, however, excellent starting points for planning a truly unforgettable spring vacation. Among the best are…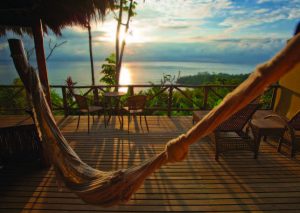 Lapa Rios • Osa Peninsula • Costa Rica
LapaRios.com • 506–2735–5130
Tiny Costa Rica claims a full five percent of the planet's biodiversity, and has developed a thriving ecotourism industry. In 2012, the country earned the #1 ranking in the
Americas (and #5 in the world) on the Environmental Performance Index and has been cited by the United Nations Development Program for "attaining high human development and equality as well as environmental sustainability." Located near Corcovado National Park, Lapa Rios is ranked among National Geographic's Top 50 Ecolodges, Forbes Traveler's Hotels with the Most Beautiful Views, and is one of the best hotels in the world according to both Travel + Leisure and Condé Nast Traveler. Lapa Rios has also been awarded the Rainforest Alliance's Sustainable Standard-Setters Award, as well as the 5 Leaf Award Certificate of Sustainable Tourism.
The property's luxurious eco-resort rainforest bungalows feature views of the Pacific Ocean and wake-up calls from howler monkeys and the inescapable aroma of Costa Rican coffee. Coatamundis, sloths, bats, scarlet macaws, toucans, lizards, geckos, and crabs are regular sights around the resort, as well as the occasional puma, jaguar, ocelot, river otter, crocodile, sea turtle, dolphin, or whale. Family activities include bird watching, cooling off in waterfalls, a local medicine tour, hikes and nature walks along beaches and in the jungle, surfing, kayaking, horseback riding, zip lines, dolphin-spotting tours, and excursions through Corcovado National Park by plane or land vehicle.
SUMMER FUN
Some of the best eco-resorts are situated outside the tropics and thus are a better choice for a summer adventure. Sadie Cove Wilderness Lodge in Alaska's Kachemak Bay State Park, has been recognized both locally and internationally for its ecological efforts, ranking among North America's Top 10 Eco Resorts and earning the title of "United States' Leading Green Resort." The lodge runs on non-polluting wind and hydropower and is completely self-sustaining, receiving the Alaska Green Star Award for recycling and sustainable tourism efforts.
Situated on a private beach across the bay from the town of Homer, Sadie Cove provides families with the opportunity to experience some of Alaska's most stunning natural scenery and wildlife firsthand. The area is considered the bear-viewing capital of the world and is also home to humpback and beluga whales, seals, sea lions, sea otters, marmots, coyotes, wolves, and foxes.
This is a particularly appealing destination for kids interested in outdoor adventures, including wildlife photography, bird watching, mountain biking, hiking, berry picking, sea kayaking, fishing, clamming or simply beach combing. The lodge arranges a wide range of guided tours, chartered sailboat excursions, seaplane trips to a nearby volcanic island, kayak expeditions between glaciers and river rafting.
A special feature of this lodge is the Sailboat Cabin, a separate private guest lodge built into a refurbished classic old sailboat. Your children may take it personally if you don't book these particular accommodations.(SadieCove.com • (888) 283–7234)

Campi ya Kanzi • Mtito Andei • Kenya
Maasai.com • 254–45–622516
Ecotourism Kenya recently conferred its "gold" rating on Campi ya Kanzi, which is probably the most honored vacation lodge in East Africa. The property has received the Skaal Ecotourism Award, the Tourism for Tomorrow Award, the Eco-Warrior Award, and the Condé Nast World Savers Award. Campi ya Kanzi is also a Long Run Alliance Member, recognized for "significantly influencing the management of a natural area of conservation value."
Campi ya Kanzi sits on 280,000 acres of wilderness, which actually boasts a greater diversity of species than the typical national Park, with elephants, buffalos, rhinos, lions, leopards, gazelles, impalas, hippos, baboons, hyenas, foxes, wart hogs, cheetahs, porcupines, and aardvarks playing starring roles. Guests can explore the area in a number of ways, including game drives and walks, forest walks, bird watching, scenic flights, and Maasai village visits. A view of Mt. Kilimanjaro—as well as a gathering of dozens of species of animals and birds at the nearby watering hole—is literally as close as one's veranda.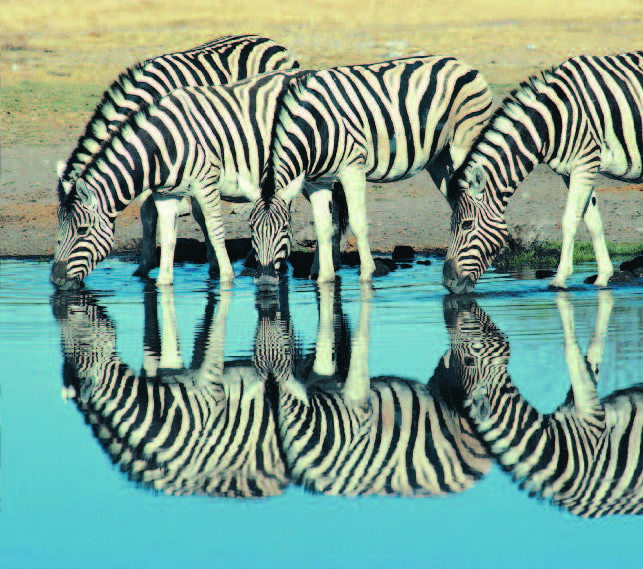 Campi ya Kanzi utilizes ecotourism to support environmental conservation and sustainable community development, partnering with and advocating for the local Maasai community. The lodge uses rain cropping for water, gathers electricity and hot water from solar panels, and cooks all food with eco-friendly charcoal. Guests can choose between a luxury canvas-tented cottage or a private villa in the bush (which is larger and more family-friendly). In addition to the cost of housing each day, visitors pay a $100 conservation fee to the Maasai Wilderness Conservation Trust, which is used to compensate Massai landlords for livestock losses to predators. In essence, every family visiting the property is paying the locals not to shoot lions and other big cats, which is the definition of money well spent.
ECOTOURISM TIPS
Think like an Ecotourist- Find reputable, nature-friendly lodging and tour activities that promote conservation. Choose protected or World Heritage sites. Visit government-run game preserves over private ones, which may be for-profit—meaning that the money does not actually go toward conservation.
Research your destination- Before you push the PAY button, learn as much as you can about the region, country, flora and fauna. This will enable you to make a smart, informed decisions, minimizing stress once you arrive.
Pack light- Limit the amount of packaging you bring with you. This will only become waste and you can save more room for souvenirs.
Travel green- Travelling by bus, train, coach, bicycles, or even on foot greatly reduces your carbon emissions and allows you to take in more of the scenery along the way. It's also fun for the kids.
Respect the wildlife- Coach your kids in advance not to disturb the plants or animals they may encounter, and to maintain a careful distance.
Eat smart- Opt for local, in-season produce and avoid foods you suspect have been flown in from great distances. Obviously, avoid any endangered species that may be on the menu.
Choose souvenirs carefully- Never purchase products made from endangered species and avoid plant species that may become invasive to your homeland and native wildlife.
Get involved- Often, you can become a member of local sustainable organizations or conservations programs at your destination. This will create a lasting memory for your children, and demonstrate how they can continue to have a positive impact on the region they visited.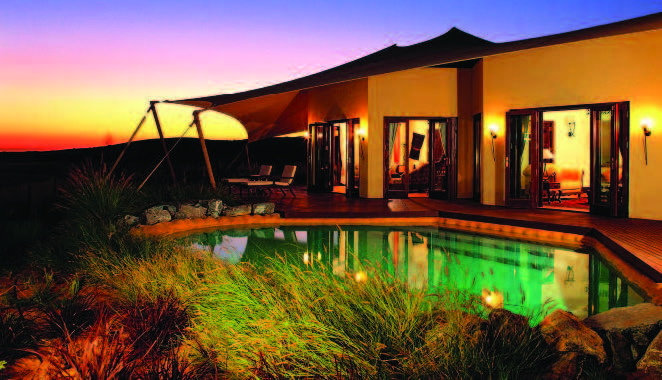 Al-Maha Desert Resort & Spa • Dubai
Al-Maha.com • 971–4–832–9900
The Al-Maha Desert Resort & Spa achieves a tricky balance of ecofriendly, sustainable practices and luxurious accommodations, helping it to earn the Middle East's Responsible Tourism Award and a Top 50 Ecolodge ranking from National Geographic. The family won't be roughing it here. Al-Maha is a 5-star resort that has been singled out in a couple of Internet surveys as the top resort in the Middle East.
Situated in a palm oasis within the Dubai Desert Conservation Reserve, Al-Maha celebrates the cultural heritage and architecture of the Bedouins. The spa uses holistic treatments from Middle Eastern and South Asian traditions, such as rhassoul mud bath chambers. Each meal includes organic international and indigenous delicacies served amongst the dunes (or poolside, if preferred). Al-Maha also offers vacationers two desert activities each day, such as archery, camel and horse rides, falconry and safaris.
The resort recycles 100% of its water, has a seed bank of over 6,000 species of trees, shrubs, and grasses, and is a major contributor to the conservation effort at the reserve—most notably the Arabian Oryx, which was nearly hunted into extinction. The largest free-roaming herd of Arabian Oryx now inhabits Al-Maha. Other native species include gazelles, foxes, hedgehogs, "sand fish," side-winding vipers, colorful parakeets, eagles, ospreys, owls, and falcons.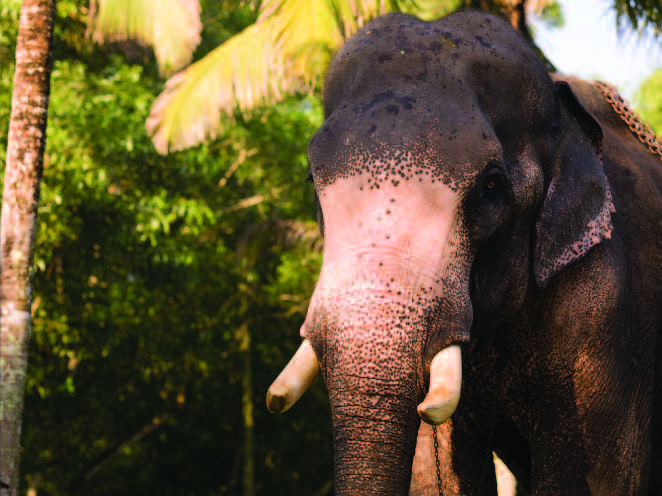 Satwa Elephant Eco Lodge
Lampung Province/Sumatra • Indonesia SatwaEcoLodge.com • 62–361–7474-205
Located just outside the Way Kambas National Park, a sprawling protected lowland rain forest, Satwa Elephant Eco Lodge helps fund a program to protect the endangered Sumatran elephant and rare Sumatran tiger and rhino. The lodge itself is set inside a walled garden of fruit trees, and includes four cottages, which are ideally suited for a family of four. The cottages are powered by solar energy, as is the lodge. The lodge is dedicated to empowering local communities in long-term conservation and sustainable development.
Satwa is not a conventional resort in terms of opulence and luxury; the show is 500 meters down the road in Way Kambas, where the wildlife includes sun bears, tapirs, gibbons, macaques and more than 300 bird species. Tiger sightings are a rarity, but all of the other park residents—including elephants and rhinos—are commonly encountered on the lodge's land and river tours. Satwa Elephant Eco Lodge has been recognized by Sustainable Travel International, is Green Globe certified, and is part of network of eco-lodges on the Indonesian islands of Borneo and Bali.