by Mark Stewart
'Politics as Usual' is anything but in the Garden State
I'm betting you missed this news item last spring: The Center for Public Integrity issued a report ranking the 50 states in terms of their level of corruption. Not surprisingly, New Jersey ranked #1. But wait. This list went from least-corrupt to most-corrupt. Could it be that the Garden State has suddenly gone from down-and-dirty to squeaky-clean? Well, based on the criteria used by CPI to measure corruption, the answer is Yes. New Jersey earned perfect scores in categories such as Lobbying Disclosure and Internal Auditing. The report did point out that many states that had historically struggled with sleazy politics surged to the top of the list because past problems had led to strict enforcement measures. These measures created better transparency and accountability, and kept politicians on the up-and-up. In just a few years, the state of politics in the Garden State has gone from cesspool status to a point where it now boasts some of the toughest ethics and anti-corruption laws in the nation. How did New Jersey politics get so bad in the first place? You have to go back more than a century to start answering that question. Beginning in the 1890s, New Jersey went what can best described as "borough-crazy."
The result was a collection of more than 500 municipalities, each of which controlled millions of dollars in contracts. This money was budgeted and spent by people who typically lacked the expertise to do so. In other words, there was a lot of money around and not a lot of sophistication. It didn't take long for unscrupulous politicians to start manipulating this situation to their benefit. Bid-rigging, nepotism, conflicts of interest, bribery, extortion, out-and-out theft—you name it, some New Jersey politician probably tried it. A few were nabbed, but most were not. And even when they were caught, almost no one beyond a certain geographical radius was likely to hear about it. The major media markets of New York and Philadelphia didn't have much interest in New Jersey politics. That made for an illinformed voting population and arrogant local politicians who felt as if they were operating in a vacuum. And, for the most part, they were. Some would argue that, in many cases, they still are. Is there an actual culture of political corruption in New Jersey? Although shows like Boardwalk Empire and The Sopranos are constructed on this premise, the honest answer is No. The vast majority of public officials are basically trustworthy, mostly competent and, in a few cases, possibly altruistic.
The problem has always been— and may still be—that New Jersey voters don't really harbor a sense of outrage when they get swindled. When we see or hear about politicians gone bad, we feel that somehow it's just politics as usual. We shrug our shoulders and just move on. Shame on us. So how did we get to where we are today? It's a long story of good, bad and ugly. To appreciate the sweep of history—and to get a feel for the politicians who have made headlines for all the right and wrong reasons—we present a brief Timeline of New Jersey Political History. For an "extended" version, log onto edgemagonline.com.
The EDGE Timeline of New Jersey Political History
1665—The proprietors of the New Jersey Colony introduce the Concession of Agreement. It guarantees freedom of religion.
1674—The colony is divided into West Jersey and East Jersey. Burlington is named the capital of West Jersey and Elizabeth is named the capital of East Jersey. Perth Amboy will replace Elizabeth as the provincial capital of East Jersey in 1686.
1776—Five New Jerseyans affix their signatures to the Declaration of Independence: Abraham Clark, Francis Hopkinson, John Hart, Richard Stockton and John Witherspoon.

1776—The first state constitution is drafted and passed in a span of one week to prevent the colony from descending into anarchy after George Washington's army is routed in New York by the British. It gave unmarried women and African-American men the vote, so long as they owned property, and gave all adults "who are worth fifty pounds proclamation money" the right to vote. William Livingston—a vital leader during the American Revolution—is New Jersey's hastily elected governor.
1783—Mutinous troops in Philadelphia prevent the Continental Congress from convening, so the nation's capital is temporarily moved to Trenton. Trenton becomes the state capital six years later.
1789—Congressman Elias Boudinot of Elizabeth delivers a speech suggesting a national Thanksgiving Day.
1838—New Jersey gets its first official black eye for dirty politics, when ballot-tampering helps five Whigs win election to the U.S. House of Representatives. After an investigation, their Democratic opponents are given the seats.
1844—New Jersey adopts a new constitution, this one enabling the people (instead of the legislature) to choose a governor, and separates the branches of power into legislative, executive and judicial. Unfortunately, the new constitution also restricts voting to white males.
1848—New Jersey Congressman (and future Governor) William Newell establishes the U.S. Lifesaving Service.

1860—New Jerseyans cast more votes for Stephen Douglas than Abraham Lincoln in the presidential election. Former Governor Rodman Price urges New Jerseyans to join the Confederacy.
1864—Lincoln loses New Jersey again, this time to Jersey-born George McClellan. It is the only free state to reject Lincoln twice.
1870—African-American men are allowed to vote again, thanks to the 15th Amendment. Thomas Peterson of Perth Amboy is the first to cast a ballot, voting in a local election. Townspeople award him with a gold medal to commemorate the occasion.

1875—The state constitution is amended so that New Jersey can provide a free public school system.
1881—President James Garfield convenes his cabinet and runs the government by telegraph from Elberon while his wife recovers from malaria. He returns to Elberon in September to recover from an assassin's bullet. Garfield passes away on September 19th.
1893—In a ceremony at the Navesink Light Station in Highlands, the Pledge of Allegiance is given as the official national oath of loyalty for the first time.
1899—U.S. Vice-President Garret Hobart, a New Jersey native, dies in office of heart disease. President William McKinley replaces Hobart with Spanish-American War hero Theodore Roosevelt.
1905—McClure's magazine publishes a two-part story by muckraker Lincoln Steffens on corruption entitled New Jersey: The Traitor State.
1910—Aiming to curb the influence of Hudson County machine boss Little Bob Davis, Woodrow Wilson leaves his job as president of Princeton University, runs for governor and wins election. During Wilson's term, the state is introduced to worker's compensation and primary elections.  
1911—After being charged extra to attend a motion picture in Paterson, Minerva Miller, an African-American woman, sues the theater and challenges the state to uphold an 1884 law that promises all persons full and equal enjoyment of public places, including theaters. The law is upheld and the theater is fined $500.
1916—Walter Evans Edge tabs Atlantic City political boss Enoch "Nucky" Johnson to run his campaign for governor. With help from rising Jersey City power broker Frank Hague, Edge wins election in 1917. As a thank you, he immediately initiates plans to connect Jersey City to Manhattan (Holland Tunnel) and Atlantic City to Philadelphia (Ben Franklin Bridge).
1919—New Jersey is the first state to ratify Prohibition.

1920—Frank Hague, now Jersey City mayor, passes an ordinance that requires anyone making a public speech in his town to first get clearance from the Police Department, which he controls. Without public opposition, Hague serves as mayor for 30 years (1917– 1947).
1937—Jersey City reports it has 160,050 registered voters for that year's election. The actual number of residents of voting age in Jersey City is just 147,000.
1947—A new state constitution is adopted. It spells out new rules and procedures in virtually every part of state law aimed at plugging old loopholes and cleaning up past abuses. The effort is spearheaded by Governor Alfred Driscoll, and is aimed squarely at Frank Hague, who quickly resigns from office.
1953—With the creation of the Waterfront Commission, Governor Driscoll predicts that it would "drive the gangsters and the hoodlums off the waterfront."

1954—Former governor Harold Hoffman admits in a letter opened after his death that he had embezzled more than $250,000 and was also being blackmailed for $150,000.
1960—After vast support for Dwight Eisenhower in 1952 and 1956, New Jersey voters give a slight edge to John Kennedy in the presidential election, helping him defeat sitting Vice- President Richard Nixon.
1962—Hugh Addonizio is elected mayor of Newark. Following his eight years in charge, a federal judge characterized his administration as "literally delivering the city into the hands of organized crime."
1964—The Democratic National Convention is held in Atlantic City. Robert Kennedy receives a 12-minute standing ovation before urging the party to fulfill his brother's vision. Nominee Lyndon Johnson goes on to win the election, and pushes through the landmark Civil Rights Act of 1964.
1970—Kenneth Gibson becomes the first African American to be elected mayor of a major northeastern city. He serves four terms.
1971—A group of 28 Catholic anti-war activists are arrested after breaking into a Camden draft board. More than half are acquitted despite admitting their crime in what came to be viewed as a turning point in the anti- Vietnam War movement.
1974—New Jersey Congressman Peter Rodino chairs the Watergate hearings as head of the House Judiciary Subcommittee.
1976—The State Supreme Court shuts down public schools for eight days until the legislature passes a tax bill to support school systems in impoverished areas. It is New Jersey's first state income tax.
1977—Governor Brendan Byrne signs a bill legalizing casinos in Atlantic City. "I've said it before, and I will repeat it to organized crime," he says. "Keep your filthy hands off Atlantic City. Keep the hell out of our state."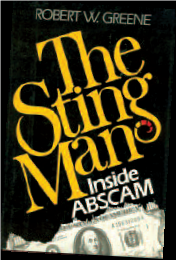 1982—The Senate Committee on Ethics recommends that Senator Harrison Williams be expelled because of his "ethically repugnant" conduct in the ABSCAM sting—an FBI operation aimed at ferreting out corruption in congress. He later becomes the first Senator in 80 years to go to jail.
1985—After a narrow victory over Jim Florio four years earlier, Thomas Kean is re-elected, winning by the widest margin in New Jersey history.
1993—Christine Todd Whitman ekes out a one-point win over Jim Florio to become the state's first female governor. She is also the first Republican woman to unseat a sitting governor in a general election.
2002—Former Governor Thomas Kean is picked to chair the 9/11 Commission.
2007—Governor Jon Corzine is critically injured when his vehicle crashes at over 90 mph on the Garden State Parkway. Corzine, who is not wearing a seatbelt, breaks more than 15 bones.
2008—Five-term Newark Mayor Sharpe James is sentenced to 27 months in federal prison after being found guilty on five counts of fraud.
2012—Babs Siperstein (formerly Barry) of Edison becomes the first elected transgender member of the Democratic National Committee.   
Historical images courtesy of Upper Case Editorial Services  
Editor's Note: Mark Stewart has written six books about the history and culture of the Garden State. He has a degree in History from Duke University, but mostly learned about New Jersey politics during his 14 years as a Hudson County resident.