by Andrea Clurfeld
'Since you're playing lord or lady of the manor, order the entrée-size as your appetizer and practice reveling.'
The long and winding road that drops you at the entrance to Ninety Acres might justify the traction of Hummer's H2, or the agility of a basic Jeep, or the diminutive size of a Mini Cooper to best navigate its narrow confines. But, frankly, I was thinking "Bentley" as we approached the restored carriage house in Peapack- Gladstone that has been transformed into a destination restaurant on the 500-acre estate called Natirar. A Rolls would be too obvious. As the valet opened a door of our SUV, protecting us with an umbrella on this monsooning night, I wanted to ask, "How many Bentleys do you park a month?" I didn't. I wanted to be inside, cloistered by the expanses of stone and wood that are brightened by glass and warmed by leather and copper. After being seated and gazing about, I sensed an Arts & Crafts attitude about the place. Albeit Arts & Crafts on a soaring, grandiose scale. To the right of the entrance is a bar with tavern room dining; to the left is the main dining space. Wander around and you'll come across an open kitchen where you can watch pizzas shoveled into, then taken out of, a wood-fired oven— and maybe even the tucked-away Cognac Room, where parties who've properly reserved can dabble in a small plates scene.
If it all seems mighty aristocratic, remember: You are only in the carriage house. The original estate of the Ladds—Walter and Kate—began to take shape in the first decade of the 20th century. The couple acquired parcels eventually totaling 1,000 acres in Peapack-Gladstone, Far Hills and Bedminster, the core of the Somerset Hills. They built a 33,000-square-foot main home in the Tudor style. In clever tribute, they named the whole shebang the reverse of the river that runs through it. The anagram of the Raritan stuck, even after it was sold in the 1980s to the Royal Family of Morocco. As the new century dawned, local resident Bob Wojtowicz started to realize his dream of turning Natirar from historic estate to luxury resort. His plans caught the interest of Sir Richard Branson of the Virgin Group, and dovetailed nicely with the goals of Somerset County. It became a Wojtowicz- Branson-Somerset County public-private partnership, and today Natirar itself reflects that arrangement. There's a private club, offering trips abroad, wine tastings and sports. To come will be a hotel and spa.
Right now, open to all, is Ninety Acres, the restaurant. That is the domain of chef David Felton, who mines New Jersey for ingredients that shape his menus and add to what is grown on Natirar's farm and raised in its pastures and pens. It's a concept not unlike Blue Hill at Stone Barns in upstate New York, though there's a very, very Somerset Hills-y feel to the scene. That is to say, the plates at Ninety Acres have a contemporary classic esthetic. Felton, formerly chef at the Pluckemin Inn, doesn't press at the edges of global trends or push unfamiliar ingredients upon a crowd accustomed to their comforts (and comfort zone). He's taking it slowly, looking at the concept and the menu as an educational process. For example, on my first visit to Ninety Acres shortly after it opened in December 2009, folks were just testing the poached egg and pork belly starter that now, a year-and-a-half later, is a signature dish scoring universal raves.
This time, we tried a spin-off pizza in which the egg and pork mingle with the heat of chilies and the pungent spark of Gorgonzola and asiago cheeses, mellowed only slightly by a film of fontina. It's a winner, the pie that Ninety Acres' fans recommend without hesitation. I'd recommend a terrific pasta dish (whether you try it as a starter or main course) of chewy garganelli and Natirar lamb that's been slow-braised till it's practically spoon-ready. What makes it lovable is the tingle of mint pesto coupled with the richness of meaty fava beans and maitakes, my personal favorite all-luxe mushroom. Don't stint on this one; since you're playing lord or lady of the manor, order the entrée-size as your appetizer and practice reveling. I wanted to revel in the terrine of duck breast and foie gras, but found it too one-dimensional. There was a dab of aged sherry, snips of blood orange and a sprinkle of pistachio on the plate, but nothing to add vigor to the seriously buttery taste and texture of the terrine. More satisfying was a petite pot of French lentils bolstered by a true darling of a stew of spring vegetables. Here, Felton nudges diners by adding Valley Shepherd Creamery's "Nettlesome" cheese to the mix, topping it all off with a spray of lemon oil. The mixed milk cheese flecked with nettles and the intensely citrusy oil make a dish with an inherently gentle soul provocative. That's good cooking.
FULL SERVICE The floor crew at Ninety Acres has come into its own since its rocky start in late 2009/early 2010. I recall a dinner at which a few members of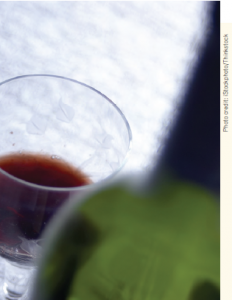 the service staff debated right in front of us which table got the plates they had in hand; politely trying to wrangle silverware as our food grew cold; and having to beg refills of our wine from a bottle set at a distance. The worst offenders? A couple of captains who openly complained about being short-staffed. None of that happened during a recent visit, when our meal's delivery was well-orchestrated and servers attentive (if still prone to interrupting conversation with the always-awkward, "How is everything?"). The wine list has grown in scope and depth, the handiwork of sommelier Brooke Sabel. Though the by-the-glass program could offer more boutique selections, there's a tie to the cuisine that shows thought. Clearly, Ninety Acres is in this game for the long haul.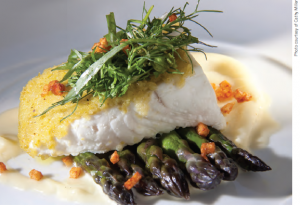 Perhaps that's where Felton would be taking the entrées. Don't misunderstand: Once settled into the posh, so very comfortable dining spaces of Ninety Acres, even completely unadorned basics might do you just fine. But I know Felton's cooking can offer head-turning surprises—quirks that complement and even elicit uncontainable exclamations from diners. I wasn't getting a lot of that here. Yet. Next on the table was a top-notch bone-in strip steak, panroasted to a T and sided with a couple of small grilled portobellos. A quick lick of steak sauce, and that's all the kitchen delivered. I wanted to taste a feisty crust of seasoning on the steak and a counterpoint to the portobellos, which, after all, have a similar beefy appeal as the meat. We ordered a couple of sides (at $9 apiece)—a strapping plate of earthy braised greens pocked with bacon and made bold by mustard and ultra-haute mashed potatoes ordered with olive oil but served instead with butter. I'd suggest doing the same. I'd also suggest—should it be on tap as the menu changes with the seasons and evolves—the cod with a pitch-perfect Meyer lemon-lobster sauce. It's Felton at his peak, respecting the integrity of the cod by enhancing its flavor, but without overwhelming it by adding both contrasting acidity and rich, dense, naturally buttery shellfish. A flourish of royal trumpet mushrooms, sunchokes and runner beans ringing the plate made this one exuberant, defining dish. Very small Barnegat Light scallops were planned as the focus of an entrée that didn't quite come together. Partnered with the overcooked scallops were roasted beets, a small beef short rib and a smattering of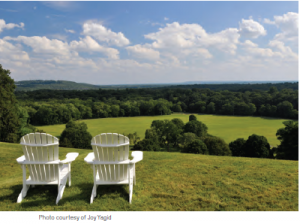 horseradish. At a nearby table, a party of smartly dressed adults and children were doing Ninety Acres' Saturday night special of prime rib, exchanging grins and wielding their steak knives with admirable skill. Food for thought. Finales here follow suit, meaning they are neither splashy nor curiosities, but takes on classic confections. My favorite was the mascarpone cheesecake that may have skirted pledges to seasonality with roasted pear and rosemary honey as accents, but charmed with pure deliciousness. The crust of the maple custard pie was short of perfectly flaky, but the tout to local eggs and the fledgling sugaring industry can't be shortchanged. There's also a chocolate torte paired with chocolate-jalapeno ice cream that shouldn't put off anyone who fears the heat of chilies. It's a barely-there presence, that jalapeno, making the dessert all about chocolate. Ninety Acres is all about the New Jersey the jokesters ignore—the New Jersey, mind you, we're grateful they ignore. It's been described by those who don't live here as an oasis. But it's not. Natirar and its restaurant reflect the well-mannered elegance of the Somerset Hills. It's going to be a pleasure to watch Ninety Acres and its surrounding communities explore new culinary horizons together.

Editor's Note: Andy Clurfield is a former editor of Zagat New Jersey. The longtime food critic for the Asbury Park Press also has been published in Gourmet, Saveur and Town & Country, and on epicurious.com.