by Ward Stymark
In the restaurant business, necessity isn't always the mother of invention. More often, reality is. When Rudy Carrera and Andy Dinic opened the doors at Mosaico in 2005, they envisioned it as being trendy and high-concept, with an unflinching Northern Italian menu—a slice of SoHo transported to Rte. 22 in Mountainside. Good reviews and a loyal clientele from their previous place (an Italian bistro in Springfield) helped get the longtime partners off to a roaring start in their new digs. But when the air went out of the economy a couple of years later, they had to rethink their hard line on Northern Italian in order to maintain Mosaico's bottom line. Their solution was to fully embrace the meaning of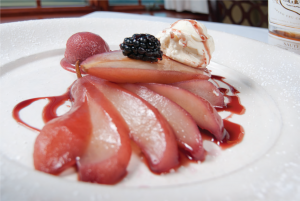 Mosaico. "A mosaic is made up of a thousand little details that are individually beautiful and of high quality," says Carrera. "The artist assembles them to form a complete picture. We just reassembled some of the pieces."
The menu morphed into what Carrera describes as Northern Italian with a twist, and it's the twist that has kept the customers coming back. The Mosaico staff noticed that, as times became increasingly uncomfortable, their regulars started asking for familiar "comfort" foods ranging from Bolognese and carbonara dishes to pizza and burgers. So Dinic and Carrera began sneaking these items into the menu, or at least letting diners know that the kitchen could whip up almost anything they wanted, on the spot, made to order. "The economy forced us to become more flexible, more nimble," says Dinic. "Our customers appreciated that. They always said, 'We come here because we know it's always good.' As long as we could maintain our standards of service, quality and creativity, we felt that we were being true to the original concept." Mosaico's 2011 menu still leans heavily toward modern and traditional Northern Italian cuisine.
The signature dish, Veal Mosaico, a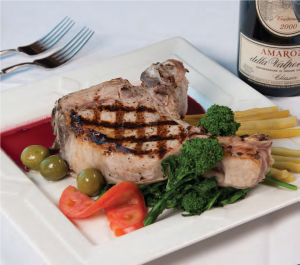 creation of chef Luis Romero (who has been cooking for Carrera and Dinic for more than a decade) is a scallopine layered with portabella mushrooms, roasted peppers and gorgonzola, in a brandy brown sauce, served with red potatoes on a bed of arugula. Another standout item is the French cut grilled pork chop. It has an entirely different thickness than what New Jersey restaurant-goers are probably used to. It's never dry, even when ordered well done. Mosaico has also carved out a sterling reputation as a place to enjoy the bounty of the ocean. There are always at least two fish specials on the menu, even at lunch. Regulars swear by the crab cakes and, according to Carrera, the seafood salad rivals prosciutto and melon as their most popular appetizer. Grilled calamari is not on the menu, but is listed among the specials almost every day. Fish and shellfish are delivered each morning, so there's an excellent chance that what comes to the table was swimming somewhere the previous day. The crowd at Mosaico is a mosaic in and of itself. At midday, four out of five tables appear to be business lunches. Some tables tear through their meals, while others linger well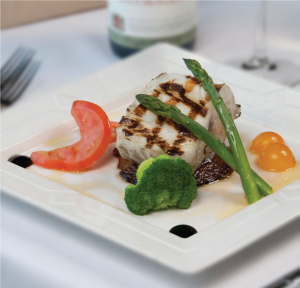 into the afternoon. In the evenings, it's a blend of young and old, family dinners and romantic twosomes, and a fair number of business people.
The restaurant is also a popular spot for private parties. According to Dinic, that is how many people discover Mosaico. He also estimates that, at any given time, about 40 percent of the faces that come through the door are familiar ones. In an era where customer loyalty is key, that is a very healthy number. The look of Mosaico is best described as a blend of modern and traditional. High ceilings in the dining room create a feel of openness and cut down on the noise, and there is a cozy lounge area that makes waiting for tables a very civilized experience. Mosaics fashioned from antique tiles that once graced buildings in Italy serve to soften the decor and add color—and also inspired the restaurant's name. Indeed, at first the two owners could not agree on a name. It was their interior designer who suggested Mosaico.
Ultimately, what people appreciate most about Mosaico is not what's inside the walls, but what's inside the people who work there. From the owners to the kitchen and wait staff— right down to the busboys—there is a genuine feeling of family. And that feeling is extended to the people who patronize Mosaico. Carrera says that he and Dinic work hard every day to keep their employees focused on the experience they deliver to customers—and to treat them the way they would like to be treated if they were sitting down to a great meal. "As much as the quality and consistency of the food, it's the personal attention and service that defines Mosaico," says Dinic. "When you're here you really feel like you're at home," adds Carrera. "Only the food is better and you don't get stuck doing the dishes."