by Yolanda Navarra Fleming
A city of dreams is rising again.
By Yolanda Navarra Fleming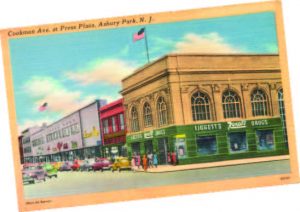 If it's been more than a year or two since you last jumped in the car and motored down to Asbury Park for a day (or summer weekend), you're in for a pleasant surprise. After decades as a Jersey Shore ghost town, it has become a hip and happening summer destination in every conceivable sense of the word. The beach, the boardwalk and the city blocks radiating north and south from Cookman Avenue have been transformed.  And the crowds are coming, from North Jersey by car and New York City by train, while sleek condos are going up as fast as buyers can sign on the dotted line. As a result, there is far more now to eat, buy, see and do in Asbury Park than anyone could conceivably handle in a day—dozens of places, both old and new. Which means a smart plan of attack is crucial. Build your day around a couple of these eateries and you won't go wrong…
Pascale & Sabine, 601 Bangs Ave.
A European brasserie beloved by finicky diners, complete with romantic ambiance and impeccable service.

Favorites: Beef Tartare, Escargots, Coq au Vin, Salmon (with saffron soubise, baby mustard greens, kumquats and hazelnuts), Moules Frites, and Beignets.
Taka, 660 Cookman Ave.
Contemporary Japanese cuisine. The owner, Takahiro Hirai, is descended from a Samurai family.

Favorites: Rolls galore, New York Strip in Miso Butter, Short Ribs, Tuna (sesame seed coated with red bean sauce), Green Tea Cheesecake and Mochi.
Moonstruck, 517 Lake Ave.
Classic American-Mediterranean Grill with three floors of dining and music (often live), situated near Wesley Lake and Cookman Avenue.
Favorites: Filet Mignon, Rosemary Chicken, Walnut Crusted Rack of Lamb with Pomegranate Demi-glace and Lemon Risotto, Grilled Shrimp with Pesto Linguine.
Dino's on Main, 300 Main St.
Preservative-free, fresh and delicious prepared and made-to-order food served in a BYOB bistro with casual indoor and outdoor dining. Hot-spot for after-hours snacking and meals on weekends.

Favorites: Linguine Oli Olio, Chicken Milanese, Mamma Pat's Homemade Lasagna, Dino's Famous Caesar Salad, Homemade Ravioli, Fresh Mozzarella and Bread baked daily on premises.
Belmonte's Italian Restaurant, 632 Cookman Ave. 
Cozy, traditional BYOB eatery ideal for families.

Favorites: Fried Calamari, Linguine and Clams, Pappardelle Roma (with shrimp, asparagus, mushrooms and basil in a pink sauce), Chicken Giovanni, Stuffed Pork Chop.
Langosta Lounge, 1000 Ocean Ave. at Second Ave.
Bohemian boardwalk restaurant and bar serving up vacation fare from all over the globe. Custom cocktails, live music and casual vibe.

Favorites: Bombay Chicken Salad Sandwich, Cuban Fried Olives, Lobster Sliders, Ono Salad, Vegetable and Goat Cheese Pizza with charred Brussels sprouts, basil cream and roasted grapes.
Jimmy's, 1405 Asbury Ave.
The Sardi's of the Jersey Shore. Old-world Italian restaurant where Robert DeNiro and other Goodfellas dine when they're in town.

Favorites: Clams Casino, Linguine with Clam Sauce, Chicken Scarpariello (Fontina Cheese, roasted peppers in Francaise sauce), Sea Scallops with White Wine, addictive House Dressing.
Cuban Café, 1007 Memorial Drive
Authentic Cuban comfort food served at breakfast, lunch and dinner, with indoor and outdoor seating. Daily specials and a children's menu.

Favorites: Cubanitos, Cuban Style Ground Beef, Oxtail Stew, Fricassee de Pollo, Levante Muerto Seafood Gumbo.
Talula's Pizza, 550 Cookman Ave.
An artistic foodie hang for lunch, dinner, cocktails, and brunch. Brooklyn-inspired baked goods, wood-fired oven pizzas and plentiful vegan options.

Favorites: Esquite Polenta Bowl, Talula's Reuben with House-Made Pastrami, Temple III Pizza with Vegan Mozzarella, Cashew Ricotta and Vegan Pepperoni, Smoked Trout Toast, Milk and Honey Panna Cotta, Apple Cider Doughnuts.
Asbury Park Roastery, 1300 Ocean Ave.
Small coffee roasting company opened on the boardwalk in 2007, specializing in fresh roasts, fair trade and organic beans, organic loose leaf teas, accessories and confections. Retail store at 803 Second Ave.

Favorites: Red Eye Fresh-Roasted Coffee, Chai Tea Latte, Medium Brazil Poco Fundo Coffee, French Organic Indonesian Blend Coffee, Melon Flavored White Tea, Moroccan Mint Scented Green Tea.
TOTALLY JUICED!
Juice Basin, 805 4th Ave.
Divine cold press juice concoctions, all USDA organic. Owners Regina & Enrique (right), with Chef David Burke (center), are a fun married couple you may know from their Montclair store.

Favorites: Cold-pressed juices, Cacao Love Smoothie (cacao, spinach, banana), Caribbean Nites Smoothie (mango, pineapple, banana, kale), Alkaline Green (kale cucumber, mint, parsley, ginger root, lime).
"Juice Basin has a quality of product that only comes from a perfectionist. The balance in these combinations of ingredients made me feel like I was in the hands of a master at work. I can't wait to go back to Asbury Park to try more."
—David Burke
SHOP 'TIL YOU DROP
Nita Ideas, 601 Cookman Ave.
Celebrated designer Nita Novy began as a Broadway actress, then designed hats and moved into couture and ready-to-wear designs. The New York Times says her collection "seems to breathe intangible femininity. It is almost as if the rest of the fashion universe is catching up with her."  
The Market at Fifth Avenue,
1300 Ocean Ave.
Multiple vendors under one roof, with artists and designers of everything from clothing and housewares to jewelry and gifts—including Sea & Green, Dusty Rose Vintage, Tessa Perlow, Alchemy Hour and Acdwsh. 
B&G Home Interiors, 658 Cookman Ave.
2015 "Best of Houzz" designer Jon Martinez is celebrating his second anniversary this summer. Eclectic accessories, gifts, framed artwork and a downstairs showroom featuring stylish sofas, arty end tables, wall hangings and rugs. 
Glide Surf Co., 520 Bangs Ave.
Owners Phil and Jessica Browne display their affinity for the sand and surf in their alternative boutique, with surfboards, surf apparel, beach dresses and bikinis.