by Steve Sears
Okay, let's be blunt for a moment. When you think "New Jersey Dream Wedding," that dream doesn't really end with a two-hour jaunt down the Garden State Parkway. A week on the West Coast? That's more like it. Ten days in Tokyo? Absolutely. A fortnight in France? Now you're talking! Alas, the sad fact is that New Jersey couples don't always have the days to spare for such glittering post-nup adventures. Which is why staying in-state might just be the brightest option of all. It all comes down to picking your spot. Consider if you will that, for thousands of couples from all over the world, Atlantic City is the honeymoon destination.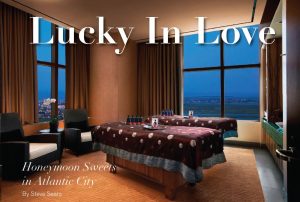 You know that surge of excitement you feel when you hit the AC Expressway? Imagine adding that to the glow of an impending wedding night. "What could be more romantic than a hotel suite with an ocean view, four miles of beautiful beaches and Boardwalk to stroll on, superior dining choices, luxurious spas and great entertainment?" asks Jeff Vasser. Okay, Mr. Vasser gets paid to plug AC. He's President of the Convention and Visitors Authority. But the man's got a point. Combine the indulgent pampering available to honeymooners in this town that's "Always Turned On" with the opulent casino gambling a mere elevator-ride away, and you've got the makings of a winning hand. And wouldn't you know it? Atlantic City's top hotels are all over this honeymoon thing.
At the Trump Taj Mahal, for instance, newlyweds can choose between Romantic and Risqué. Each includes an ocean view suite in the gorgeous new Chairman Tower, a bottle of bubbly and, depending on which option they have selected, either a Romance or Risqué Intimacy Kit (contents unknown). "We created these packages to offer our guests an experience they won't soon forget," says Trump's Paula Mauk, who confirms that New Je  rsey honeymooners can indeed "get away without going far away."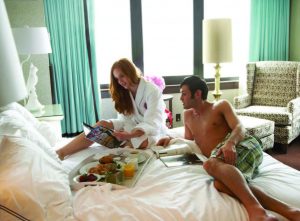 Honeymooners at the Borgata tend to gravitate toward the Spa Toccare package. It includes his & her Deep Tissue or Healing Stone Massage and Wild Lime Scalp Treatment, then a Classic Manicure and Plush Pedicure for the bride, and a Signature Shave and Express Pedicure for the groom. All those upper case letters come at a price, of course, but why pinch pennies when you can experience the ultimate in marital decompression? Next door at The Water Club—home of the exquisite topfloor, two-story Immersion pool and spa—there is a couples package on the menu that may just outdo them all. Billed as a traditional retreat to luxury, it includes a Javanese Lulur bath and body ritual that transports lovebirds back to a simpler time (like the 17th century). A side-by-side Balinese massage with jasmine frangipani oils is followed up by exfoliation with tumeric, flowers and fresh yogurt before soaking in a fragrant, floral bath, and then finishing up with an application of jasmine frangipani lotion. The bath ritual is performed in a Couples Suite with unbelievable views. Also included are a poolside manicure and pedicure, and the sublime Immersion lunch, courtesy of Chef Geoffrey Zakarian. The Water Club does not offer gaming, however the concourse connecting it to The Borgata's casino features a gauntlet of high-end retail establishments where couples can blow their wedding checks long before they reach the tables. For newlyweds looking to hang onto their dough a bit longer, there is The Chelsea, a gambling-free boutique hotel unaffiliated with its neighbors, the Hilton and Tropicana.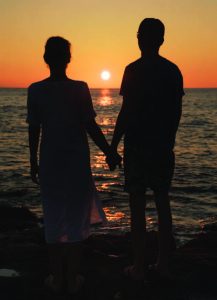 There are several packages popular with honeymooners checking into The Chelsea. The details and differences are all explained on the hotel's web site, but the real story here is the wedding bed and the amazing rooms in the Luxe Tower. Think Egyptian cotton sheets, fluffy white duvet, and an endless supply of pillows. Think awe-inspiring views from a deck and sunroom featuring floor-to-ceiling windows. And while you're at it, think about shelling out a couple of extra bills for one of the penthouse suites (it's worth every penny). Finally, all of the Luxe Tower rooms at The Chelsea come with lots of whimsical touches to remind guests how very far away they are from the rest of us poor devils…even though they haven't left the state.