by Andrea Clurfeld
"Campos can cook. His superior technical skills are made clear through the fine chop of a tartare and the ethereal texture of a near-weightless crepe."
Lorena's defines intimate. You enter, through a slip of a passageway, a dining room that seats but 32. Tables are small, space between them is at a premium, but there's never a feeling of claustrophobia. No, instead a wall of windows swathed in dark sage fabric expands the diminutive space. Large, brightly colored paintings bring joy and festivity to the scene. Not that Lorena's needs any help infusing happiness into the world. It's a love story, an ode from chef Humberto Campos, Jr. to Lorena Perez, the woman who inspired the restaurant that has, in spite of its size, anchored a particularly chic stretch of downtown Maplewood for almost five years. The romance of this husband-wife team plays out every night dinner is served, with Lorena gracefully orchestrating the doings of the dining room, while Humberto works a kitchen fitted with fewer accoutrements than offered in most suburban McMansions. This is one of those fairy-tale ending restaurants: Boy meets girl, boy and girl share a dream, boy and girl make the dreams of couples looking to celebrate special nights come true as a matter of course. You'd spend your dinner here sighing under the spell of this story if the food didn't interrupt your revelry.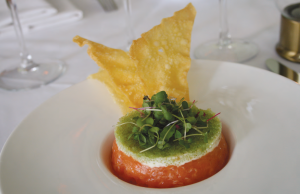 And the food is pure pleasure. Campos can cook. His superior technical skills are made clear through the fine chop of a tartare and the ethereal texture of a near-weightless crepe. His ability to let an ingredient strut its stuff is evident in the perfectly cooked simplicity of a piece of cod set against a backdrop of humble lentils. His quiet confidence is on display in an elegant cup of divine, unadorned ice cream. Fuss happens in the selection of those ingredients, in the focus on prep, in the concentration it takes to turn from pan to plate an exquisite composition that never befuddles the diner. All the while Lorena Perez is quietly orbiting the dining room—directing a floor crew that misses not a dropped napkin, a dirtied knife or a subtle cue from a table ready to move on to the next course—Campos is mirroring his wife's front-of-the-house grace in his compact kitchen. The French-influenced, modern American fare quickly becomes the topic of conversation at the tables. The briskness of sake and the punch of wasabi are almost elusive in a starter of raw Scottish salmon chopped as fine as an infant's fingernail, then punctuated by pops of tobiko and served with a wisp of crème fraiche and a crisp, fried wonton.
The Far East gets a visit from the Continent, and they reach an accord. Campos gives a similar twist to homemade cavatelli, tossing the pasta with shreds of duck so tender, so inherently rich, that it mimics confit, then adds the crunch of blanched snow peas to the mix along with a sprinkling of sharp sheep's milk cheese. That crepe may look weak-kneed, but it's got the strength to hold ample jumbo-lump crab—shellfish so sweet that you understand immediately why the chef sought balance with earthy wild mushrooms. Given a swirl of puréed herbs, the first-course dish charms. The cod made me jealous. Sure, Campos secured an extra thick center cut of the fish. He has at his disposal an amped-up, professional stove that rocks at higher temperatures than mine. He probably doesn't hold back when doling out butter, either. I'd cooked cod at my home the night before and Campos's version made me want to enter culinary school at the nursery level. Remedial class. This cod, with its barely cooked interior and lightly seared edges, found soulmates in French lentils, pert and forest green, and an all-luxe parsnip purée. It was a plate composed of nothing but accomplished elements.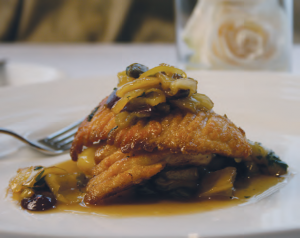 Wild-caught Arctic char kept pace. A lot like salmon, a little like trout, char isn't often seen wild in these parts. Campos treats the rare find right, partnering it with wild rice, zesty and bold pickled red onion, then adds dried fruits as a backdrop. Though it may not remain on the menu as Lorena's shifts through spring into foods more suitable for warmer weather, the short ribs are a classic to revisit as soon as the temperatures again suit. Resolutely beefy and tender, they're riddled with caramelized onion, sided by an uber-buttery purée of potatoes and given a shot in the arm by riffs of Roquefort, a potent cheese that actually tamps down the richness of the dish. My friends sniffed when I ordered the bread pudding for dessert. Such a sophisticated, polished restaurant. So much romance in the air. Why go boarding school at a time like this? Because, they soon learned, Campos starts with eggy-yet-airy brioche, moistens it with banana, gives it the kick of peanut butter (of all things), then finishes the very grand finale with maple-licked caramel sauce and vanilla ice cream. There'll be competition over this one. As well as for the precise warm chocolate cake, a compact disc that wasn't a smidgen too sweet and took a serious likin g to an accompanying swirl of raspberry purée. I took a liking to the homemade ice creams, and appreciated the sheer correctness of the chocolate ice cream and the intense citrus flavor in the orange sorbet. You don't need to hit a diner over the head with frills and frou-frou to impress.
Which sums up Lorena's, where the food and the scene are all heart.