by Mariah Morgan
Elevate your home theater binge-watch with a curated movie theme. 
By Mariah Morgan
The binge-watching phenomenon has given TV junkies a new appreciation for their pricey home theaters. Unfortunately, the couch potato in all of us seems content to pick a television series and just burn through all the episodes. Why not curate your own viewing schedule with a hand-picked queue of themed releases? Love dopey Hugh Grant rom-coms? Gritty Charlize Theron dramas? Crazy Ben Stiller vehicles? Don't be shy. Make yourself a Top 10 list, sit back and enjoy! In honor of EDGE's "Million To One" issue theme, here is my Top 10 list of movies featuring a "Million" theme…
1 • Slumdog Millionaire (2008) Starring Dev Patel & Irrfan Kahn Patel plays teenager Jamal, a street urchin who rises from the slums of Mumbai to win fame and fortune on the Indian version of Who Wants To Be A Millionaire? The film introduced some of India's most celebrated actors to mainstream movie audiences and won eight Academy Awards, including Best Picture and Best Director. Directed by Danny Boyle. 
2 • Million Dollar Baby (2004) Starring Hillary Swank, Clint Eastwood & Morgan Freeman Swank stars as a waitress-turned-boxer who enlists the help of old-timers Eastwood and Freeman, who reluctantly guide her toward a $1 million title fight. Million Dollar Baby won four Oscars, including Best Picture. Many consider this the best-ever boxing flick. Directed by Clint Eastwood. 
3 • Million Dollar Legs (1932) Starring W.C. Fields, Jack Oakie & Susan Fleming Oakie and Fields conspire to assemble a team for the Los Angeles Olympics to reverse the fortunes of the bankrupt country of Klopstokia. They lead a cast of slapstick veterans that includes Ben Turpin and Andy Clyde in a comedy so completely untethered that it verges on the avant garde. The Marx Brothers reportedly turned down Million Dollar Legs because it was too crazy. Directed by Edward Cline. 
4 • How To Marry A Millionaire (1953) Starring Marilyn Monroe, Betty Grable & Lauren Bacall A trio of gold-diggers conspires to land millionaire husbands by renting a Manhattan penthouse and posing as high-class New Yorkers. It's kind of a frivolous story given the talent involved, but it has endured as a classic. Few fans have actually seen it as it was shot— How To Marry A Millionaire was one of the first CinemaScope films, and it is impossible to fit on a standard television screen. Directed by Jean Negulesco.
5 • If I Had A Million (1932) Starring Gary Cooper, Charles Laughton & George Raft Fans of the old TV series The Millionaire should find If I Had A Million intriguing, as the show was based on this imaginative movie. A dying tycoon, played by Richard Bennett, leaves his fortune to eight total strangers, picked at random out of phone book. Seven different directors—including Hollywood legends Ernst Lubitsch and Norman McLeod—were enlisted to tell the eight stories.
6 • One In A Million (1936) Starring Sonja Henie, Don Ameche, Adolph Menjou & The Ritz Brothers Sonja Henie made this film—her first of many—shortly after winning her third consecutive Olympic figure skating gold medal at the 1936 Winter Games in Germany. The magnetic Henie became one of Hollywood's highest-paid stars after playing a Swiss innkeeper's daughter who becomes an international skating sensation. Directed by Sidney Lanford. 
7 • Million Dollar Arm (2014) Starring John Hamm, Aasif Mandvi, Bill Paxton & Alan Arkin Disney's very watchable baseball film follows down and-out scout J.B. Bernstein as he discovers a pair of young pitchers in India. Based on a true story, Million Dollar Arm co-stars Suraj Sharma and Madhur Mittal— familiar faces from Slumdog Millionaire. Directed by Craig Gillespie.
8 • One Million Years B.C. (1966) Starring Raquel Welch This movie is definitely in the running for the all-time guilty pleasure award. Besides Raquel Welch's iconic cavewoman bikini, it features the work of special effects maestro Ray Harryhausen and fairly good overall production values for a dino-drama. Nine minutes were cut out of the U.S. theatrical version because of violence and a suggestive dance scene. Directed by Don Chaffey. 
9 • Le Million (1931) Starring Annabella & Rene Lefevre This French musical comedy is a favorite of film school professors. Le Million marked a true breakthrough in talking pictures. The director detested the quality of sound films of the era and singlehandedly propelled the technology forward. He was hailed as a master after its release. Directed by Rene Clair.
10 •The Boy Who Stole A Million (1960) Starring Maurice Reyna Paco, a 12-year-old bank messenger, "borrows" a million pesetas from an open vault to help his father repair his taxi. He is pursued through the streets of Valencia, Spain by cops and criminals hoping to get their hands on the money. Shot on location with a talented English-speaking cast, The Boy Who Stole A Million is a sweet, well-made film that is family-friendly without being sappy or syrupy. Directed by Charles Crichton. 
Honorable Mention 
Million Dollar Legs (1939) Starring Betty Grable & Jackie Coogan This was the movie that catapulted Betty Grable into the pin-up stratosphere. It co-starred her then-husband Jackie Coogan, a former child star who was a celebrated bandleader at the time. Coogan later played Uncle Fester on The Addams Family. The movie had plenty of star power—including Donald O'Connor, Buster Crabbe and William Holden—but it doesn't hold up particularly well 80 years later. 
Horrible Mention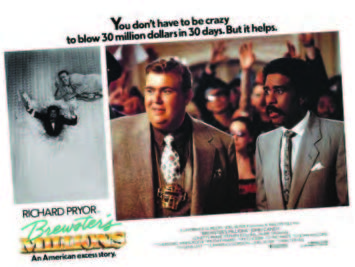 Brewster's Millions (1985) How a movie featuring Richard Pryor, John Candy and Rick Moranis can have so few laughs remains one of Hollywood's great mysteries.