by Mark Stewart
Trinitas mental health screeners partner in a groundbreaking de-escalation program.
Ask any law enforcement professional what the most volatile response situations are and you'll get a near-unanimous answer: mental health crises. They can go sideways in an instant, putting the well-being of officers and the individuals in distress at grave risk. Nearly a quarter of all people killed by police in America suffer from a known mental illness. They are far more likely to be injured in these encounters, too.
Existing research suggests that the presence of mental health professionals during a service call decreases the use of force and arrests, while increasing the use of mental health resources. In the spring of 2022, Trinitas helped put that research into real-world action when it joined a pilot program called ARRIVE Together, expanding an initiative that had begun in South Jersey to the cities of Elizabeth and Linden.
ARRIVE is an acronym for "Alternative Responses to Reduce Instances of Violence & Escalation."
As part of the program, Trinitas has been providing certified behavioral health screeners to the Elizabeth and Linden police departments to respond to 911 calls involving mental health crises. The Trinitas screeners accompany plainclothes officers in unmarked vehicles on daytime calls, helping to defuse explosive situations and connecting those is crisis to appropriate mental-health resources. The program has already met its primary goal: to save lives and then start rebuilding them.
In recent years, police officers in New Jersey (and around the country) have found themselves increasingly having to deal with individuals in distress who have slipped through the cracks of social services, or whose conditions have worsened for myriad reasons, including stress related to the COVID-19 pandemic. Law enforcement training and experience covers these encounters to some extent, but it has become clear that a different type of "first responder" is often needed to ensure all-around safety and produce the safest outcomes.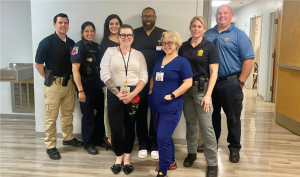 In May 2023, the Brookings Institution released findings on ARRIVE Together, looking at data from more than 300 calls between December 2021 and January of this year—including critically important Officer Narrative Reports. Dr. Rashawn Ray, a Senior Fellow in Governance Studies, joined New Jersey Attorney General Matthew Platkin on a panel that included Lisa Dressner of RWJBarnabas Health, who is Vice President of the Department of Behavioral Health at Trinitas.
Among the more noteworthy data unveiled by Brookings was that arrests were largely avoided on ARRIVE Together responses, and that use of force was avoided, as well, in more than 97% of the ARRIVE Together calls.
"In addition, we did not find racial differences in the likelihood of being arrested or a use of force," Dr. Ray points out. "That's huge given what we know about racial disparities. This is extremely important and, I think, extremely uplifting in terms of what we might see moving forward."
And move forward it will. In 2023, Attorney General Platkin expanded ARRIVE Together to additional municipalities, including Cranford and Roselle Park. In June, the program began to expand throughout Union County. Governor Phil Murphy has earmarked $10 million a year to support ARRIVE Together going forward.
"ARRIVE Together and specialized programs like this are critical in helping us to use best practices to most effectively respond to individuals experiencing a mental health crisis," Dressner adds. "It helps people trust that they can call for help when they need it and to ensure that the people responding to these mental health emergencies have the training and resources available, and that they provide people with the support they need—also that, when people do have to come into the hospital to be evaluated or be admitted, that they arrive safely."