by Andy Clurfield
"A feisty, rather luxurious eggplant curry, ennai kathrikai, may have been my favorite dish of the night."
Karaikudi
1671 Oak Tree Road, Edison. Phone: 732.516.0020
Open Monday through Friday for lunch from 11:30 a.m. to 3 p.m. and Saturday and Sunday noon to 4 p.m. Dinner: Monday, Wednesday through Saturday from 5:30 to
10 p.m., Sunday from 5:30 to 9:30 p.m. and Tuesday dinner buffet from 6:30 to 10 p.m. Major credit cards accepted. Call to inquire about reservations.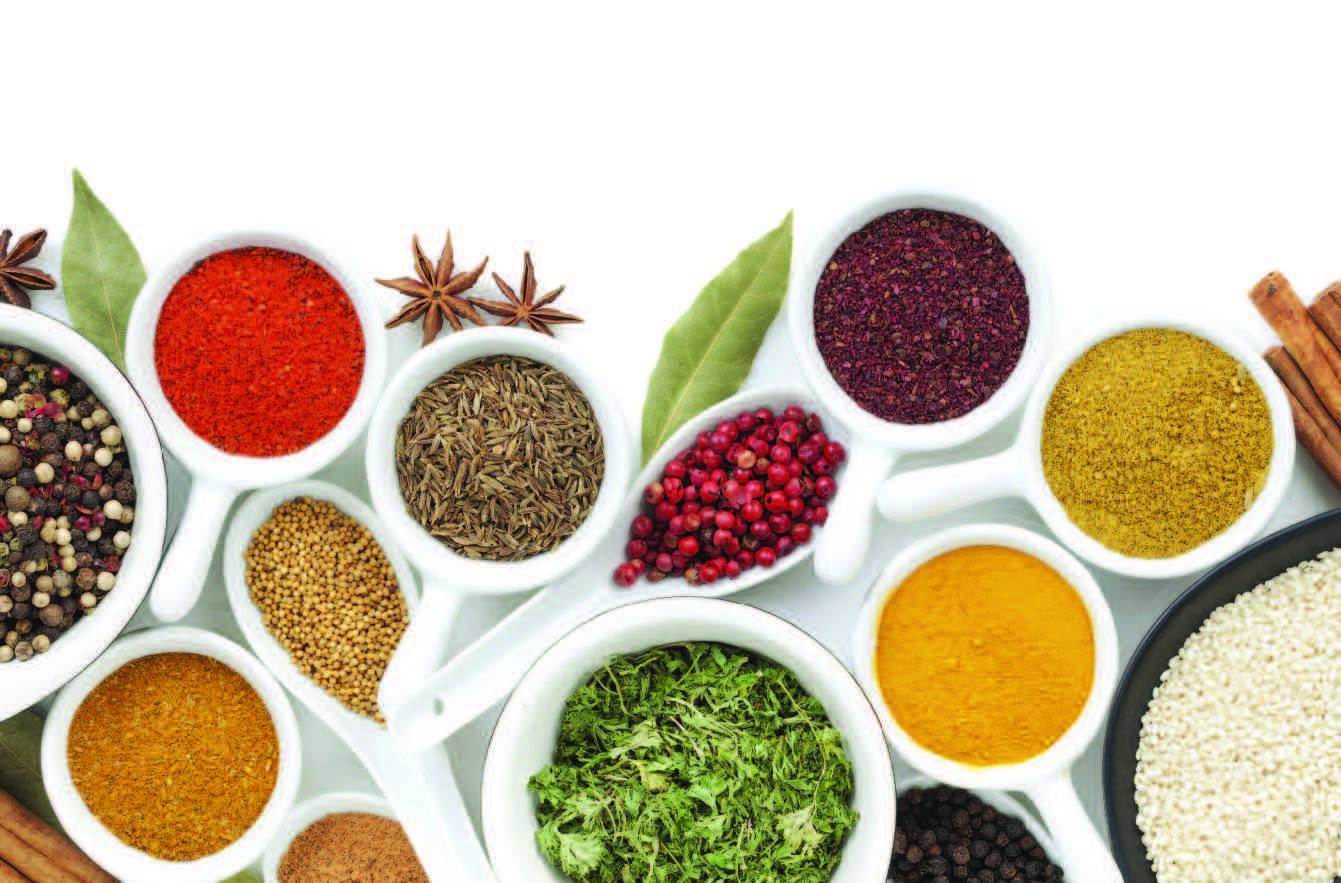 Karaikudi isn't your average restaurant groupie's trend-of-the-minute, Instagram-ready hot spot. It's posh in a traditional way, neither deliberately un-decorated nor all-out artfully attired in a manner that attracts the "Well, I-was-there-last night" crowd.
No, Karaikudi, located in a large parking lot behind one of many shopping centers on Oak Tree Road in Edison, is a rare-for-America Chettinad restaurant, specializing in the little-known cuisine of a region in the state of Tamil Nadu, in Southern India, where typically vegetarian food reigns and spices star.
Yet Chettiars, the people of Chettinad, are not vegetarians. They do not eat beef or pork for religious reasons, but they are huge fans of fish, chicken, lamb and goat. They celebrate spice arguably with more passion than any people in the Spice Belt of South India, and serve their spices, including a variety of chilies, not in fiery doses but by skillfully integrating them into their dishes.
Karaikudi, where members of the New Jersey Indian community and the devoutly food-centric congregate, is a favorite of James Beard Award- winning chef Floyd Cardoz, whose landmark restaurant Tabla brought high-style Indian fare to New York City. It's where learning something new in food is a delight.
Two of my favorite dining companions, Lily Mullen, 15, and May Mullen, 13, made the trip from Ocean County to experience foods completely foreign to them at Karaikudi. They're not exactly novices in the kitchen, serving as extremely able sous chefs during my own recipe-testing projects and helping their parents, Eileen and Shannon Mullen, with nightly dinners. They also win 4-H awards for the produce they raise in their extensive backyard garden and for the chickens they've nurtured for years. As they efficiently combed Karaikudi's menu, asking questions both pertinent and probing, I thought to myself, "These two could teach a CIA grad a thing or five."
We quickly dug in. I could've eaten five portions of a signature Chettinad dish, Gobi 65, aka chili-infused cauliflower. Lily coated her tongue and tummy with a silky, creamy mango lassi, which she describes as a lovable "milkshake-like drink," before, during and after the Gobi 65. It was, she said, "covered in the crispy coating of orange spices that looked like nothing I've ever eaten before."
"They both were deliciously different," Lily said of the lassi and cauliflower. "I soon realized that Indian cooking has very spicy flavors or mild, simpler ones."
In other words, Lily caught on to the very essence of Indian fare: balance. If you drink a yogurt-based fruit lassi as a counterpoint to a chile-powered dish such as Gobi 65, you'll catch flavor not fire.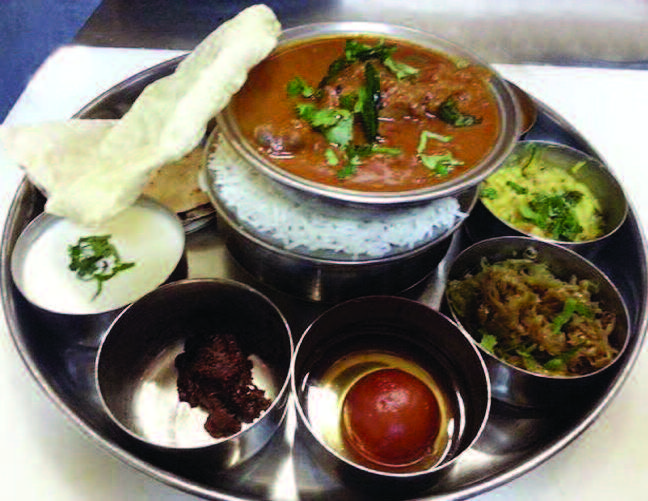 May took a liking to a playfully presented starter called chicken "lollypops." Dusted in masala, it was a textbook example of how a classic spice mixture can energize a basic such as chicken.
"The chicken lollypops were my favorite dish," May said.
"The color, the taste, the spiciness and flavor just really hit the spot."
Mysore bonda, a warming lentil stew enriched with chilies and served alongside coconut dumplings, is something I'd curl up to gladly on a rainy night. May, not a fan of coconut, thought the dumplings a tad bland. But she'd happily reprise the chicken biryani, which was a far more spice-roused rendition than the stuff too often doled out at restaurants without Karaikudi's finesse.
"The chicken biryani was intriguing!" she exclaimed. "It's unlike anything I have ever tasted. It wasn't too spicy or too bland."  Lily summed it up by saying, "The chicken rice with the egg dish looked like what I imagined Indian food to look like."
I always imagine a banquet of India's unfailingly gregarious vegetables as a perfect meal, and I'd want Karaikudi's paneer 65, spiced and fried cheese, on any groaning board. With black pepper and ground chilies as key components, neither one overpowering the other, this is Indian cheese taken to a new level.
A feisty, rather luxurious eggplant curry, ennai kathrikai, may have been my favorite dish of the night: Eggplant stewed with onions, tomatoes and chilies in a tamarind-based sauce proved tart, tangy and inviting as a side show to both the bone-in mutton kurma, a casserole of goat in a silky cashew gravy, and butter chicken, another saucy-yet-sassy stew of chicken with a creamy tomato-infused base.
"Out of the five gravy dishes we tried, the fish one was my favorite," Lily said. For her, the Chettinad fish curry, with kingfish simmered in a multifaceted masala, bested the chicken, mutton, eggplant and pea-cheese sauce-rich dishes.
Fish curries are a specialty of Chettinad cuisine, so Lily's spot on in her assessment. Karaikudi's shows off its spice know-how, fusing seasonings warming and soothing in a way that lends depth to the finfish. I could've eaten that dish all night.
I have to admit that I was most excited to watch Lily and May have a proper experience with both a dosa and an uthapam – specifically a paper masala dosa and an onion uthapam. The paper dosa, a large, lacy and extremely light crepe made with rice flour and, in this case, stuffed with potatoes and onions licked by masala, prompted Lily to say it had "the texture of a French fry."  May enjoyed the dosa, but thought the filling "a little too spicy."  The onion-flecked uthapam, often dubbed an Indian "pizza," is made with a rice flour-lentil base and is thicker than a pancake. Lily enjoyed it straight, no chasers — without "dips," as she cleverly termed the chutneys, sambhar and raita that accompanied our food.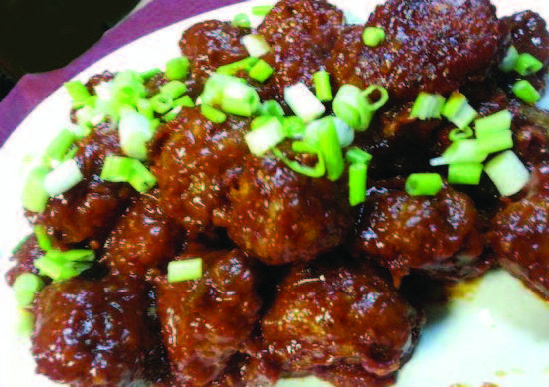 Pineapple kesari, anyone? That'd be a pineapple semolina pudding that's a kind of second cousin to a fruited bread pudding. Gulab jamun? Snap up these milk dumplings soaked in rose-flavored sugar syrup at Karaikudi. Both desserts are sweet, yes, but not cloying, particularly the gulab jamon, which Lily referred to as "pancake balls." They "seemed daunting at first, yet they tasted like a pancake soaked in syrup."
The only dish we all didn't take to was billed as chakara pongal and described as a "beet halwa." It wasn't like the chakara pongal I'd had before, a very sweet crumble-esque dish starring nuts, dried fruits, basmati rice, milk and lots of jaggery (palm sugar). This shredding of beets was sweet without counterpoint, which set it apart from Karaikudi's norm.
And Karaikudi's norm is food so transporting, a dinner here is as good as a stamped passport.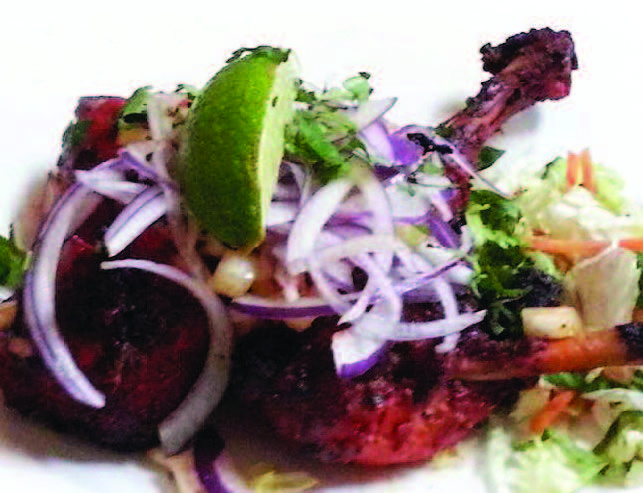 Editor's Note: The ritual of the International Night dinners that became the cookery book of the same name by Mark Kurlansky and his daughter Talia omits India only by fate. In all the spins of the globe that directed the Kurlansky family to their cooking destination, somehow Talia's finger didn't land on the sizable country of India. So we filled in the gap for the many, many devotees of Indian cuisine in Edge-land.