by James Dunleavy, PT, MS
When Is Replacement Surgery the Right Call?
According to the American Academy of Orthopedic Surgeons, over 500,000 total knee replacements are performed each year. In addition, close to 300,000 total hip replacements are performed annually. As a physical therapist, I am often asked about total joint replacements. Many individuals are not sure if they are candidates for a replacement; some are concerned about what they have to do in order to regain function after the operation, while others are a bit nervous about the operation itself—and the potential of pain and how it will impact their lives. My answer is that in the past 50 years, refined operative techniques, advancements in total joint component design and enhanced rehabilitative techniques have totally changed the game in rehabilitative medicine. We can get a person moving again without the arthritic pain that many people experience for years prior to their joint replacement.
Decisions, Decisions As we age, everyone seems to have an ache or a pain someplace. Changes in the surfaces of our joints—with osteoarthritis being the most prevalent cause—are a major source of pain for many people. While some individuals can work through the pain and not have it affect their daily lives, others experience pain that limits everyday functions to a point where it is difficult for them to take care of themselves. Also, many of us—especially those of the baby boomer generation—want to continue very active lifestyles, which the arthritis in their joints makes difficult to do. When does the discussion about joint replacement begin? A family physician will typically conduct a physical exam, do blood tests and take x-rays to determine the cause of joint pain. Once it is established that the joint surfaces are the likely source of the pain, patients are referred to an orthopedist, who can determine whether or not total joint replacement is warranted. Surgery is not a foregone conclusion at this point. On the contrary, an orthopedist often will refer patients to physical therapy in order to determine if maximizing muscle function can decrease pain to a point where one can manage discomfort and lead an active life without undergoing an operation. Some do gain enough pain relief and are able to return to a level of function without a joint replacement. Others—even those in good shape, muscle function-wise—still find the pain and loss of movement at a level that leads them to explore the possibility of a total joint replacement. By the way, as a physical therapist, I believe all these patients are in a better place than they were before. For those who do decide to go down the path of joint replacement, they are in much better shape heading into the surgery than they would have been without this period of physical therapy.
Walking the Walk How long before a patient can go home after surgery? The national average for total joint replacement patients' stay in the hospital is approximately four days, depending on the type of surgery, age of the patient and any other medical conditions a person may have. However, both total-hip and total-knee patients are up and walking immediately—in some cases starting the afternoon of their surgery!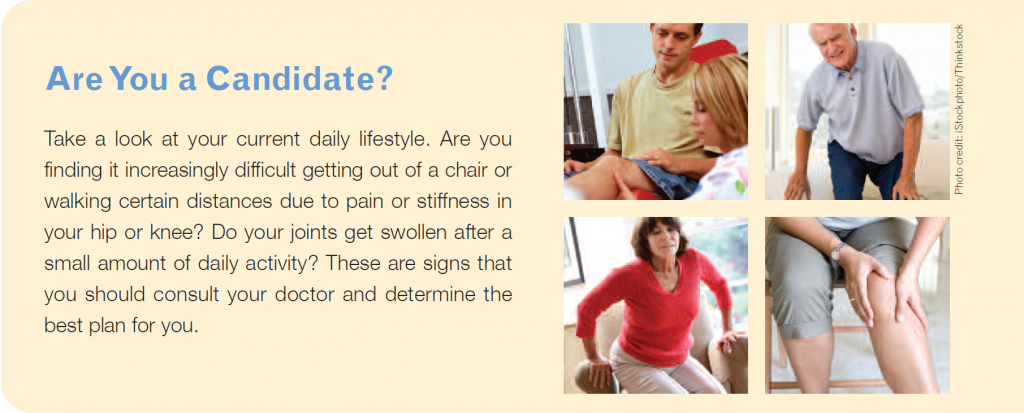 From there, physical and occupational therapists provide the skills and encouragement necessary to achieve early, major gains in function. While patients experience normal postoperative discomfort, most notice that the pain they had before the operation is almost gone. The reason for this is simple—the source of that pain (the roughed surfaces of bone in the joint) is now gone. Pain reduction, new methods of non-narcotic pain control, early movement and function are all the hallmarks of today's modern total joint replacement experience. We have indeed come a long way. After discharge from the hospital, whether one goes to a sub-acute rehab center or home with homecare, the real work begins. I have found that those patients who really push themselves in their rehab routine at home—and later, when they start their outpatient program—are the ones who achieve the greatest success. Unfortunately, our society still has a bit of a passive approach to healthcare; many still just want to swallow a pill and move on with their lives. Not so with total joint replacements. These patients are fully engaged in their own treatment and progress. Persons with total joint replacements find themselves doing more with each passing day, experiencing less pain than they ever thought possible.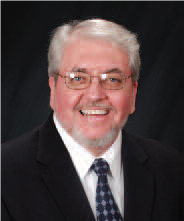 Editor's Note: Jim Dunleavy is the Director of Physical Therapy and Rehabilitation for Trinitas Regional Medical Center.