by Judith Trojan
Jim Dratfield will do anything to get his shot.
Jim Dratfield has been known to sing an aria to an Italian Greyhound, rub shoulders with a cheetah and transform a bathroom sink into a photofriendly backdrop for a finicky house cat. "I'll do whatever it takes to get an animal to respond," says Dratfield from his farmhouse in upstate New York. "I don't expect animals to be models." Improvisation comes easily to this former actor who has been called the Dr. Doolittle of animal photographers. His theatrical career hit a prophetic note in 1980, when he was cast as an aspiring photographer in a Broadway revival of The Man Who Came to Dinner. Born and raised in a pet friendly household in Princeton, Dratfield spent his childhood performing and mingling with aspiring filmmakers, many of whom were protégés of his dad, Leo, a legendary film distributor. Anxious to advance his acting career, young Dratfield landed a recurring role as a paramedic on TV's St. Elsewhere, but reality set in as he approached his thirties. "The life of an actor is a funny thing," Dratfield says. "It's one thing to struggle as an actor in your twenties, but when you're in your early thirties, it becomes more of a concern. I was fortunate to have done a Broadway show and some television work, but there's something called waiting tables—I ended up doing a lot of that."
The turning point came when he shot some promotional photos with his dog, Kuma, opening the door to a lucrative new career. "A light bulb went off," he says. "I'd always loved animals and photography and began wondering if there was a market for fine art pet photography. I thought it might be a way to help support my acting habit." Dratfield exhibited some of his photos in the restaurant where he waited tables and caught the eye of a literary agent. "She liked the pictures on the walls and was a dog lover, so we started talking," Dratfield recalls. The Quotable Canine, a coffee table book pairing dog portraits by Dratfield and Paul Coughlin with classic quotes, was published by Doubleday shortly thereafter. In 1993, Dratfield's passion for animals and photography coalesced into Petography, Inc. He grew the business via private client commissions, more best-selling books, a prestigious gallery exhibit and evergreen posters, calendars and greeting cards.
It didn't take long before he became the go-to guy for pet lovers in the entertainment industry, politics and sports world. "I think it launched me because it was such a specific niche and so different from what was out there at the time," he says. "What do you get the person who has everything and is a pet lover? A photo session!" Dratfield's private clients and book projects keep him hopping across continents, from the elegantly manicured enclaves of Beverly Hills to the volcanic terrain of Iceland and the wetlands of Yeehaw Junction, Florida. A client flew him down to Yeehaw Junction, aka Jackass Junction, to photograph a prized hunting dog. "It was like something out of Deliverance," he recalls. "The ranch manager, Peanut Pitt, couldn't meet me because he was taking his daughter deer hunting for her 14th birthday; so his wife, Spanky, met me at the gate. I called my wife and said, 'If I don't come back alive…'" Although he's suffered his share of bites, scratches and knock-downs from his four-or-more-legged subjects, Dratfield finds pet owners to be challenging as well. "There was the therapist who was French kissing her dog in bed and wanted pictures of that," he says. And a pair of renowned folk art collectors suggested posing their dogs drinking out of a toy toilet. "The craziest shoot I ever did was for a woman who had two cheetahs," recalls Dratfield. "I went into this gated area with her and the cheetahs, and was a little nervous. One rubbed up against me, but I got the images.
Three weeks later, the woman was mauled by those cheetahs. I'm lucky I survived. I got them on a good day." Dratfield's celebrity gigs have taken him to Henry Kissinger's backyard, where the shirtless statesman fussed and cooed over his black Lab while his wife, Nancy, and mother stood by. And there were jaunts to London to photograph British Labour Party Leader Baron Roy Hattersley's Bull Terrier and to Jupiter, Florida, to shoot the St. Louis Cardinals with their dogs during spring training. While the furry companions of such mega-celebrities as Jennifer Aniston, Elton John, Kathy Bates, Charlize Theron, Jack Hanna and Oscar de la Renta can be found on Dratfield's résumé, he is equally proud of his painstaking work on The Quotable Equine. For this exquisite book, published by Clarkson Potter in 2003, he insisted on travelling across Europe and Asia to photograph horses in their distinctive habitats. "With horses, it's hard to get their personality the way you can with a dog or a cat," observes Dratfield. "I thought the only way I was going to succeed was to take a cultural element and incorporate that into the imagery." Whether he's zooming in on a quizzical pug or a doleful dachshund, an ant farm, turtle or elephant, Dratfield believes that one constant fuels all of his photo shoots: the profound bond between pets and their owners. "You get unconditional love from pets that you don't get anywhere else," he says. "If a person is normally uncomfortable in front of a camera, when they're holding their pet, they're less self-conscious and more apt to give you something spontaneous because they're expressing their love." "I've done shoots for the biggest CEO; but when he's out of the board room and around his little kitten, he's making kitty noises and talking gibberish. People let down their guard with me. I ultimately see their best sides because they love their pets."
Dratfield has no regrets about giving up acting for Petography, Inc. because he's continually reminded that his life's work makes a difference. "I get calls when a client's animal passes away. They'll say, 'Your pictures meant a lot to me at the time, but now they'll immortalize my pet in a way that I didn't even realize.' That makes me feel good because I'm not doing brain surgery, but I know I'm doing something that gives people contentment."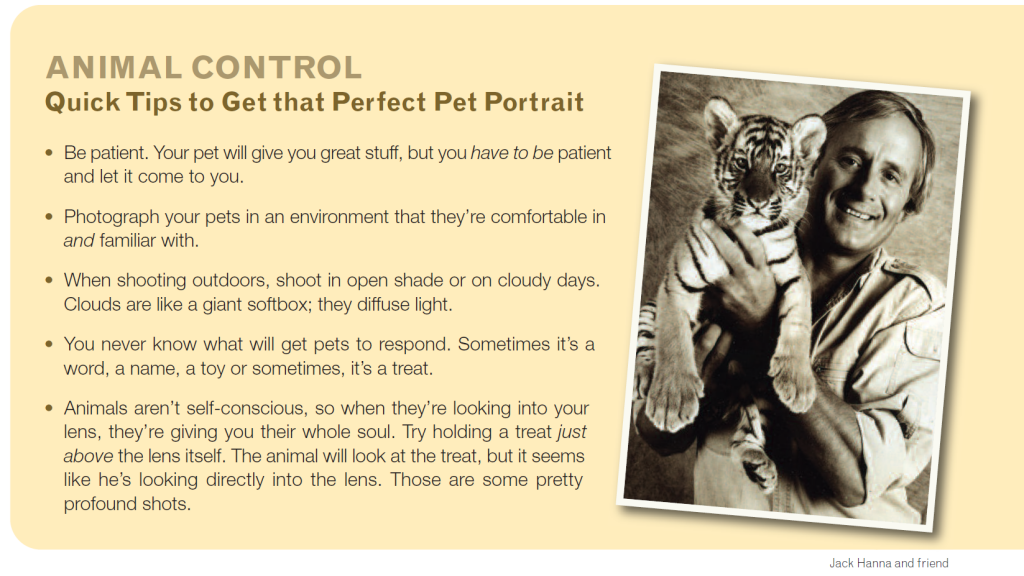 Editor's Note: You can see more of Jim's photos by logging on to petography.com. Judith Trojan has written and edited more than 1,000 film and television reviews and celebrity profiles for books, magazines and newsletters. Her interviews have run the gamut from best-selling authors Mary Higgins Clark, Ann Rule and Frank McCourt to cultural touchstones Ken Burns, Carroll O'Connor, Judy Collins and Caroll Spinney (aka Big Bird). Make sure to check out Judith's FrontRowCenter blog at judithtrojan.com.