by Andy Clurfeld
"Roasted lamb belly was the first-round standout, a yin-yang of tenderness of texture  and strength of seasoning."
By Andy Clurfeld
INC
302 George St., at the corner of New Street, New Brunswick
Phone: (732) 640.0553
Reservations and major credit cards accepted. Hours: Open Monday through Friday from 4 p.m. till 2 a.m. and Saturday from 5 p.m. till 2 a.m. Closed Sundays. 
Prices: Bites: $8.50 to $24.50. Vegetable-based starters: $8 to $13. Entrees: $17 to $26. Extras: $4 to $7, Burgers: $12 to $15. Desserts: $6 to $8.
Our server needs to be flagged down because I forgot to order the House Made Spicy Pickles INC has become justifiably famous for its bill of whiskey fare and cleverly monikered cocktails notwithstanding
How could I do this? I'd prioritized the items on the menu days ahead of time. The pickles were the first item I'd checked off on the list that needed to be winnowed down or risk overloading the kitchen (Server to Intake Chef: "Table 17 wants to run the table—er, menu." Intake Chef: "Are you waiting on the Olympic Sumo Wrestling Team?") or merely alarming the back-of-the-house crew. Who could not want these pickles, served in a crammed-full Ball-style jar with jalapeno, garlic, dill, a dash or five of Tabasco, and aromatic from 20 paces?
"Andy," Erin says, two seconds after our amiable server departs tableside, ample order in hand. "You did not order the pickles." The pickles were Erin's only requirement for dinner on this belly-up-to-the-table night. Her tone was gently accusatory. My response was genuinely remorseful. Had I lost my mind in anticipation of the slow-roasted lamb belly? Was the idea of Bacon Bolognese with a poached egg enough to shut down my brain? Pickles normally are a priority in my life; Erin, at age 9, is an experienced and easygoing collaborator on my eating missions and asks for precious little in return for her always-excellent company.
"Sir!" I say to our server the next time he passes by our table. "I forgot to order the pickles. Can we still get the pickles?" Erin's eyes are hopeful
"Of course," he says. "Just so you know, there are a lot of pickles in one order. You probably won't be able to finish them."
Erin and I smile. We know better.
INC, which doesn't refer to anything incorporated, but stands for "Ingredients-N-Craft," is properly subtitled American Bar and Kitchen. It's a New Brunswick whiskey bar, with a deep selection of brown liquors, and a spirited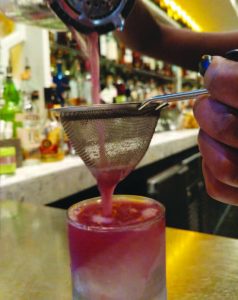 craft cocktail list sporting drinks named to prompt smiles and even giggles. Lavender Holyfield? Laird's Gin, St. Germaine, fresh lemon juice, and a simple syrup scented with blueberries and lavender. Fallen Angel stars Angel's Envy and a supporting cast of cold-weather add-ins. You can get a Who Killed Roger Rabbit, with Bulleit Bourbon, carrot juice, ginger beer and a bolt of thyme-infused simple syrup, or down Brunch on the Lower East Side without missing a trend: house-made bacon-infused bourbon, Knob Creek Smoked Maple Bourbon, vermouth and orange bitters. Catch the scene? You are supposed to have fun here.
We did. How could we not, with a platter of Tennessee-style "prosciutto," a thick-cut ham with layers of smoke and a mere suspicion of sweet sitting in front of us. The plate was perfectly partnered with mild whipped ricotta, a mound of olive tapenade, and a splay of old-fashioned health salad that shouted Jewish deli circa 1960. Speaking of crunch, the pickled daikon radish and cukes gave backbone to the Vietnamese-style steamed buns, filled with pork belly and given a wash of hoisin sauce. The much-anticipated roasted lamb belly was the first-round standout, a yin-yang of tenderness of texture and strength of seasoning. You're given much to play with on this plate, including lemon-licked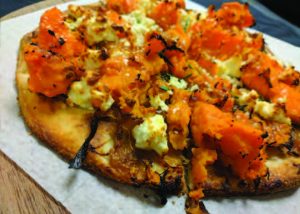 yogurt that gave Middle Eastern nuance to the lamb, mint, and cranberries that offered throwback accenting tastes, and shavings of zucchini that provided a kind of palate cleanse between the variously spiced bites. Good stuff.
Skip the eggplant "meatballs," which have a glutinous mouth-feel that clashes with the ricotta, tomato sauce, and olives co-habiting the plate. Better in the vegetable-strong segment of starters: the kimchi fried rice, which has a roster of produce within that could nourish a family of six for a week, and Kung Pao cauliflower, which marries the current craze of cauliflower-cauliflower-everywhere (and every way) with the ubiquitous sweet-sour sauce found in zillions of strip-mall Chinese dishes. Only INC does it better: The sauce doesn't even approach cloying; sour and a touch of tart makes it feisty, punching up the cruciferous vegetable.
By the time our entrees were arriving, INC had started to swing. There were couples at high-top tables, folks lounging around the regular dining tables and a lively bar scene. The space that once was home to Daryl, a wine bar that made a splash years back, sits astride the Heldrich Hotel in the heart of the downtown district. It was revamped and re-imagined by Mark Farro, who also owns Uproot in Warren, and his chef, Ryan Anderson, early in 2016. So far, in a competitive restaurant city, it's holding its own.
It should, if the Bacon Bolognese continues on the menu. It's a kind of make-it-yourself carbonara, with a perfectly poached egg sitting atop peppery cavatelli tossed with applewood smoked bacon, tomato, and mozzarella. Prick the egg, let it run into the rest, toss (and toss some more), and you have a pasta dish for the ages. We liked it far better than the bland shrimp and grits, which had little presence of either the billed smoked cheddar or the lemon-garlic butter. Roasted Scottish salmon is the better choice in seafood, with a hot-sour broth fueled by tamarind and a stir-fry of tannic spinach that provided a counterpoint to the rich fish. A nightly special of steak tips plied with lemongrass didn't make the point of why the beef needed that particular accent; it's a dish that needs work. But Texas barbecue-style brisket? Sure thing. Belly up to that plate, complete with a Thanksgiving-ready creamy green bean-corn casserole and a splay of long-simmered onions.
When you're having fun, dessert's a natural. What do you expect at a place designed around fun other than a sweet called "Milk 'n' Cookies"? It's a layering of the stated elements, with cream and crunch and nibbles of chocolate. Everything nice. I kept at it, trading off bites with a whiskey'd chocolate fudge and a silky lemon custard with just the right pop of zesty citrus. Cheesecake, though nicely made, was the lackluster also-ran.
INC is where you go when the doldrums strike, and you want a little lift. It's where you go when you're with a crowd of friends who can't agree on one type of cuisine and want congeniality, not conflict. It's where you go when life's presented you with a pickle of a problem, and you crave a jar of spicy spears to solve it.
WHISKEY. GO. GO.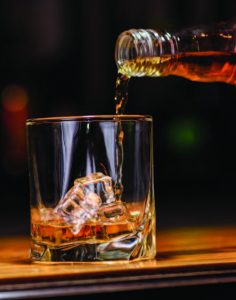 INC has a multi-page whiskey menu that is presented at the start of a meal. The time it could take to digest this whiskey bill of fare might prevent you from actually dining, but it is a major attraction for whiskey lovers. Take the Manager's Reserve List: There's Corsets, Whips and Whiskey, Elijah Craig Barrel Proof, and Noah's Mill. You also can do whiskey flights: Where There's Smoke There's Islay Scotch, Rye Not? and In 'Bond' We Trust. It's all in good fun.