by Andrea Clurfeld
New Jersey boasts a surprising number of romantic restaurants. These rank among the very best. 
Any dinner accompanied by the voice of jazz vocalist Steve Tyrell is romantic to me. How simple is that? I don't need chandeliers, banquettes fitted with tapestries and puffed with pillows, views of water or mountains. I don't particularly want service by a crew that bows, china and silver with pedigrees, or trend-of-the-second food. I'd likely spend the evening making snide comments if a wine list was all about trophy bottles, if an entrée required a scalpel and tweezers to assemble, and if the person I was with could not refrain from snapping photos of every course.
Okay, so perhaps I do have my preferences. We all do. After almost 25 years of reviewing restaurants in New Jersey, I could list in a nanosecond the restaurants I'd avoid if asked for my personal choices for a romantic dinner. I don't like pomp, I don't like pretense and I really, really don't like anything that smacks of imitation. Sincerity is the surest shot to lassoing my heart. I love restaurants helmed by chefs who cook with passion and skill, who offer a strong voice in food. Kind of the way Steve Tyrell plays the piano and sings.
If you do a little research, ask a few questions, I suspect you'll find that the person to whom you want to give an evening of romance has preferences of his or her own. Maybe even a private list of restaurants that sing "Isn't It Romantic?" So ask. Just ask.
But if your partner in romantic dining isn't much of a planner, a researcher or doesn't have an inquisitive mind, I'd like to pass on a handful of restaurant recommendations to keep in mind should the object of your affections ask where you'd like to spend a romantic evening. These are classics, to be sure. Restaurants, in most cases, that have served the Garden State for years. They are reflective of place, have stood fast to their missions in the face of changing times, even changes of chefs. Some make bold culinary statements, some have stolen my heart in subtle ways.
Whether they strike a chord with you, or simply start you thinking about your own preferences, I hope you snag an evening (or three) this season devoted to a romantic dinner….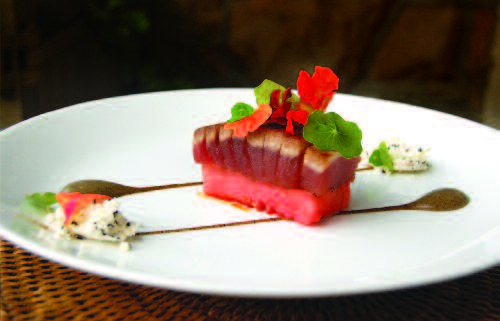 On the Delaware River is the Frenchtown Inn, where the food and the setting duke it out for top honors. Let's call it a perennial draw. Nothing there has ever been over the top, chi-chi or trendy. Today, with chef-owner Andrew Tomko in the kitchen, the last stop in Frenchtown before crossing the bridge to Pennsylvania is one of my first recommendations when folks inquire about a special restaurant for a special night out. Drive around the western Hunterdon County countryside, stop at some antiques shops, art galleries and studios, then end up at this inn. Confession? A few decades ago, I lived across the street, in the old Gem Theater building. (Yes, I remember when the serene Frenchtown Inn was a rowdy townie bar called the Warford House.) So the Frenchtown Inn is a sentimental favorite. Romance often comes with a dash of sentimentality.
I remember so many top-drawer dinners at The Bernards Inn, in Bernardsville. I remember sitting out on the porch, talking with the wine importer Bobby Kacher about his excursions around the south of France; a tete-a-tete with a soul mate as we talked politics in scary times and scary places; a spirited dinner with a food-centric pal who'd taken the train from New York City because he wanted an evening in the kind of place they just don't grow where he lives. The Bernards Inn long has been a commanding presence in New Jersey dining, but never more than since chef Corey W. Heyer took charge of the kitchen. His technical precision serves his creativity well, and the elegant setting is about old-school understatement, not flamboyance.
Well, there is a certain flamboyance about Rat's, the upscale restaurant set amid the world-class Grounds for Sculpture in Hamilton. Art, art is everywhere, in the various dining spaces that are all about bounty, in the rooms that welcome, in the restrooms that don't give the senses a break. That's all deliberate, the brainchild of Seward Johnson, who, the year it opened, gave me a personal tour of Rat's and the atelier he installed in the compound when I was on assignment for Town & Country magazine. Johnson was forward-thinking, connecting Rat's (named after a loyal and hospitable character in the book The Wind in the Willows) to a farm at its birth, urging diners to tour the sculpture grounds before or after their meal, determined to make dinner an all-inclusive creative experience. The mission and the restaurant, reinforced today by the wide-ranging talents of chef Shane Cash in the kitch and the management of Philadelphia-based restaurateur Stephan Starr, never fail to warm my heart.
Small, intimate, reminiscent of a locally loved French bistro, A Toute Heure in Cranford is my idea of a restaurant expertly and exquisitely conceived and realized. Many have tried similar concepts, but few have hit the mark as well as the ownership team of Andrea and Jim Carbine and executive chef Kara Decker, the prime forces behind the sweet little spot that has earned its statewide reputation for purely delicious food. Sure, A Toute Heure can be seen as a tad cramped. (I see it as comfortably cozy.) There's no liquor license, so it's BYOB.(That's happiness for a wine geek like me, who always has bottles at the ready for the seasonally satisfying plates this conscientious kitchen serves forth.) Spontaneous dining simply can't be expected on weekends—or, I so often hear—even on weeknights since the place books out. (I like looking forward to a special night out, so reserving a month ahead is fine for me.) This bistro is beloved.
The first time I ate at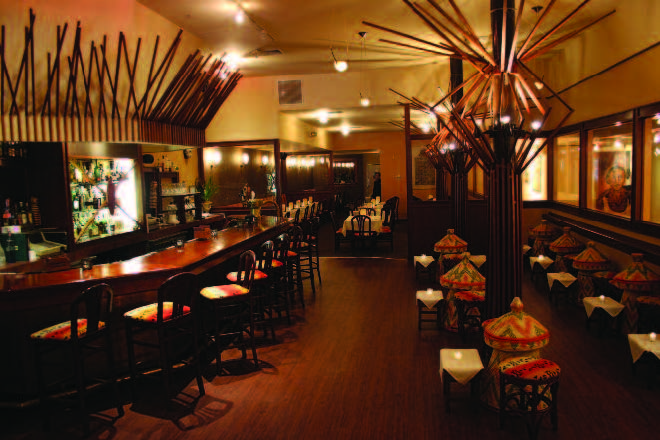 Makeda, the Ethiopian restaurant in New Brunswick, was back in its early days, when it was located in a smaller space and the dining was joyfully cheek-to-jowl. It's long settled in its larger digs in the college town and its imprint on the community is profound: A dear pal who teaches at Rutgers tells me that it's not only where she takes all out-of-town guests and celebrates birthdays and anniversaries, but the cuisine has influenced her home-cooking. "Makeda transports me every time I eat here," this professor says. "It's a vacation in a couple of hours." I agree, and that's why this downtown destination owned by Peter Meme and Stuart Smith, with peerless chef Aster Kassa, is always on my go-to list. Sometimes romance is less about where you are, physically, and more about where a restaurant's food and attitude can take you, spiritually. When at Makeda, I get away in the best possible way.
All this said, I can take a walk on the beach at Barneget Light, swipe the sand off my arms and legs, then canter over to Mustache Bill's Diner for a plate of chef/owner Bill Smith's fried flounder (extra tartar sauce, please) and feel like hugging the world. Pop Steve Tyrell in the CD player on the ride home, and the recipe for romance is complete.
Reservations Recommended…
Frenchtown Inn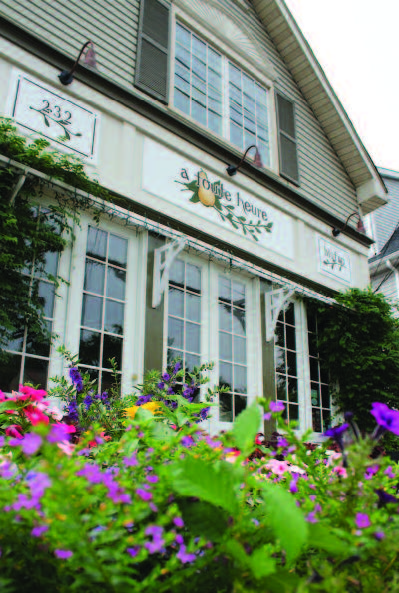 7 Bridge St., Frenchtown • 908.996.3300
The Bernards Inn
27 Mine Brook Road, Bernardsville • 908.766.0002
Rat's
16 Fairgrounds Road, Hamilton • 609.584.7800
A Toute Heure
232 Centennial Ave., Cranford • 908.276.6600
Makeda
338 George St., New Brunswick • 732.545.5115