by Simon Garber
 In the Garden State, Polo Is a 'Family Thing' 
Thousands of families in suburban New Jersey wake up on summer Sundays to a little something I like to call the eternal struggle. The kids want to kick around in cutoffs and flip-flops. Dad is looking to devote the day to the "competitive spirit" (translation: watch sports). Mom? By the time the sun sets, she would like to feel as if she's moving forward—psychically and socially— not just treading water. Like most, I once assumed the solution to this Sunday dilemma was unattainable.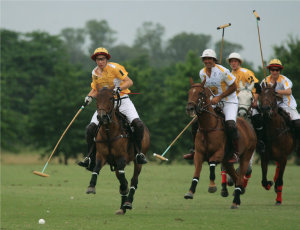 And I'm not one to give up easily. I run a business that presents a new twist or challenge on an hourly basis; if I don't hear someone screaming a four-letter word, I actually worry that something's wrong. Perhaps that is why my favorite four-letter word is Polo. Yes, I know. We tend to think of polo as an exclusive pastime for those who enjoy the privileges of wealth and influence. And in some parts of the world this is true. But I have experienced firsthand the inclusive side of polo, too— the side that brings people from all walks of life together in a beautiful setting, transforming that sleepy Sunday into a vibrant sporting and social event. Some come to watch the action. Others come to connect with old friends and meet new ones. Big kids come and so do little ones. And a lot of people may not admit it, but they come for the amazing food. The point is that everyone comes. For those interested in business or social networking opportunities, well, obviously that goes on all the time at a polo match. In fact, much like golf, the two are constantly intertwined. Unlike golf, it doesn't take a mother or father away from home all day. Indeed, I know of no other leisure activity that promotes the family dynamic the way that polo does. And this applies to virtually any family. Families with young children will find plenty to do at a polo match.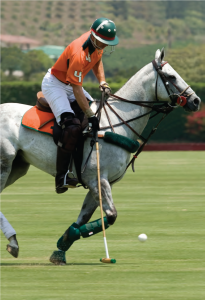 There are the magnificent ponies to admire, the spotless stables to explore, a variety of kid-friendly activities and, naturally, lots of other young boys and girls. Families with teenagers typically park the car, get a feel for the layout and logistics, and then watch with confidence (and relief) as their sons and daughters fan out on their own—leaving mom and dad to enjoy a civilized afternoon and recharge their batteries for the week ahead.
THE CULTURE The people who gather to watch a polo match tend to have a few things in common. They enjoy good food, engaging conversation and, let's face it, people-watching. Consequently, you won't see too many folks wandering around in jeans and a t-shirt. You will see some big hats— hats that are unlikely to be worn anywhere but a polo match. As a rule, polo fans dress neatly and nicely. This includes the kids, who seem amazed that they can actually enjoy themselves without looking like their role models on Jersey Shore. Do you have to be wealthy to attend and enjoy a polo match? No. Polo is an expensive sport to play (just ask my accountants) but, in our area, a season's pass to a polo club can be had for less than the cost of two tickets to a Yankees game. Are there wealthy people at a polo match? Most definitely. But they are not as easy to pick out as you might think; the old expression, "You can't judge a book by its cover" often applies here. That's because it's not all about the money. It's about the camaraderie, it's about the aesthetics, it's about people who—like the elite athletes out there controlling their powerful animals—are interested in elevating their game. Ultimately, I believe this is what makes polo such an inclusive sport. Truth be told, I encountered far less resistance from people in American polo when I first started getting into the sport in the 1990s than I did when I came to America from Europe as a boy in the 1970s. The real tip-off that there are multimillionaires milling around in the crowd is the number of corporate sponsors splashing their names on an event, and also the high-end jewelers and other retailers who like to display their wares to attendees. They know that there are lots of current and future customers at the match, and they also know that many people only watch some of the action—they come to socialize and shop, too. If you're in the market for a new car, new jewelry, new wardrobe, new stock broker, new caterer or even a new face, there is a lot to catch your eye away from the field.
THE COMPETITION Lest we forget, polo is a serious sport. It is fast. It is exciting. And it has an element of danger. The athletes in the saddle must perform both as individuals and as members of a team, and they need unbelievable hand-eye coordination.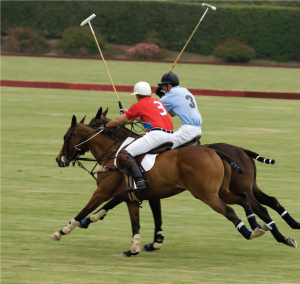 The animal that riders must control is a "pony" in name only—they are full-on horses, four to eight inches taller than the riding ponies at your local stable, and a lot stronger and swifter. They tip the scales at around 1,000 pounds. When they thunder past the spectators, the air crackles with energy. A good polo pony can cost a cool quarter-million dollars or more, and requires up to two years of training before they are ready for competition. They continue to train daily, often twice a day. A polo pony must respond to a rider's instructions through a variety of one-handed tugs on the reins and subtle weight shifts and leg movements. They are primped and pampered in between matches, but once the action starts they are pushed to their absolute limits. Many first-time polo fans are amazed to see how often a player changes mounts. His string of ponies usually ranges between three and seven. If you've ever watched an ice hockey team change lines, then you have some idea of the level of exertion involved. A quality horse can get its rider to the ball. From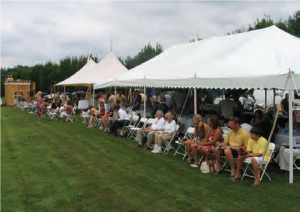 there, however, it's up to the player to pass, defend or score. There are four players per side, each with different responsibilities. The point of polo is to work the ball up the field and knock it through a goal that is eight yards wide. The field itself is 300 yards long with tall sideboards to protect the spectators and keep the ball in play. Defense is all about position and timing. A player can thwart an opponent by interfering with his mallet, or by "riding him off" (picture a half-ton bodycheck). For us, polo is a family sport no matter where we are sitting. My great joy is that I now train and compete with my sons, Tyler, Shaun and Jeffrey. I have been working on my polo game for more than a decade and still feel like I'm learning something new every day. Often I am asked about the skill level required to play polo at a world-class level. The truth is that it's difficult to define. Try hitting a golf ball one-handed on a bicycle at 30 mph without ending up in a heap and you'll have some idea of the talent and training involved. Better yet, come out to a match this summer. You'll see…it really is a family thing. EDGE  
Editor's Note: Simon Garber is the owner of the Yellow Cab and SJS Jets polo teams, as well as the Polo Club of Colts Neck. For more information about this summer's Sunday schedule, log onto poloclubofcoltsneck.com. Special thanks to Dario Garcia and Susan Belfer for their help on this story.