by Christine Gibbs
Extreme Gifting: Home Edition
By Christine Gibbs
'Tis the season synonymous with giving and receiving. Gifting rituals extend around the globe and back through history. Greek and Roman mythology celebrated heroic figures such as Prometheus, who stole fire from the Gods and presented it to mankind, and Dionysus, who was the first to bring a bottle of wine to an orgy. All major religions honor the tradition of gift giving, in many different ways. Christianity annually reveres the gifts of the three wise men in Bethlehem. Channukah extends the gifting ritual to eight days. Kwanzaa focuses on the seventh day. In Islam, giving gifts is one of the beneficent acts recommended by the Prophet Mohammed.   
Gift giving may be universal, but it tends to be culturally unique. Thank you cards are not expected in Israel, but birthday breakfast in bed is expected in Sweden, while a gift should be wrapped in red for good luck in China. Of course, here and in Western Europe, the mere mention of Christmas to children of all ages conjures up some iteration of Santa Claus—aka Kris Kringle, Father Christmas, Père Noel, or St. Nicholas, to mention a few.
While gift giving is more or less obligatory in North American culture (holiday, birthday, housewarming, wedding, baby shower, etc.), there are no hard-and-fast rules about how much to spend or, more to the point, how "personal" a gift should be. What might strike one person as being thoughtful could very well appear presumptuous to another. Then are those who take the act of giving to a whole new level…something I like to call extreme gift giving. I use that word the way millennial athletes use it when they talk about "extreme sports"—as an all or nothing, death-defying, adrenaline-pumping pastime. 
We're not talking about an expensive bottle of wine or a fancy orchid; we're going way outside the (gift) box. In these pages are ideas, examples and how-to's for splurging on a lifestyle-altering gift for a friend, family member or colleague. Welcome to Extreme Gifting: Home Edition. 
UNDER $1,000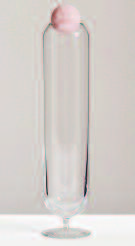 TABLE TOPPER
Hand-blown decanters from the cross-discipline studio of Anna Karlin add a whimsical touch to the dinner table. They're topped with a delicate matte rose-quartz stopper. $320 at annakarlin.com.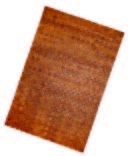 INTO LEATHER
Elvis & Kresse uses reclaimed remnants of fine leather along with recycled fire hose and silk parachutes to make a unique, earth-friendly leather rug.
$300 at ahalife.com. 
BE SEATED
The Dress Chair from the ThisLexik design studio applies a thermosetting technique using epoxy resin to transform a pair of recycled jeans into whimsical yet surprisingly durable furniture.$450 at thislexik.com.
$1,000 to $5,000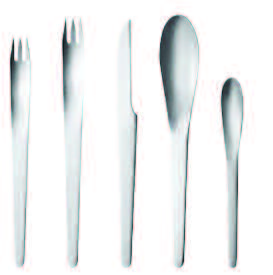 BUY GEORG
You might go broke collecting Georg Jensen, but as an extreme gift-giver you'll never go wrong. The less-is-more company makes an ultra-contemporary five-piece flatware service for 12 in an understated matte stainless steel finish. $1,250 at 1stdibs.com.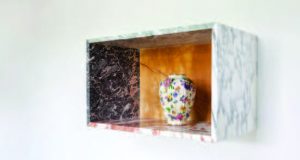 SHELF LIFE
Muller Van Severen's multi-marbled shelf is perhaps the ultimate outside-the-box home décor gift. $3,165 at mullervanseveren.be.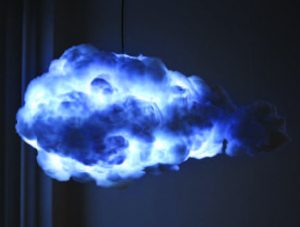 FRONT AND CENTER
For the tech-obsessed family that stores its life in the cloud, the Richard Clarkson Studio has come up with the Smart Cloud, which mimics the look and sound of a thunderstorm whenever someone enters the room. $3,360 at richardclarkson.com.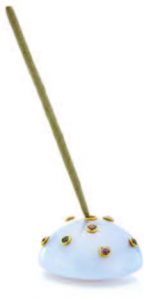 SMELL OF SUCCESS
Marie-Helene de Tallac's blue chalcedony incense burner is trimmed in 22k gold. It's a tribute to financial acumen and the ongoing pursuit of relaxation and tranquility.$3,500 at modaoperandi.com. 
BED TIME
Frette's Mia throw blanket is exquisitely crafted in soft cashmere and trimmed with coordinating Rex fur for unsurpassed warmth and luxury. $3,500.00 at harrods.com.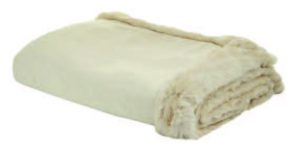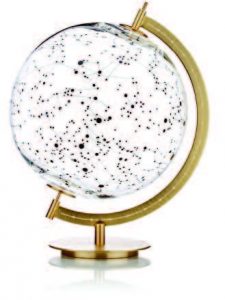 OUT OF THIS WORLD Secondome's hand-blown glass and gold-tone brass
Mod.Sky stellar-map globe is part of an interactive behavioral experiment called the COEXIST Project. It's designed by Italian artist Gio Tirotto. $4,000 at barneys.com.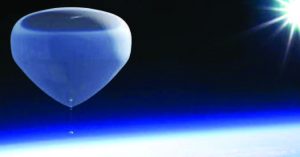 SKY'S (NOT) THE LIMIT
It may not be a gift that keeps giving (although it may give your financial adviser a permanent ulcer), but if you want to take this extreme-giving exercise outdoors, a trip to the stratosphere in a Bloon is hard to top. The Bloon rises 22 miles using a non-combustible fuel for a gentle, noiseless voyage with no impact on the environment. We won't give away the price, but if you're curious, log onto inbloon.com.
Editor's Note: Chris Gibbs has been EDGE's "It's A Gift" editor since 2009.