by Erik Slagle 
Trinitas helps get Tony Testa back on his feet. 
By Erik Slagle 
Tony Testa's life has always been about giving it his all for the fans. As the original guitarist for the beloved doo-wop group The Duprees—and now their leader and frontman—Testa's charisma and give-and-take with the audience make every show dynamic and unforgettable. The band  formed in the early 1960s in Jersey City and shot to fame with hits like "You Belong to Me," "It's No Sin" and the classic "Have You Heard."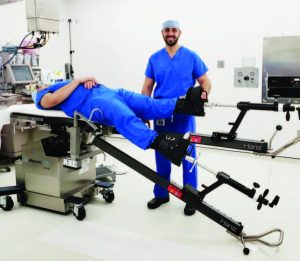 Extensive touring and physical wear and tear on Testa over the years resulted in a hip condition that took him off his feet earlier this year. A born performer, Testa knew he couldn't take chances with anything other than the best care and technology when it came to receiving an artificial hip—a critical joint for someone who needs to command the stage for a living. After researching hip replacement procedures, Testa decided to seek out a facility that uses the Hana Orthopedic Table (right) in its OR. The Hana Table has transformed how hip replacement surgeries are carried out: patient positioning via the table means the surgery can be minimally invasive, less painful, and with much faster recovery time. It all adds up to a vastly improved experience compared to hip replacements of even the recent past.  A friend who had recently undergone surgery of his own recommended that Testa—who lives in Jackson Township—look into the work being done at Trinitas, which uses the Hana Table in its OR.  After speaking to another friend, Nadine Brechner,  Chief Development Officer and Vice President of the Trinitas Health Foundation, Testa chose Trinitas even though Elizabeth is 50-plus miles north of his home. 
"I've known Nadine Brechner for some time now, and she told me about the facilities and staff there who could perform my hip replacement," Testa says. "I made the decision that Trinitas, even though it was a little far, would be the best place to have this surgery." 
Then, however, came COVID-19. The pandemic caused many to rethink the decision to undergo elective surgeries. Testa, though, says he never seriously considered postponing his operation: "I was reasonably sure it would be safe. Hospitals are always ensuring of a healthy and clean environment, and given the crisis, I was especially confident every precaution would be taken."  
For Testa, who like other entertainers had his touring schedule postponed, the timing was ideal, as he would have plenty of time to recover and recuperate. Live concerts for The Duprees—and special events like Holland America's Malt Shop Cruise, which features the group in its all-star lineup—are set to resume sometime in 2021.  
The effort to get Testa back into the spotlight co-starred orthopedic surgeon Dr. Mark Ghobrial, anesthesiologist (and Chair of the Department of Anesthesiology) Dr. Leon Pirak and the Trinitas nursing team—all of whom Testa describes as "nothing short of incredible
As New Jersey flattened its curve and hospitalizations began slowing in the spring, Testa's procedure was carried out as planned. In fact, with extra safety measures and disinfection procedures in place, hospitals soon became some of the safest places to be in terms of potential COVID-19 exposure. Trinitas, of course, was no exception. 
"The whole staff was extremely attentive to health and safety protocols," Testa says. "They made sure everyone had masks, were always taking people's temperatures  and wiping everything down. As a patient, I never felt unsafe or like corners were being cut. Dr. Ghobrial was terrific. Dr. Pirak? Top-notch. And the nurses, I can't say enough about them. I would recommend Trinitas to everyone. I had the surgery on a Tuesday and was out of the hospital by Thursday morning. I was walking again almost immediately
According to Testa, he could have been back on stage by September. Whenever that happens, for fans of the Duprees, it won't be a moment too soon.