by Andrea Clurfeld
"We cut into the half-bird, dipped the meat and crispy skin into the sunset-color butter, and wondered why we weren't doing this at home."
by Andrea Clurfeld
Hamilton's Grill Room
8 Coryell St., Lambertville • 609.397.4343
Hours: Open for lunch Thursday through Monday from 11:30 a.m. to 2:30 p.m.; reserva-tions not necessary. Open for dinner Monday through Thursday from 6 to 9 p.m., Friday and Saturday from 5 to 10 p.m., Sunday from 5 to 9 p.m.; reservations recommended. BYOB, though should you forget to bring along wine, it can be purchased at The Boat-house just across the courtyard in The Porkyard complex.
Prices: Appetizers: $9 to $17. Soups and salads: $3.50 to $14.50. Entrees: $22 to $39. Sides: $6.50. All major credit cards accepted.
It's the late 1970s, and Jim Hamilton is zipping around an alleyway off Coryell Street in Lambertville. He's in the process of converting a semi-crumbling former sausage factory back here into… well, I'll recreate the gist of it much as he spoke:
"An antiques shop, galleries, maybe an art studio," Hamilton says with a sweep of his arm. "A cluster of spaces." He speaks of the need for creative souls to have room to work by the canal and the river (that'd be the Delaware), as well as a supportive community. "A restaurant, we'll put the restaurant back here. There has to be a restaurant, a place for people to come together. Simple food, fresh food."
At this point, Hamilton stops moving and looks at the novice reporter (me) whose scribbling cannot keep pace with his free-flowing storm of ideas. We'll freeze this frame, a la Jimmy Stewart as George Bailey in It's a Wonderful Life on the face of Jim Hamilton, award-winning Broadway set designer. His eyes bright and focused, his mouth offering a half-moon smile, his body now in a half-lean against some half-beam, he is convinced that Lambertville—his old hometown, the place he has come back to for its good bones and endless potential—is going to someday be one of the most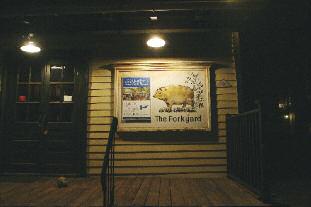 desirable destinations in all of New Jersey; visually arresting, creatively energetic, spiritually satisfying. He convinces 20-something me.
I move there.
Every time I return, I start at The Porkyard, the name Hamilton gave to the old sausage factory that did, indeed, become exactly what he dreamed, and then some. The Porkyard jump-started Lambertville's renaissance as the city (it's New Jersey's smallest) with the most to look at per square inch. Around every corner is a design gem, be it a detail or a top-to-toe restoration.
Today, The Porkyard, a must-stop in the diverse, design-centric downtown commercial district, is flourishing. There are antiques, art and a tiny and inviting two-story Mecca for drinks called The Boathouse, all of which are anchored by Hamilton's Grill Room, the restaurant Jim opened more than 20 years ago. With his daughter Melissa then at the open-kitchen grill, it set the pace for a new style of restaurant dining: food and setting that are all about elegant simplicity and casual sophistication.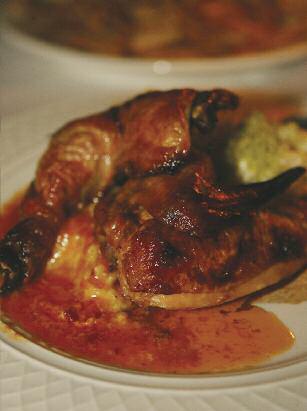 Chef Mark Miller fell into step with the distinctive Hamilton style several years ago when he took charge of the kitchen. The seamless transition means the romantic rusticity of the dining rooms can be appreciated without reservation. There's the high-ceilinged, banqueted Gallery Room, along the canal; the twinkling-lights Garden Room; the private-for-a-party, mural-filled, post-and-beamed Delaware Room, warmed in winter by a Franklin fireplace; the airy and open Grill Room; and the intimate Bishops Room, with a framed mirror on the ceiling and angels painted on bead-board walls. In milder months, outdoor seating along the canal is the prime place to perch at Hamilton's Grill Room, sipping wines you tote along and reveling in Jim Hamilton's dreams come true…and food true to Hamilton's roots as a home cook who believes in the integrity of basic Mediterranean food and using ingredients locally sourced.
You'd be wise to start with an appetizer called "Jim's Cannelloni," for this thin sheet of pasta cosseting moist ground pork, a film of tomato and something that's akin to a breeze of mild, melting cheese is all about casual done right in the kitchen. It's the gentlest of segues from the slam-bam world of in-your-face flavors to what Hamilton's cooking is about.
But don't assume anyone here is afraid of feisty flavors. Take the grilled shrimp, super-sized and moist as served in their shells, which are plied with potent anchovy butter. Long a signature dish, they show how vigorous ingredients such as anchovies can work in accenting roles when properly applied. Speaking of proper, few can do a textbook-correct, pastry-crusted country pate, a sturdy, subtle mélange of meats plated generously with cornichons and spicy mustard. It's a salute to the kitchen's core sensibilities.
A toss of romaine hearts, slices of avocado and chunks of ruby grapefruit are a salute to off-season salads. An extra-cost add-on of jumbo-lump bluefin crab is a luxe touch.
To experience Hamilton's at its best, snag entrees from the grill. A whole bronzino is a thing of beauty here—seared-skin fish you can fillet yourself, or have the kitchen whisk away the bones. If full-service is your wish, just ask to see the whole fish first so you can appreciate its beauty. On the night of our visit, the firm-fleshed fish was very Med in style, served with a compote of olive tapenade that provided just the right punch of salinity to the mild finfish.
Grilled cowboy steak, cooked a little past the requested medium-rare, also was given an equally appropriate schmear to add interest: Creamy blue cheese, piquant and portioned just right, is a classic for the best beef, for sure, but seems to strike some chefs as just not enough. Too bad.
It will be too bad for you if you miss the downright terrific rotisserie chicken here, especially if when you visit it's given a wash of tomato butter. We cut into the half-bird, dipped the meat and crispy skin into the sunset-color butter, and wondered why we weren't doing this at home. Again, another oh-so-right moment at Hamilton's Grill Room.
Then, there are those details, which must be in the Hamilton genes. Each entrée came with roasted cauliflower dusted with sharp, nutty grated Parmigano-Reggiano. We could not get enough of the stuff. We also wished we'd double-ordered the separate sides, particularly the creamy, charred leeks braised with a marinara that resonated San Marzano tomatoes, and the just-for-fun skinny pommes frites.
I remember much about previous suppers here at Hamilton's Grill Room (sturgeon, mighty sturgeon; my first encounter with the vivacious shrimp-in-anchovy butter; a primo pork chop, flush with warm chutney; a cassoulet, plumped with duck confit), but I don't recall too many sweets that have left the kind of impression as the savory dishes. On this night we love the perfect-pitch pecan pie, for its crust is light and flaky and it's happily not too sweet.
I'm having the sweetest memories as we amble out of Hamilton's Grill Room, knowing the restaurant's defining chef Melissa Hamilton (she worked as food editor at Saveur, Cook's Illustrated and Martha Stewart Living magazines) is nearby in Lambertville, now shepherding Canal House Books with her equally talented and food savvy co-conspirator, the writer-photographer Christopher Hirsheimer. I'm remembering going to a minuscule East Village restaurant called Prune shortly after it opened a decade or so ago, loving its food and meeting its chef-owner, who turned out to be Gabrielle Hamilton, also Jim's daughter. (Gabrielle has won a James Beard Best Chef Award and written the also-award-winning memoir Blood, Bones & Butter.)
Mostly I'm remembering trying to keep up with Jim Hamilton (who, now well into his 80s, still lives in this countrified city) as he told me on that day 35 years ago of all that Lambertville could be. He was right, he tends to be, and it's fine with me to continue to gasp at the heels of a man who understands the art of living beautifully.
Editor's Note: Andy Clurfeld is a former editor of Zagat New Jersey. The longtime food critic for the Asbury Park Press also has been published in Gourmet, Saveur and Town & Country, and on epicurious.com. Her post-Sandy stories for NBCNewYork.com rank among the finest media reporting on the superstorm's aftermath and recovery.
Cooking…By Design
Canal House Cooking is the series of cookery books that brings home the "Essential Hamilton Eating and Cooking Experience." They're the brainchild of two like-minded women, Melissa Hamilton, former chef at Hamilton's Grill Room, and her cooking partner Christopher Hirsheimer.
"Every day we cook," they write. "'Canal House Cooking' is home cooking by home cooks for home cooks."
The books, published periodically in decidedly un-coffee-table size, are available at Hamilton's Grill Room. They're designed by "a group of artists who collaborate on design projects." The photography is ethereally elegant, yet the food in the photos looks down-home real.
Volume No. 6, for example, is subtitled "The Grocery Store," and its recipes are inspired by grocery stores grand and esoteric, and also ubiquitous suburban supermarkets that can be at once meh and marvelous. Mostly, though, it's about cooking from common ingredients, lots of pantry staples, with seasonal stuff as the kick-starter, and includes cocktail bites such as "Cheddar with Mango Chutney," as well as "Any Night Linguine with Clam Sauce" and "Winter Summer Pudding."
The cooks' decision to rent a house for a spell in Tuscany and shop and cook there gave shape to Volume No. 7, "La Dolce Vita." Living amid Italians, cooking like Italians prompted the women to divine "Meatballs with Mint & Parsley," "Stuffed Onions Piedmontese" and "Christmas Soup," with chicken and escarole.
Dinner, anyone?