by Sarah Rossbach
Thanks to a bumper crop of home hydroponic and aeroponic products, more and more New Jerseyans are growing their own.
Around the time I returned home to New Jersey from a COVID-shortened "vacation" last March, I and much of the nation experienced pantry panic—an undiagnosed anxiety related to food sourcing and hygiene. A trip to the grocery store, to feed our family, was fraught with fears of air-borne disease droplets lurking in the meat section and vegetable aisles. I had no idea what was safe and germ-free. Once home, this anxiety spurred me to clear all our window boxes and plant seeds of radishes, chervil, basil, parsley and lettuces. I also joined a local farm CSA (that's short for Community-Support Agriculture) that weekly provided a seasonal assortment of lettuce, tomatoes, zucchini, potatoes, peppers and squash, all grown within five miles of our suburban house.    
With the pandemic wave rising in the autumn of 2020, the cold dark months of winter bearing down, my home and CSA-grown supply of fresh vegetables ending and no idea where our place would be in the vaccine line, I began looking at options for how to provide a safe and local food source. I already had a grow light in the basement, so why not try hydroponics?
Like Zoom, Netflix, Amazon, Peloton and Pfizer, hydroponics is a pandemic growth industry and, with 20-20 hindsight, might have been a prescient investment in 2020. If you google hydroponics, over 67 million results pop up. Products ranging from $99 Kohl's and $73 Wayfair contraptions to state-of-the-art growing units costing in the thousands, promise a pandemic-free pantry, with fresh tomatoes, cucumbers and lettuce. Producing this year-round, home-grown salad without having to venture into a potentially germ-ridden store, allows the indoor farmer to become the ultimate locavore.
Indeed, hydroponics lowers your carbon footprint: the produce is energy-efficient, wasting no gas for shipping from California or Peru or driving to the local green grocer. And in spite of the initial dollar outlay for a hydroponic growing pod, home-grown food, over time, is likely to be less expensive, healthier, fresher and more sustainable since you are employing only the water solution and the electricity for a grow-light, water pump and filter. The age-old parental advice of "eat your greens" might actually eat up less green… and there are many businesses eager to help you grow your own.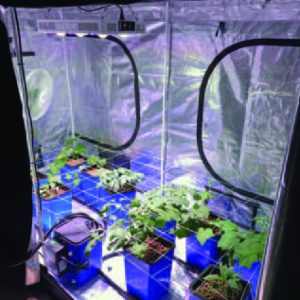 Tom Corvo, owner of Shore Grow Hydro, a three-year-old hydro-ponics retail store in Ocean, says there are many consider-ations that determine what sort of home-growing unit to purchase: Do you have the space, time Shore Grow Hydro and budget? Generally the lights are the most expensive purchase. One customer spent $50,000 to set up two rooms with hydroponics. Or you could invest in a simpler set-up of a lettuce raft floating in a 2 x  4-foot tray on legs with a grow light for under $500. The store smartly offers support: the last Thursday in every month, Shore Grow runs classes—from Hydro 101 for seed starting and fruiting to more advanced 201 classes for propagation, pest control and the finer points of automation.
I admit my mind glazes over when I learn that there are finer maintenance details to hydroponics than I'm used to (compared to outdoor gardening), such as checking the water for 5.5-6.5 PH and adjusting it, changing water every two to three weeks, choosing a nutrient (organic or not).  Yet, Corvo says that business is steady to good and expects an even greater up-tick in home-growing hydroponics, especially with marijuana now legal in the Garden State.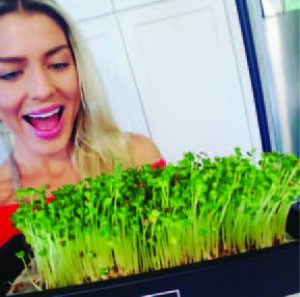 On the opposite coast, there's California-based Hamama, a micro-green growing system that pops up on my Facebook feed every day. The ads of this e-commerce hydroponics company are appealing and tempting. What intrigues me is the promise of healthful microgreens that grow quickly, easily and don't take up a lot of space or energy—as well as no need for a water pump or filter. (So technically is this hydroponic?) Better yet, the company's "starter kit" doesn't cost a lot of lettuce: $35 plus free shipping. Costs can mount if you go all-in and purchase a "grow shelf" that accommodates six grow trays. I spoke with Camille Richman at Hamama, who reports that orders have increased during the pandemic and that their top-seller is the Super Salad Mix Seed Quilt, a growing medium that contains broccoli, kale, arugula, kohlrabi, cabbage and cauliflower seeds.  But the jury is out: Amazon customers either loved or hated the product—the seed strips worked for some and didn't deliver salad for others.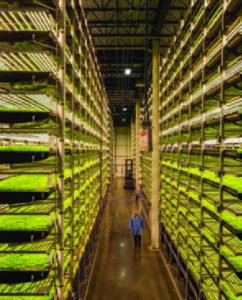 By now, you may  have surmised that I'm in favor of low-maintenance systems. I gravitate to easy-to-use and safe products. So I also gravitated to a hydroponics off-shoot called aeroponics. Aerofarms Aeroponics is a growing system that combines aeration and nutrient misting that encourages faster plant growth. Newark is home to Aerofarms, a "data-driven" indoor vertical growing farm and company that has been in the news the last few years. This New Jersey "home-grown" business enjoys several partnerships around the state, nationally and globally. The company, which claims its growing systems need 95% less water than outdoor farms, has been selling its lettuces, herbs and microgreens to restaurants ranging from Red Rooster to Momofuku, as well as retail grocery chains including Whole Foods under the brand Dream Greens. Aerofarms also professes to be 390 times more productive per square foot than traditional agriculture. Privately owned, the company enjoys financial partnerships with Goldman Sachs, IKEA and Dubai Holdings.  Now Aerofarms is building the world's largest aeroponic farm—90,000 square feet—in Abu Dhabi. 
On a much smaller, home-growing scale, Karen Campi sells the aeroponic Tower Garden to homes in New Jersey and partners with local schools in Summit and Bernardsville.  While hydroponics start crops from seed, aeroponics functions with starter plants.  Campi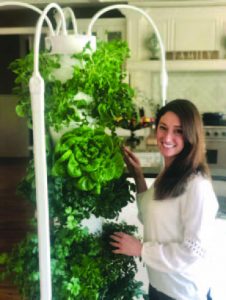 says the vertical growing units—an outdoor one ($620) and an indoor version ($970) with LED grow-lights—are selling so well she can't keep them in stock. While Tower Garden offers a seed starting kit for $29, a first farming foray might be better served with $2 plant seedlings. The indoor tower can house up to 16 microgreens and 16 full greens at one time. Campi says that the plants last up to three or four months and recommends harvesting lettuce from the outside. Her enterprising college-age son Joe has started a Tower Garden Cleaning and Set-up business to help her clients maintain their towers. As a multi-tasker with a half-dozen projects in the works, I don't want to think about upkeep. So perhaps Joe's $120 maintenance fee per season for one indoor model, though pricy, could be worth it. 
If you choose to bypass Joe's services, Beyond Organics Growers supplies the plant seedlings for Tower Garden. Theresa Reid, owner of the five-year-old company, says that the original business model was supplying restaurants and a few retail customers.  After COVID, the restaurant end of their business nearly dried up, but the number of home-growing customers grew. "The retail business more than made up the difference," she says. 
During the winter months, Beyond Organics has been supplying Tower Garden customers with a wide variety of lettuces and herbs—romaine, arugula and spring mix being top sellers. Now the company is taking additional growing orders from tower owners (as well as garden patch growers) for its organic spring crops, such as tomatoes and cucumbers, which are incubated in a rock-wall greenhouse with radiant heated floors. 
Be it hydro or aero, the mere act of watching something grow during the stark cold months—and then harvesting it—is emotionally and nutritionally enriching. In the chaos of 2020, high-tech home-growing presented a wonderful opportunity. The question is, how many of us will stick with it—and how many more will double down when winter comes again in 2021? As vaccines tame the pandemic and marijuana becomes legal, it will be interesting to see how this business evolves this year and beyond.