by Caleb MacLean 
Building the Ultimate Game Room 
By Caleb MacLean 
The suburban basement doesn't get the love it deserves. Finished, unfinished, damp or dry—it is a launching pad for household pests and odd smells, and, in its own taunting way, a monument to unfulfilled potential. How one fills that yawning void is a matter of personal choice, personal taste and personal budget. The most personal solution? An all-out play space: aka the ultimate game room.   
 In newer (and grander old) homes, basements offer a great deal of square footage. Even after allowing for HVAC equipment, storage, water heaters and other appliances, there may still be 200 or more square feet that can be devoted to a fun dungeon. Often much, much more. The first order of business is to ensure the space is clean, dry, well lit, ventilated and climate controlled—in other words, finished. Fortunately, most suburban homeowners already have reasonably civilized basements. 
Next comes a critically important question: What will be the true nature of this space? Presumably, the overarching goal is to promote meaningful interaction with family and friends. Which requires stepping back a bit and looking at the "culture" of your family. 
Will this space be an extension or celebration of that culture, or is it a way of changing the game, so to speak?For example, if your family tends to gather around a monster flatscreen, then maybe you want an even more monstrous flatscreen downstairs as part of an awesome home theater array. Or maybe, just maybe, you want to change the game…and create a space that promotes some old-school interaction.
The home theater option? You can knock that out in an afternoon at Best Buy. To create a truly extraordinary fun dungeon, however, takes the kind of obsessive, time-consuming effort and financial commitment that, by its very nature, will almost certainly be a once-in-a-lifetime experience. In a perfect, totally self-indulgent world, the menu must include most, if not all, of the following items:
Vintage Pinball Machine

Vintage Arcade Game

Vintage Jukebox

Vintage Vending Machine

Carnival Midway Game

Foosball or Air Hockey Table

Pool or Ping-Pong Table
If you happen to be an inveterate collector or borderline shopaholic, all the better, because this is going to require some legwork, both physical and virtual. If you need some starting points, read on…
FLIPPING FANTASTIC… THE PINBALL MACHINE
Having grown up in the pre-video game age, I hold that humankind has yet to invent an entertainment device that improves on the mechanical pinball machine. It combines the demanding skills of lightning-quick anticipation and hand-eye coordination with the relatively undemanding ability to stand, pull and release a spring-loaded plunger and push buttons every few seconds. Pinball first gained popularity as a gambling device, and was actually outlawed for many years. The "modern" pinball machine, with its rolling scores and rubber bumpers came on the scene in the 1960s. A new, electronic generation of machines hit the arcades in the late 1970s. The arcades themselves went the way of the dinosaur as soon as home video game systems achieved a certain level of sophistication: Why pour quarters into a slot when you can hit the reset button for free? 
But pinball machines survive—even the old ones. They were built well and built simply enough so that they could be maintained and repaired without too much expense or expertise. They are now bought and sold like vintage automobiles, only much less expensive. And "tune-up" kits are available online to keep them clicking.
When purchasing a pinball machine for home use, the first decision to make is whether you want a vintage mechanical '60s or '70s model, or one with a computer that runs the show. The machines from the '80s and '90s have a lot more bells and whistles, and usually feature multi-ball play. Many of these are licensed after entertainment properties, such as The Addams Family movie franchise, starring Angelica Huston and Raul Julia. The Addams Family pinball machine happens to be the all-time best-selling pinball machine, with more than 20,000 units sold and many (if not most) still available. It was manufactured by Midway and designed by Larry DeMar and Pat Lawlor. 
Lawlor, it's handy to know, was regarded as the industry's creative genius. If you go shopping for a machine and see his name attached to it, it's probably fun to play. Interestingly, for many years the Holy Grail for video game designers was to make a virtual version of The Addams Family pinball. An Addams Family machine in good, working condition will run you around $7,500.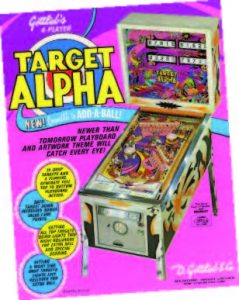 For a test of your flipper skill without all the solid-state electronics, a machine from the 1970s may be the way to go. These were the mainstays in arcades at a time when the most sophisticated video game was Pong. Their price and popularity depends on a number of variables,including the art on the back-painted glass. A challenging machine treasured among silver-ball aficionados is Gottlieb's Target Alpha, which came out in the mid- 1970s. Its fun and challenging play field was used in several other machines. 
A well-restored example of Target Alpha can cost up to$5,000, but as with most machines of this era, prices vary based on availability and condition. With any pinball machine you purchase, it's important to understand what's involved in maintenance and repair. You can do most of it yourself if you have some mechanical acumen. If not, we are fortunate to live in a state where there are a number of people who both sell and service vintage machines. To get a feel for the different options take a drive down to the Silver Ball Museum in Asbury Park. It was actually featured in our Wendy Williams fashion shoot a few years ago.
HIGH SCORE…  THE ARCADE VIDEO GAME
In the old days, the golden rule of video arcade games was "pay a quarter, die three times." It cost money to get seriously good at Space Invaders or Pac-Man or Donkey Kong or whatever "your game" happened to be. Space Invaders gobbled up quarters at an astonishing rate. In its day, the game made more money than the first Star Wars movie—by a factor of three times! Its creator, Shigeru Miyamoto, became a video game legend. He went on to create Donkey Kong and other hit arcade games for Nintendo before turning his attention to home gaming, and was the driving force behind Wii.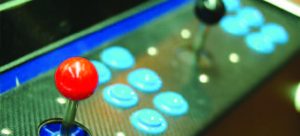 Going out and finding your favorite arcade console is fairly simple. You can track down a refurbished vintage model online, at auction or from a regional dealer. Or you can check out new arcade consoles that offer multiple "classic" games. Though eschewed by purists, they have become movie—by a factor of three times! Its creator, Shigeru Miyamoto, became a video game legend. He went on to create Donkey Kong and other hit arcade games for Nintendo before turning his attention to home gaming, and was the driving force behind Wii.
Among collectors, one of the most popular vintage arcade games is a maniacal attack-and-rescue space game called Defender. When it came out in 1981 it was predicted to be a flop because its level of difficulty was so high. It required players to watch four different parts of the screen at the same time and work controls in combinations that took hundreds of quarters to master. Of course, that turned out to be the key to Defender's success—players became obsessed with annihilating alien spacecraft and rescuing their buddies before they plunged to their deaths. Larry DeMar and fellow pinball programmer Eugene Davis designed the game for Williams, which ended up selling more than 60,000 units. They sell for about $2,500 today.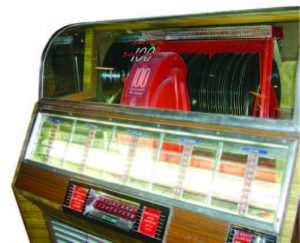 JUKEBOX HERO… MUSIC MACHINES
Your fun dungeon needs a soundtrack, of course. And what's more fun than a vintage jukebox? These machines are not for audiophiles; what goes into them is far more important than what comes out of them. That being said, there is a burgeoning market for classic machines that have been converted to play CDs or use Bluetooth. The sound quality may be better and the maintenance simpler, but then you don't get to track down all those favorite 45s your kid sister scratched up or your mom gave away for pennies at a garage sale. 
Jukeboxes are less pieces of furniture than they are small architectural marvels. Their designs reflect their times. They set the tone for a game room, not just acoustically but visually, as well. Consequently, the choice of a jukebox will almost certainly be the most personal fun-dungeon choice you make. For most people, the model they choose harkens back to a special time or place in their lives. It may be a gleaming, chrome tabletop model like they used to have in truck stops and diners. Or perhaps an eye-popping Rock-Ola or Wurlitzer from the 1940s. The originals have gotten very pricey—often $10,000 and up—but the modern reproductions are quite nice and affordable.
If you must go Old School, then consider a sleek, mid-century Seeburg. What they lacked in color they made up for with functionality and simplicity of design. You can buy a fully restored Seeburg from the 1950s for $5,000 to$7,500. 
ICE COLD…  BEVERAGE DISPENSERS
Beverage availability is a key component in any basement re-do. You can certainly invest a couple of hundred dollars in a small fridge and be done with it. But to stay faithful to the theme of interactivity, it's worth considering a more traditional delivery system. Soda fountains and beer taps are what most people think of first. The home version of your basic five-flavor countertop soda dispenser—like the one at your neighborhood pizzeria—runs around$1,500. There are a lot of parts to clean and maintain, so homeowners often end up cutting a maintenance deal with the same company that services the one at the pizzeria. 
The less-elegant choice of a vintage vending machine might actually make more sense in the long run. There are lots of refurbished machines on the market that keep soda and beer cans (or bottles) cold until they roll out at the push of a button. They are very simple mechanically—once you buy a restored one, you're unlikely to have a problem with the vending mechanism. How much is a restored machine?Anywhere from $1,000 to $5,000. 
Another choice for beverages is the old-time refrigerated chest. Here you want a reproduction; the originals are wildly inefficient. You open the lid, reach in, and grab a cold one. Big and colorful, they run between $500 and $1,000 depending on size and come emblazoned with your favorite old-time soda logo (especially if your favorite old-time soda is Coke). 
STEP RIGHT UP… CARNIVAL GAMES
The most overlooked piece of the fun-dungeon puzzle has to be the tried-and-true carnival game. You know, the ones that look so easy…and $20 later you realize you've been had. Well, what better place to practice for your next visit to the midway than in the comfort of your own home? There are any number of options, some of which you can cobble together yourself if you're handy. From a space-saving standpoint, however, you'd be wise to a) stick to the vertical ones and b) avoid games with sharp or high-velocity projectiles. Popping the balloons with darts and knocking over the milk bottles with baseballs are not wise choices in an enclosed space.
Actually, your best bet may be the most boring game on the midway, what the carnies call Fat Cats. You know this one: three or four rows of stained cloth felines that seem to be touching each other. But of course most of that is "fur," which means your soft toss (the ball is usually misshapen or oddly weighted) must hit the cats perfectly to tilt them back. With a little practice in your basement, this is the most winnable game at the carnival—which is why the prizes in that booth are always the worst! A Fat Cat set up will run you $300 to $600. 
HE SHOOTS, HE SCORES…  TABLE GAMES
Feeling good about your hand-eye coordination? Then don't go anywhere near a foosball or air hockey table. For some reason, the better athlete you are, the less athletic these games make you feel. The odd corollary to this rule is that, the more you drink, the better you get. (Or at least, the better you think you get). Still, what ultimate game room would be complete without at least one of these two classic contraptions?
A bit of trivia: Although it never appeared in a single episode of Downton Abbey, the tabletop soccer game we call Foosball was very popular in England in the 1920s. It has enjoyed popularity in the colonies since the 1950s, has been a staple of frat-house culture since the 1970s, and was played avidly by Chandler, Joey and Monica in Friends in the 1990s. The Foosball table is designed so that games can be played one-on-one or two-on-two. In 2002, the International Table Soccer Federation was formed with the goal of making it an Olympic sport. There are a lot of cheaply made Foosball tables on the market, so if you feel that yours will be getting a serious workout, best to invest in the ones that start around $400.
Air hockey is one of those infuriating games where kids have just as good a chance of winning as grown-ups. It is almost impossible to "square up" the round puck with the round mallets—the result being all kinds of crazy, counterintuitive caroms. The game was invented by the good people at Brunswick in the early 1970s and was immortalized in the 1976 film The Bad News Bears. Prices vary, but a good 8-foot table starts at about $700. By the way, there is an unwritten rule that the same fun dungeon cannot have both a foosball and air hockey table. Oops, now it's written.
THE CLASSICS…  POOL & PING-PONG
There is a similar rule about pool tables and ping-pong tables—except that you can find models that combine the two, so it's not quite the same rule. The differences between pool and ping-pong (aka billiards and table tennis) couldn't be more obvious. The former rewards a pensive, mathematical approach, while the latter requires quick wrists and even quicker reflexes. Depositing a pool table in a basement takes Hulkish strength and determination. Ping-pong tables fold in half and have wheels. If you have young kids, ping-pong is likely to entertain them for years. Pool certainly has its appeal, but is more of an acquired taste.
Buying a pool table is not a simple process. You definitely want quality and should be willing to pay for it. The problem is, you can pay for quality and not get it. Reviews and ratings of pool tables on the 'net sound suspiciously like they were written and planted by people in the industry, so to get the best value it's worth doing your homework.
According to Bruce Sanderson, buyer and store manager for Pelican Sport Center in Morris Plains, the best strategy is to arm yourself with a checklist of bottom-line goals. For instance, the frame, top and cabinet of a pool table should be made of solid wood, with no veneers or laminates. Also don't settle for anything less than a one-inch slate. And avoid cheap rubber bumpers, which produce poor rebounds. "Ken-66 rubber is what you're looking for," he says.
There are other telltale signs of inferior quality. The diamond sites along the sides should be actual inlays, not painted on. Pockets should be leather, not vinyl. And demand felt that incorporates a Teflon coating, which makes spills easier to clean and resists pilling. A good quality felt, says Sanderson, should be 75% wool content and 25% nylon blend, between 19 and 20 ounces per yard.
Bottom line? Be prepared to spend $2,000 to $3,500 for a table built to last. Price points can soar into the five digits for fancy designs, but keep in mind that these tables play the same; you're paying for looks. Brunswick and Olhausen are the big brand names in the market. However, Imperial features the same construction at a slightly lower price—and the company is located right here in New Jersey.
Online reviews and ratings for ping-pong tables feel a bit more honest, perhaps because there is relatively little money at stake. The most durable tables combine a strong frame and substantial playing surface. You can easily spend over $1,000 on a top-of-the-line Kettler, but very good ones are available for $500 to $600. If you start with a pool table and decide you want ping-pong, too, you can purchase a two-piece conversion top with padding underneath for$200 to $300, depending on the finish.