CORNERSTONE CLUB LUNCHEON
Over 20 people gathered at the recent Cornerstone Club Luncheon to listen to a lecture on Trinitas' outstanding Behavioral Health program and the upcoming renovations to our inpatient and Psych Emergency Department facilities. 
The Cornerstone Club honors individuals who express their commitment to the future of healthcare by making planned or endowment gifts to the Trinitas Health Foundation. For more information about our Cornerstone Club, please contact Bidisa Rai at  (908) 994-8249 or brai@trinitas.org.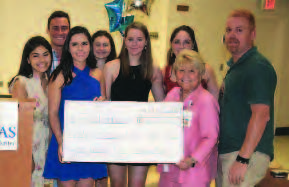 TEENS FOR
TEENS HELPING
TRINITAS
Members of Teens for Teens of Union County recently donated $26,000 to provide new furnishings for patient rooms for the teens that live at New Point Specialty, the adolescent psychiatry program at Trinitas Regional Medical Center. 
The donation was presented in the form of a check at Trinitas' 12th Annual Academic Awards Program in June. The New Point Specialty is a 15-bed behavioral residential treatment program for adolescents ages 14 to 18.
The Teens for Teens volunteer organization was formed in 2013 when founder Mitchell Kelly (a high school sophomore at the time) and a few of his friends decided to make a difference in their own community, specifically with teens who were less fortunate. Each year, they hold a Gala reception with a silent auction and teen performances to raise money for various causes. "It was lovely for them to choose Trinitas this year," said Nadine Brechner, chief development officer and vice president of the Trinitas Health Foundation. "They are a very ambitious and generous bunch."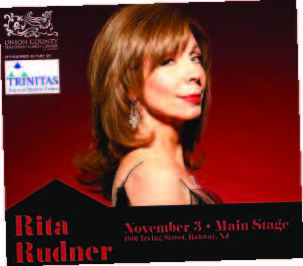 COMEDY NIGHT WITH RITA RUDNER
Get ready to laugh until it hurts! Join us on Saturday, November 3, 2018, at Union County Performing Arts Center in Rahway, NJ for a Comedy Night featuring comedian RITA RUDNER. 
Rita Rudner is not simply one of America's top comedians — she's also a New York Times best-selling author, award-winning television personality, screenwriter, playwright, Broadway dancer, and actress. A house-filling favorite in Las Vegas, where she's been performing for 14 years, Rudner is beloved for her witty one-liners, which have helped make hers the longest-running solo show in Vegas history — she's sold more than a million tickets over the course of 2,000+ shows. Now's your chance to catch this consummate comedian live!
Not only can you catch Rita Rudner Live, but you will also have the chance to stay after the show for dessert and a meet & greet with the comedian herself. Purchase Gold Circle or Orchestra tickets for this special offer. 
Can't join us but still want to show your support? There are different sponsorship opportunities available, all including your name in the event program.
For ticket information, to register and/or support the event, visit http://trinitasrmc.org/comedy or contact Kim Boyer at kboyer@trinitas.org or (908) 994-8249.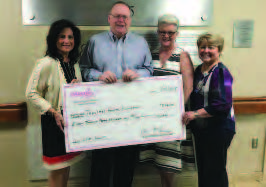 MINETTE'S ANGELS
The recently received $8,300 grant from Minette's Angels will support the cost of items needed for our breast cancer patients who are undergoing treatment at our breast center.  Grant funds will be used for lymphedema sleeves and gloves, wigs and mastectomy bras and prostheses for our breast cancer patients who are uninsured or underinsured. We anticipate the grant funds will cover the cost of 20 lymphedema sleeves and gloves, 10 wigs, 10 mastectomy bras, and 5 prostheses.  The grant has already helped two patients!