FORE FOR FOURS
(Left photo) Bill Murray, Mike Hannan, Eugene Kennedy, MD, Chair-man of Radiology at Trinitas and Co-Chair of the Trinitas Health Foundation Golf/Spa Classic, and Michael Pantony were among the golfers who helped raise more than $175,000 at this year's event.
(Right photo) Nick Brown, Tom Pennimpede, Joseph Santo, Principal, Premier Energy Group, LLC, Middlesex and Co-Chairman of the Trinitas Health Foundation Golf/Spa Classic, and Chuck Wilk, paused on the greens at Echo Lake Golf Club in Westfield during the event at which former heavy weight contender Gerry Cooney was a special guest.
WITH TAX TIME AROUND THE CORNER, THERE'S A WAY TO REAP BENEFITS OF GIVING
It's not too late to cash in on tax savings for 2014!  Consider making a tax-effective, high impact gift to Trinitas Health Foundation.
You can qualify for your tax deduction with a gift today or by creating a Charitable Gift Annuity (CGA) that can earn high-interest income for life (and for a second beneficiary, if you  c  h o  o s e ).  Through a CGA established with cash, stocks or bonds, you will enjoy an immediate and a long-term tax benefit.  If you make a gift of appreciated property, you will only pay capital gains tax on part of the appreciation (which will be spread out over years if you are the annuitant).
Wonde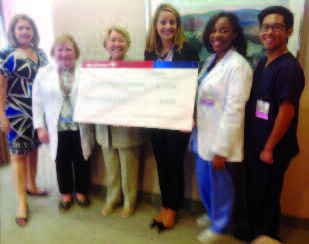 ring what your tax deduction and annual high-interest income might be from a CGA? Call Andi Koenig-Feldman at (908) 994-8249 to find out today.
A SOLID INVESTMENT
Bank of America continues its support of the Trinitas Health Careers Exploration Program through a $15,000 grant. The bank has made an investment in thousands of young people in Elizabeth and other Union County communities.  The ROI?: Thousands of students given the opportunity to explore career opportunities. More than a few successful doctors, nurses and healthcare professionals got their start through this program. Goreti M. Muñoz of Bank of America (center) proudly presented the check representing the Bank's latest grant to (from left), Lisa Liss, Director of Volunteer Services, Eileen Mulroy, Coordinator of Health Occupations at Trinitas, Nadine Brechner, Chief Development Officer and Vice President, Trinitas Health Foundation, and Jasmine Jones and Kristian Adap, students at Union County Vocational Technical High School who are recent participants in the Health Careers Exploration Program. Photo courtesy of Debbie Jones
AMAZON SMILE
If you shop at Amazon.com, you can help Trinitas. Just go to http://smile.amazon.com/ch/22-2353773 and Amazon will donate 0.5% of the price of your eligible purchases to Trinitas Health Foundation.  We're all grins.
IT'S BLACK FRIDAY SOON, SO GIVING TUESDAY CAN'T BE FAR BEHIND…
This holiday shopping season consider opening your wallet to give a special gift to a deserving child.
On Giving Tuesday, December 2, (#GivingTuesday 2014), you can join the Trinitas Health Foundation at the kick off of the Giving season by making a donation by giving the gift of health to less fortunate children.
Your $25 Gift will help provide the quality care that pediatric patients at Trinitas deserve!
Please visit https://www.genestorasp.com/trinitasdonations/secured.aspx. Contact the Trinitas Health Foundatio