WIN, PLACE OR SHOW
The Trinitas Health Foundation hosted its Night at the Races at the Meadowlands in East Rutherford. More than 175 guests enjoyed an evening of dining at Pegasus Restaurant and the thrill of harness racing while raising $38,000 for the Foundation.

STRENGTHENING THE  ENVIRONMENT OF CARE
Phillips 66 Bayway Refinery, located in Linden, proudly continues its philanthropic activities which generously assist Trinitas. By partnering with Trinitas, Phillips 66 has helped the medical center address pressing equipment needs throughout the facility. Grant writers in the Trinitas Health Foundation have successfully presented grant proposals to the company, and it has responded generously to those requests for funding to enhance the medical center's capabilities to continue to respond to the health care needs of the community.
With its proximity to the Trinitas Regional Medical Center it seemed like a natural fit for Phillips 66.  In the past several years, Phillips 66 has provided funding toward the creation of an electronic medical records system. The new data system not only eliminates costly and redundant paper, but more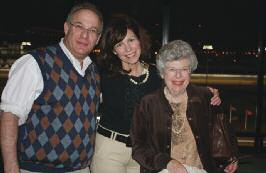 importantly provides a consistent means of sharing recorded documentation among health care professionals who are involved in patient care and treatment.
The latest grant that Phillips 66 made to Trinitas will be directed towards the purchase of state-of-the-art cardiac monitors that will be used throughout the medical center. Such monitors are specialized for the departments in which they are used and are critical to the appropriate care and treatment that patients receive.