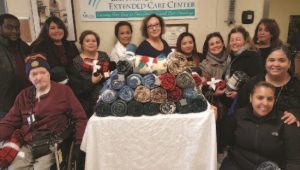 ELIZABETHTOWN GAS REPRESENTATIVES ADDED  HOLIDAY HAPPINESS AND JOY TO BROTHER BONAVENTURE  RESIDENTS
Thank you to the representatives from Elizabethtown Gas who visited the residents at Brother Bonaventure Long Term Care Facility recently. They personally delivered blankets and holiday cards to every resident, sang holiday songs along with them, and even helped celebrate a birthday! Not only did everyone love the warm and cozy blankets but many new friendships were made!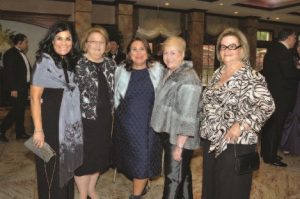 TAILGATE WITH TRINITAS RAISES OVER $31,000 
On Sunday, December 3, 2017 guests gathered at Shacka-maxon Country Club in Scotch Plains to watch the New York Giants take on the Oakland Raiders. NY Giants greats Ottis Anderson, Stephen Baker and Bill Neill delighted Trinitas supporters. While the Giants did not walk away with a win, Trinitas took home a win by raising over $31,000 in net proceeds!  Thank you to everyone who supported this year's Tailgate with Trinitas event; you are the real MVPs! Pictured above is Stephen Baker "The Touchdown Maker" and Lisa Liss, Trinitas Director of Volunteers having fun together.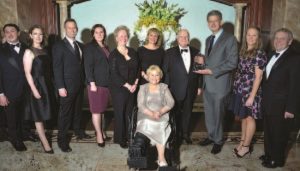 SAVE THE DATE AND JOIN US FOR TRINITAS HEALTH FOUNDATION'S 2018 ANNUAL GALA
This year the event will be held on Thursday, May 10th at The Venetian in Garfield, New Jersey. Join us for a fun-filled night with 
dinner and dancing to music performed by The Infernos. You'll also have a chance to win some amazing prizes by participating in our raffle drawing, tricky tray, and silent & live auction.
Please join us as we present the Healthcare Foundation of NJ with the Humanitarian Award and Allscripts with the Celebrating Philanthropy Award. Both organizations are very worthy of recognition.
Can't join us but still want to support Trinitas? Contact the Foundation to learn about the many different sponsorship opportunities available, our online advertisement journal and other ways you can participate by donating items to our tricky tray and silent/live auction.
For more information contact Kim Boyer, Director of Fundraising Events, at (908) 994-8249 or kboyer@trinitas.org.