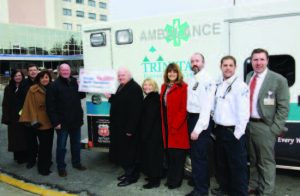 DRIVEN TO CARE
The Trinitas Health Foundation successfully secured funding from multiple benefactors to purchase a new vehicle that will serve as a Specialty Care Transport Unit. The SCTU expands the current transport capabilities of Trinitas by providing a higher level of care for patients who need to be accompanied by a Registered Nurse who is also a paramedic. For example, the new vehicle will be used for critical care patients who are being transferred to the Trinitas Cardiac Catheterization Lab from neighboring hospitals or for ventilator-dependent dialysis patients during transport for treatments.
The following benefactors made the purchase possible: Bayway Refinery of Phillips 66 (recipient of the Trinitas Health Foundation's Celebrating Philanthropy Award at the Foundation's 2014 Gala); the Gertrude L. Hirsch Charitable Trust, and the Paragano Family Foundation.
Shown at the recent unveiling of the SCTU are Kathleen Shevlin, Director, Resource Development, Trinitas Health Foundation; Rod Muench, Director Pre-Hospital Services; Nancy Sadlon, Public Affairs Manager, Phillips 66 Bayway Refinery; Darren Cunningham, Refinery Manager; Gary Horan, FACHE, President and CEO; Nadine Brechner, Chief Development Officer & Vice President, Trinitas Health Foundation; Mary Phillips, Community Relations Coordinator, Phillips 66 Bayway Refinery; Brant Maslowski, Mobile ICU Coordinator; Bryan Garrett, SCTU Coordinator, and Joseph McTernan, Senior Director of Community & Clinical Services.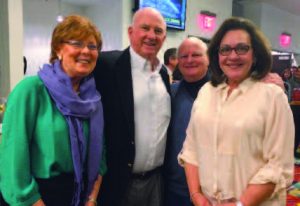 A SURE BET!
The Trinitas Health Foundation's 11th Evening at the Races was a welcome bright spot in a winter filled with subzero days and nights. Action heated up at The Meadowlands on February 28 as more than 175 guests including Trinitas board trustees, senior administration, physicians, grateful patients, vendors, and employees enjoyed exciting harness racing and raised more than $38,000 to benefit patients of Trinitas. Dr. Richard Mackessy of Union County Orthopaedic and his wife Karen shared a moment with Gary S. Horan, President and CEO of Trinitas, and his wife Arlene.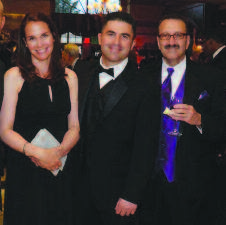 CELEBRATING  A PROUD PAST,  ENVISIONING A PROMISING FUTURE
Join enthusiastic supporters of Trinitas at the Trinitas Health Foundation's 2015 Gala on Thursday, May 14. The theme, "Proud Past, Promising Future," captures the spirit of Trinitas' 15th anniversary. Wakefern Food Corporation will receive the Foundation's Celebrating Philanthropy Award; recording star Gloria Gaynor, long time advocate of Trinitas Regional Medical Center, will receive the Humanitarian Award. The Gala returns to The Venetian in Garfield where the breath-taking ambiance of the venue is rivaled only by the extraordinary food and drink. During a full cocktail hour, guests can meet and mingle as they bid on extremely desirable Silent Auction items including trips and one-of-a-kind experiences. Opportunities such as a 50/50 raffle will help raise funds to benefit patients at Trinitas.
For information about the Gala or sponsorship opportunities, contact Laura Ciraco at lciraco@trinitas.org, or (908) 994-8249, or go to www.trinitasrmc.org/foundation.htm and click on the Gala invite.