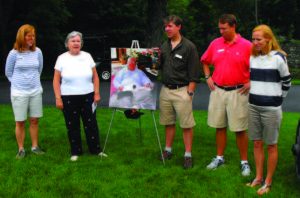 SPORTING CLAYS  TOURNAMENT  AND MUCH MORE   
For the better part of a decade, the Annual Andrew H. Campbell Memorial Sporting Clays Tournament has been a winning fundraiser for the Trinitas Health Foundation, and it gets better year after year. You can a part of the eighth year of this multi-faceted event that takes place on Thursday, June 16 at Hudson Farm Club in  Andover, a woodland gem set in the rolling hills of Sussex County in beautiful northwest New Jersey. For outdoorsy types, clay shooting and nature photography have natural appeal. If being indoors is more to your liking, you can be pampered and rejuvenated in a relaxing spa experience at Salon International in nearby Sparta. The day includes a delicious Pig Roast Luncheon. Whatever your interest, this event fits the bill while raising money for the Trinitas Palliative Care Department. If any of these activities sound like your kind of day, contact the Trinitas Health Foundation at (908) 994-8249 or Laura Ciraco at lciraco@trinitas.org or register online at https://events.hud-sonfarmnj.com/trinitas/. The gift of tickets purchased for this event might earn you high points with your Dad or Grad!
ARE YOU UP TO THE CHALLENGE? 
If you have visited the main campus of Trinitas Regional Medical Center lately, you've probably noticed the construction happening in and around our Emergency Department. We are currently in the middle of an $18.7 million expansion and renovation of our ED, almost doubling its size and capacity and improving patient comfort, privacy and satisfaction.
In April we completed Phase I of the project, which included constructing brand new waiting areas and a dedicated advanced imaging suite. We are now well into Phase II, which includes brand new geriatric, behavioral health, fast track and pediatric areas. In December Phase III will commence, providing a beautiful cosmetic renovation to the rest of the department. With the project progressing on time and on budget, we are very happy to say we are on track to unveil a brand new ED in 2017.
We recently received some very exciting news about the campaign: The JC Kellogg Foundation has awarded us a $4 million challenge grant, meaning that all gifts over the next three years will be matched dollar-for-dollar until we finish the campaign! This is a wonderful time to support this very important project and double the value of your gift.
Please accept the challenge and make a gift today! Your donation will be matched dollar-for-dollar by the JC Kellogg Foundation, and will help us create a bigger, better and state-of-the-art ED for all of our patients!
To make a gift to the Emergency Department Capital Campaign, please contact Nadine Brechner at nbrechner@trinitas.org or Rob Eccles at reccles@trinitas.org or call the Foundation office at (908) 994-8249