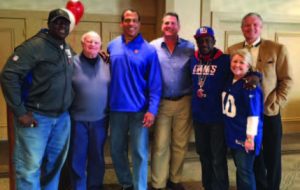 TOUCHDOWN!
New York Giants greats joined guests at the Foundation's annual Tailgate with Trinitas fundraiser in November.  From left, Ottis "OJ" Anderson, MVP of Super Bowl XXV; Gary S. Horan, President and CEO of Trinitas Regional Medical Center; former Defensive End Eric Dorsey who started in Super Bowl XXV; former Nose Tackle Bill Neill; Wide Receiver Stephen Baker, "The Touchdown Maker," also of the Super Bowl XXV team; Nadine Brechner, Chief Development Officer and Vice President of Trinitas Health Foundation, and Bart Oates, All-Pro Center and veteran of three Super Bowls. The indoor tailgate raised $39,000 to benefit patients at Trinitas.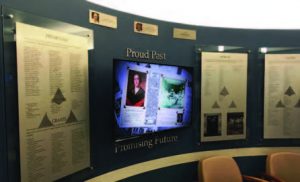 OUR DONOR WALL RECOGNIZES GENEROSITY OF SUPPORTERS
Generous donors are vital to the success of Trinitas Regional Medical Center.  The Trinitas Health Foundation greatly appreciates every contribution we receive.  To recognize our valued supporters, a Donor Wall is now located in the main lobby of the Williamson Street Campus.
It features a central video screen that illustrates the Proud Past and Promising Future of Trinitas. The display offers a historical perspective of our three predecessor hospitals and documents our evolution into the proud institution we know today. 
The Donor Wall also features plaques that list the people, organizations, and foundations whose support was so meaningful in 2014.  This Donor list will be updated annually. Separate plaques also recognize our Cornerstone Club members and Endowments, individual donors to our Annual Fund and Events, foundations providing Grants, and physician supporters.  In 2016, the Donor Wall will also include a plaque to recognize donors to our Emergency Department Capital Campaign. 
If you'd like to be included on our Donor Wall, contact Rob Eccles, Director of Major Gifts, at reccles@trinitas.org or (908) 994-8249. Don't miss this opportunity to make your proud support of Trinitas Regional Medical Center known to everyone who enters our lobby!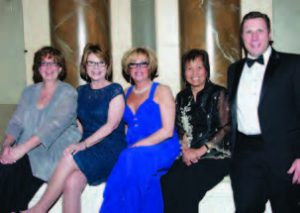 YOU'RE INVITED!  
Join enthusiastic support-ers of Trinitas at the 2016 Gala on Thursday, May 12. The Gala returns to The Venetian in Garfield where the breath-taking ambiance of the venue is rivaled only by the extraordinary food and drink. The Infernos Band returns for the third year as entertainment. During a full cocktail hour, guests can meet and mingle, bid on extremely desirable Silent Auction items including trips and one-of-a-kind experiences, and take their chances on the 50/50 raffle, all while helping to raise funds for Trinitas. 
For information about the Gala or opportunities for sponsorship, contact Laura Ciraco at Lciraco@trini-tas.org, or (908) 994-8249, or go to www.trinitasrmc.org/foundation.htm and click on the Gala invite.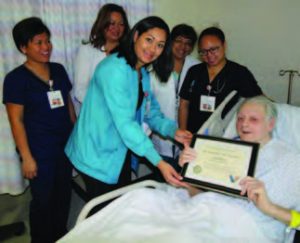 SALUTE TO VETS
Thanks to funding support from the Thomas Glasser Foundation, Inc., Trinitas offers enhanced patient care and other services to veterans.  The Palliative Care Department and the Hospital Elder Life Program direct veterans to education programs and services they can use. Pictured, Elizabeth resident and World War II veteran, 91-year-old Oran Bryant who served from 1943 – 1946 as a radio operator on a B-29 in China and Burma, received his "We Honor Veterans" certificate in recognition of his service and sacrifice.