by Helen Lippman 
Eating my way through ethnic Montclair.
By Helen Lippman 
In the run-up to this year's presidential election, we're likely to hear a lot of divisive language about "foreigners" in our midst—so much so that one could easily forget that one of this country's long-defining qualities has been the way it makes room for new people and cultures. Fortunately, we have places like Montclair to remind us. Craving Cuban black beans or an Indian samosa? You'll find it here. Love Middle Eastern fare? Sample food from Greece, Israel, Lebanon, Morocco, Syria and Turkey—all within a walkable, small-town mile. As an added bonus, virtually all the restaurants are BYOB To tell you about a few of my go-to places, I'll start, as my husband and I sometimes do, with the first meal of the day. Simit House Bakery & Co., a casual Turkish eatery on a corner of Church Street, calls its breakfasts "sunrise abundance." You can order a "petite" plate of tomatoes, cucumbers, olives and feta or a "hearty" serving with sausage, cured beef, hard-boiled egg and provolone added to the mix. I prefer menemen, a creamy egg dish with a kick from pepper paste, chopped tomatoes and onions. The namesake simit—a sesame seed-covered cross between a bagel and a pretzel that's been a popular Turkish street food for hundreds of years—surrounds the eggs. Served warm, it needs no butter or jam. 
Owner Ibrahim Yagci, a native of Istanbul, says his aim in opening the bakery was to preserve the simit's legacy. But the menu has grown steadily in its two-plus years of existence. The sausage-shaped potato roll—onion-flavored mashed potatoes juxtaposed with the crunch of spicy phyllo dough—has become another local favorite, as has the spinach pie. Sweets, salads, soups, sandwiches and Turkish coffee are on tap, too.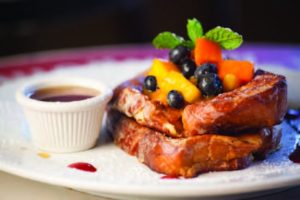 Uncle Momo, a French-Lebanese bistro a few blocks away, has a bountiful brunch menu (as well as lunch and dinner). Owner and chef Wissam Elmasri, who is Lebanese and attended culinary school in France, serves a mix of American, French and Middle Eastern fare. The crepes, made from quinoa, are light and airy.  The most unusual is Zeit W Zaatar, made with labne (yogurt cheese), cucumbers and olives, all seasoned with dried thyme. My two favorites—spinach & goat cheese and smoked salmon & spinach—are delicately flavored and topped with greens. Ruby red pomegranate seeds give the salad an unexpected zing.
Individual pitzas, so named because they're made with fresh-baked pita rather than traditional pizza dough, are also worth a try. I especially like the lamb pitza, seasoned with parsley, onions, and a hint of cinnamon.  I've also become attached to the muhalabia, a milk pudding flavored with rosewater, and Wissam's saffron rice pudding, a colorful twist on an old-fashioned dessert that's wonderful with mint tea.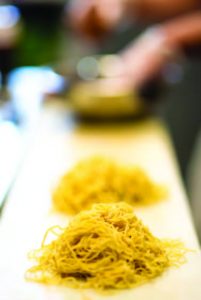 Ani Ramen, a trendy Japanese noodle house that opened in 2014, is a good place for lunch, snack or a casual dinner. Its success is not surprising, given that owner Luck Sarabhayavanija and his team tried hundreds of combinations of noodles and broth before settling on a menu. The result: A half-dozen ramens to showcase and about 20 more in the mix. "We have a simple chicken broth, a more complex miso, a brothless ramen with intense flavor, a wonderful vegetarian—our hidden gem—and our signature rich and creamy pork broth," he says. 
My strategy is to share a bowl of ramen so I have room for other house specialties—the chili-charred, sea-salted edemame, the light and spicy kale salad and particularly, shrimp buns. Made of marinated panko shrimp (a house secret, whispers Sarabhayavanija) pickled cucumber, shredded cabbage and spicy miso mayo on a fresh-steamed bao bun, the taste keeps me coming back for more. 
Right next door is Spice II, a restaurant owned by Sarabhayavanija's mother, Sheree, and my favorite of the three Thai restaurants on Bloomfield Avenue. Its bright red and gold décor and subtle smell of spice evoke memories of a long-ago trip to Thailand.  I usually start with the fried tofu, served with a piquant plum and peanut dipping sauce. The mango salad—a fruity blend with apple, pineapple and red onions in a chili-lime dressing—is another favorite starter, as is the lemongrass- and lime-infused tom yum soup. Many entrées can be tailored to taste, not just for spiciness or main ingredient, but also with a choice of basil, garlic or ginger sauce and a vegetable mélange. Chicken rama, made with carrots and broccoli in a peanut sauce that's sweet and spicy, is a house specialty.  Feeling adventurous? Grab a few friends and head to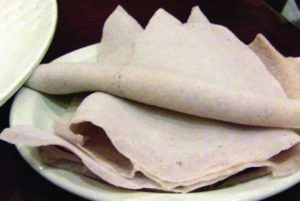 Mesob, where the food cries out for sharing. It arrives on a pizza-sized communal platter, to be eaten not with fork or spoon but with injera, the spongy flatbread that doubles as an eating implement in Ethiopia. Friendly waiters keep replenishing your supply as long as there's food left to be scooped up. Order carefully here. My husband and I often ask for chicken and lamb tibs—marinated and sautéed with onions, garlic and jalapenos—prepared "between mild and medium," but which is quite spicy. If you prefer food with little or no heat, select dishes marked "mild." Each entrée comes with two sides. Misia wat (spicy lentils) and kik aletcha (yellow split peas) are among my favorites.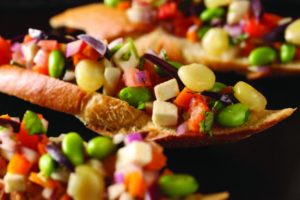 Costanera, a Peruvian restaurant whose owner/chef, Juan Placenia, was born in Lima but moved here when he was a tot, is two doors away. He graduated from the Culinary Institute of America, and everything I've eaten here—even the humble rotisserie chicken—has been top-notch. That said, fish and seafood take center stage. The restaurant features a raw bar and several ceviches, marinated in leche de tigre, the Peruvian name for the citrus and chili mix that cures the fish. But Placenia has a penchant for unexpected combinations, blending crab, ahi tuna and shrimp, for instance, in a single ceviche. Seafood entrees range from Asian-style shrimp to Peruvian seafood stew. Escabeche de pescado, pan-roasted cod with spiced pickled onions and yams, is my usual choice. Fried yuca, sweet plantains and quinoa salad, perked up with lime vinaigrette, almonds, tomatoes and the tartness of dried cranberries, are favorite sides. Dessert is a main event, too. The tres leches cake won't disappoint, and the combinado classico blends the tastes of rice pudding and Peruvian purple corn pudding made with apricot, papaya and pineapple in a single parfait.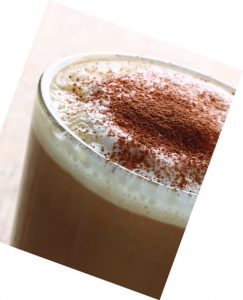 If you love Paris—and who doesn't?—save room for dessert at Le Petit Parisien. Crepes, salads and sandwiches are also served here, but the macarons, pastries and croissants create the biggest buzz. Macarons come in many flavors and hues, including raspberry, pistachio, blood orange and sour cherry. Little cakes and tarts are tempting, too. A strawberry passion fruit mousse cake, covered with tantalizing swirls and topped with a bit of chocolate wrapped in edible gold like a tiny treasure, catches my eye, but I order the flourless chocolate cake instead. 
Owners Limi Maldonado and Baptiste Chigot moved to Montclair directly from Paris, and the atmosphere here is as French as the pastries. "There are a lot of Francophiles in the area," says Maldonado, "and they tell us they feel like they're in Paris." Indeed, anyone who has seen the lights of the Eiffel Tower sparkle at night and watches the blinking lights of the mini Eiffel Tower in Le Petit Parisien's window can't help but feel that way. 
BLOOMFIELD & CHURCH
There are dozens of exceptional restaurants in and around Montclair. These are some of my favorites on Bloomfield and Church. Call or check their web sites for days and hours.
on BLOOMFIELD AVE.
Ani Ramen House
401 Bloomfield Avenue 
973-744-3960 aniramen.com
Costanera
511 Bloomfield Avenue
973-337-8289
costaneranj.com
Fusion Empanada  
706 Bloomfield Avenue
973-707-7174
fusionempanada.com
Mediterranea
578 Bloomfield Avenue
973-744-1300
mediterraneanj.com
Mesob
515 Bloomfield Avenue
973-655-9000
mesobrestaurant.com
Spice II 
399 Bloomfield Avenue
973-509-2110
spiceii.net
Uncle Momo 
702 Bloomfield Avenue
973-233-9500
unclemomo.com
on CHURCH STREET
Fresco
15 Church Street 
973-337-8225 frescoonchurch.com
Le Petit Parisien
10 Church Street 
973-746-0288 lepetitparisienmontclair.com
Manny's Diner
12 Church Street 
973-509-9600
mannysdiner.com
Mundo Vegan
20 Church Street 
973-744-5503 
mundovegannj.com
Raymond's
28 Church Street 
973-744-9263
Raymondsnj.com
Scala del Nonna Ristorante 
32 Church Street 
973-744-3300
scalinifedeli.com/scaladelnonna
Simit House Bakery & Co.
2 Church Street
973-893-5970
simitlove.com