by Sarah Rossbach
Larkspur and Hawk is revisiting designs and techniques of the past…and reinterpreting them for a modern audience.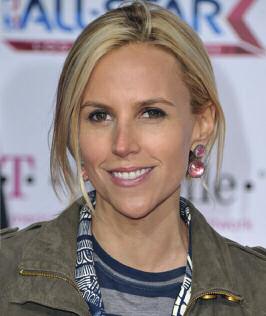 For most of us, childhood memories of the Jersey Shore involve a cardboard box of old postcards, the odd seashell, and assorted snapshots of family vacations. For Emily Satloff, those memories are expressed in the artistry and design that has made her jewelry brand, Larkspur and Hawk, one of the hottest on the market. Satloff, a lifelong summer-and-weekend resident of a gracious Victorian home in Monmouth County, creates pieces that evoke memories of a warm, elegant way of life—of multi-generational gatherings of friends and families that moved easily between New York and New Jersey…and of countless hours spent browsing shore antique stores with her mother.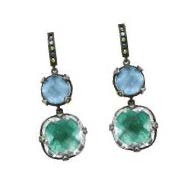 I first noticed Larkspur and Hawk during a party at a friend's home. My eye was drawn to her stunning rose quartz and gold earrings. Having just been to Bergdorf's, I thought I recognized the expensive designer who made them. Later, when I called my host to thank her—and complimented her on her jewelry—she informed me that I had actually met the designer that night at her house.
I quickly went on-line and discovered that the earrings, while they look important and are real, were much more within my budget. Better yet, I could purchase them during my next trip into the city—at Barney's and also at Blue Tree, a lifestyle store owned and curated by Phoebe Cates Kline. Similar, more colorful Larkspur and Hawk earrings, were available on the web at Net-a-Porter. I read that Emily Satloff is both a dealer of antique jewelry and a designer of antique-inspired contemporary rings, earrings and necklaces. Intrigued, I contacted her to hear her story.
"My interest in Victorian jewelry and antiques," explains Satloff, a former Curator of Decorative Arts at the New York Historical Society and Curatorial Consultant to the Metropolitan Museum of Art, "is a by-product of the stately homes that have lined the streets of Deal and Elberon over the last century or so. I love the history of objects. At the Historical Society, it was like working in a grandmother's attic. I enjoy researching the history of an item, be it esoteric or pedestrian—like George Washington's toothbrush. Everything is a miniature piece of history and has a story to tell."
Out of this love and exposure to antiques, she first collected affordable antique jewelry for herself. "I would research each piece—how the lapidarian techniques make a stone more vibrant and how industrial material like cut steel can appear like rose-cut diamonds," she recalls, "and then educate my clients. About five years ago, I was admiring the effect of foil-backed gemstones and thought: I should take a stab at creating antique-inspired jewelry."
And so Larkspur and Hawk was born.
"Now I take old ideas and put my own spin on it," she says. "All the pieces are handmade and I design, pick the stones and hand-paint the foils."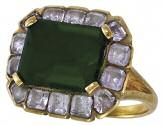 In the last year, her business has taken off. But Satloff is determined to "grow smart" as she puts it, and not mass-produce. In the meantime, her jewelry is showing up on fashion plates (Tory Burch), the red carpet (Mariska Hartigay) and the silver screen (Friends with Kids). Something good and beautiful, inspired by New Jersey, is finally getting the right sort of attention.