Are these the best-ever "Diamond" songs?
In the hands of a world-class jeweler, a diamond can be transformed into a thing of enduring beauty. As these songs show, in the hands of a great performer, a diamond can become a timeless masterpiece of an entirely different kind.
Diamonds Are a Girl's Best Friend
Marilyn Monroe
Just about every big-name songstress has taken a crack at this iconic tune, which was originated by Carol Channing in 1949 for the Broadway smash Gentlemen Prefer Blondes. Marilyn Monroe did perhaps the most famous version for the 1953 Technicolor film of the same name. More recently, Nicole Kidman sang it in Moulin Rouge! Ethel Merman, Lena Horne, Eartha Kitt, Emmylou Harris, Janet Jackson and Beyoncé also recorded it and, of course, Madonna borrowed liberally from Marilyn's version for the "Material Girl" video.
Lucy In the Sky with Diamonds
The Beatles
The Beatles and, later, Elton John made this song one of rock n roll's all-time megahits. The psychedelic cover of the 1967 Sgt. Pepper album and the song's initials LSD led to suspicions that it was a "drug song."  John Lennon insisted that it was inspired by a drawing his son Julian had brought home from nursery school. A little-known fact is that Lennon played guitar and sang background on John's 1974 version.
Diamonds  Are Forever
Shirley Bassey
James Bond fans wince when they talk about this  1971 contribution to the 007 franchise (Sean Connery kind of mailed it in), but there's nothing not to like about Shirley Bassey's sultry rendition of the film's theme song. It was her second Bond theme—she also sang "Goldfinger"—and she would also sing a third time for Moonraker in 1979.
Diamond Girl
Seals & Crofts
The soft rock duo of Jim Seals and Dash Crofts scored a monster hit in 1972 with "Summer Breeze" and followed it up a year later with "Diamond Girl," a Top 10 hit on three different Billboard charts. The chorus Diamond Girl…you sure do shine  is one of those lyrics that gets stuck in your head  for decades.
Diamond Dogs
David Bowie
The title cut from David Bowie's bleak, dystopian 1974 album, "Diamond Dogs" is the story of Halloween Jack, who lives atop a Manhattan skyscraper. The guitar-heavy song was not a big hit, but it gained traction as the centerpiece of Bowie's North American tour later that year and is now considered a rock n roll classic.
Shine On You Crazy
Diamond Pink Floyd
A favorite of Floyd fanatics, "Shine On You Crazy Diamond" was a tribute to Syd Barrett, whose declining mental state had led to a split with the band he had founded—and ultimately to his departure from the music business. The nine-part composition was part of the 1975 album Wish You Were Here and was accompanied by a trippy animated short created for the band's subsequent tour.
Diamonds and Rust
Joan Baez
The song recounts a phone call from a long-ago love, an "unwashed phenomenon" whom Baez later revealed to be Bob Dylan. "Diamonds and Rust" reached #5 on the Adult Contemporary charts and the album (of the same name) went gold in 1975. Baez fans count the song among her very best.
Diamonds On the Soles of  Her Shoes
Paul Simon
Co-written with Ladysmith Black Mambazo founder Joseph Shabalala—and recorded with the group—"Diamonds On the Soles of Her Shoes" was not originally planned to be a part of Graceland. However, after Simon performed the song to wild acclaim on Saturday Night Live, it was added to the 1986 album, which went on to win the Album of the Year Grammy.
Diamonds and Pearls
Prince
The title cut from Prince's 1991 album, which featured a holographic cover, "Diamonds & Pearls" was also the name of the singer's 1992 international tour. The upbeat love ballad reached #1 on the Billboard R&B chart and was reprised by Alicia Keys and Chris Blue in the Season 12 finale of The Voice.
Diamonds
Rihanna
A standout cut from Rihanna's 2012 Unapologetic album, "Diamonds" was a departure from the singer's past hits about dysfunctional relationships, instead of exploring the meaning of love. The song was an international smash, topping the charts in the US,  UK, and Canada—as well as more than a dozen European countries. Rihanna performed a stunning version of "Diamonds" on Saturday Night Live that November.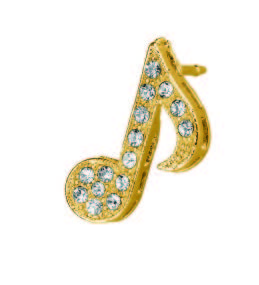 Editor's Note: Did You Know… A song is now certified as "Diamond" if it is purchased as a  download 10 million times. Free streams from services like Spotify also count: 1,500 streams are considered the equivalent of 1 paid download toward Certified Diamond status.