by Andy Clurfeld
"Coq au vin charmed me, its rich red wine base picking up on the sweet smokiness of bacon, with onions, carrots and mushrooms fine in their role as sponges."
Faubourg
544 Bloomfield Avenue, Montclair
Phone: (973) 542.7700
Web: www.faubourgmontclair.com
Instagram: @faubourgmontclair
Traffic jam at the front door! Everyone's entering through the same portal that leads into a courtyard of a dining/bar space reminiscent of an era when congregating was normal. It's normal right now at Faubourg, a vast bi-level space in downtown Montclair that exists at the crossroads of a special-occasion restaurant and a neighborhood joint.
A neighborhood joint for those who expect fine foods, fine wines, fine cocktails, fine brews and fine service every night of the week, I should say.
Owned and operated by a pair seasoned in such operations, courtesy of years spent working for the New York-based superstar toque Daniel Boulud, Faubourg is the domain of chef Olivier Muller and front-of-house master Dominique Paulin. In the summer of 2019, they opened the place that has been termed a brasserie and is a brasserie in terms of spirit and style, if not size.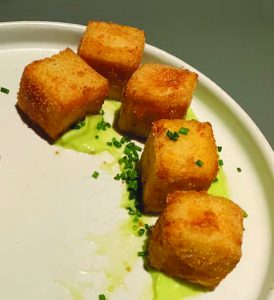 Intimate, Faubourg is not. I found myself in the company of dozens of people upon entering the extensive sidecar space: Some were crowded at the bar, others clustered at tables. A sizable crew were delivering food and drink to diners, as well as incoming folks like me.
Faubourg, it seems, is doing what many are saying in these pandemic days cannot be done: plying the upscale-experience, fine-dining trade. That's dead, many chefs who have made careers out of haute cuisine have claimed; if it can't be boxed for take-out, it won't fly. Yet even during the earliest COVID surges, Faubourg maintained its haute-experience mission, all the while creating, within its expansive walls, spaces that offer those gathering for after-work drinks and bites or six-top birthday celebrations just what they need. The overall affect is of a huge party, be it on an ordinary Tuesday or a hustle-for-a-rez Saturday.
We're in the more subdued mezzanine, upstairs from the truly bustling main dining room where conversation requires some deep leaning-in. Our second-floor perch, near the various private dining rooms, is where you want to be if space is your priority.
The chickpea panisse is what you want to order for your table, if starting things off with the taste of silky, slightly nutty deep-fried nuggets ready for smearing in an herby aioli is your jam. Coupled with a glass of rosé, anything sparkling, or a cocktail that brings with it a bit of a pucker, it's as South of France as Montclair can be.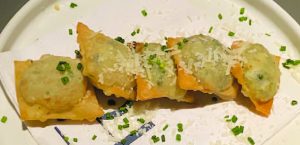 Worried that you'll finish off those crispy chickpea flour squares in an embarrassing nanosecond? Snag as well the barbajuans, a Swiss chard-and-ricotta-filled fritter that looks like a mini, lightly fried ravioli. I've only had barbajuans, which are originally from Monaco, in a larger half-moon shape. Faubourg's little squares provide for more advantageous one-bite, get-it-all-at-once eating, complete with flecks of parmesan and snips of chive. Or it could be the hint of lemon the kitchen sneaks in. That's possible. Probable, actually.
I've had Faubourg's escargot before; it's still a winner. It's a stew, really, of snails, meaty chicken oysters, hazelnuts and a bounty of spaetzle, some browned and crunchy, some soft and chewy. The parsley puree, peppery, piquant and verdant, is the loving mother of this dish: there to give every other element a hug.
Exacting knife skills are required to give tuna tartare elegance. Neatly cubed sushi-grade tuna and pert rounds of cucumber betray such skills. But this starter needs more than the suspicion of lime and a crumble of buckwheat crisps to give it pizzazz. And: Chives need to be tasted before being sprinkled on top (they were mighty mild). Those pretty flakes of red pepper? No zing at all. Past prime, perhaps? However, the ingredients are primo in the crab salad: Mounded atop frisee and arugula were slices of earthy heart of palm, buttery favas and sweet crab. While billed as a lump crab and citrus salad, there were but a few slices of mandarin-like fruit in the shallow bowl. More citrus, please, to brighten the toss.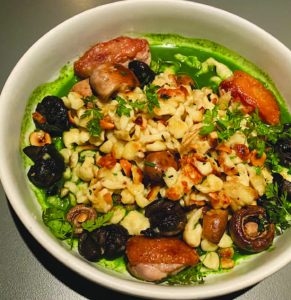 The orecchiette with lamb ragout came alive thanks to the nutty, slightly bitter Ligurian olives on board. You don't need a lot of the revered taggiasca olive to make an impression, particularly when lamb is involved. Good, sharp parmesan needs a better-quality creamy-cheese companion than the shy-on-flavor number spooned into the center of the dish. A riveting Garden State burrata is out there, waiting to be found.
Coq au vin charmed me, its rich red wine base picking up on the sweet smokiness of bacon, with onions, carrots and mushrooms fine in their role as sponges. Add a soupcon of spaetzle to the gravy and be happy. Beef bavette is sliced, its thick slabs reconstructed to look like a most desirable meatloaf before being set upon a hefty rasher of shredded oxtail. When accompanied by a classic soubise—a bechamel infused with slow-cooked onions—as the beef duo is here, it's the ultimate in meat-and-potatoes eating. Good thing, too, as the billed spinach merely peeked out from under the loaf of meats. Why so skimpy a portion of greens? Guess there are folks who want it that way. Lemon sole, slightly overcooked, had by comparison a near-bushel of browned cauliflower as a plate mate, along with a few florets of broccoli, cooked green grapes, capers and slits of mushroom. The brown butter sauce wasn't enough to rev up the fish, which made me wonder if that's why someone in the kitchen slipped in a wash of soubise.
Anyway, even though the pear-hazelnut cheesecake was shy on pear, it was resolutely creamy and the accompanying quenelle-shaped oval of hazelnut ice cream deserving of being called divine.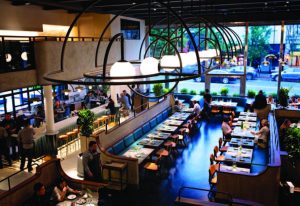 Faubourg is much about repeat diners, those who find their loves on the menu and their choice of top-notch beverages at the bar…and then find themselves in a community of many as a Faubourg regular. EDGE
Editor's Note: We welcome Andy Clurfeld, the magazine's food critic since 2009, back to the pages of EDGE following a year during which New Jersey's top restaurants weathered unprecedented challenges and uncertainty.