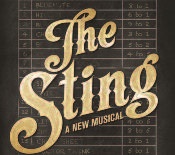 Things to do this Spring
March 29 to April 29
The Sting: A New Musical
Paper Mill Playhouse
(See web site for showtimes)
The con is on with this tale of two hustlers, Henry Gondorff and Johnny Hooker, in a musical inspired by the Oscar-winning 1973 film.
April 12
Ars Vitalis
Kean Stage 7:30 pm
Celebrate the art of music composition in this tribute to the life and work of Frank Ezra Levy, one of New Jersey's most prolific and gifted composers.
April 14
Arrested Development
UCPAC 8:00 pm
The beloved hip-hop group brings its high-energy act to the Union County Performing Arts Center.
April 14
Moscow Festival Ballet: Giselle
State Theatre 2:00 & 8:00 pm
The acclaimed ballet company performs one of the most romantic ballets, with choreography by the legendary Marius Pepita.
April 15
Let It Be
NJPAC 3:00 pm
It's the reunion concert that never was, a time capsule back to John Lennon's would-be 40th birthday that celebrates the music of the Beatles.
April 15
I Am Tango
UCPAC 6:00 pm
Tango Lovers, the award-winning dance company, tell the story of tango's evolution through different eras and cultures.
April 19
George Thorogood & The Destroyers
State Theatre 8:00 pm
Boogie blues legend George Thorogood and his longtime band roll into New Brunswick with hits like "Bad to the Bone," "Move It On Over" and "Who Do You Love."
April 21
Gabriel Iglesias
NJPAC 7:00 & 10:00 pm
The popular comedian comes to NJPAC's Prudential Hall with two performances on his One Show Fits All tour.
April 22
Margarita with a Straw
Kean Stage 3:00 pm
Margarita with a Straw tells the coming of age story of a Punjabi teen with cerebral palsy.
April 26
Ruben Studdard
State Theatre 8:00 pm
The Season Two American Idol winner stars in Always & Forever: An Evening of Luther Vandross.
April 27 to May 3
Shen Yun
NJPAC
(See web site for showtimes)
The world's premier Chinese dance and music company is in Newark for a week of performances.
April 28
Brian Stokes Mitchell
Kean Stage 3:00 & 7:30 pm
Tony-winning song and dance man Brian Stokes Mitchell performs hit songs from his many Broadway shows and his upcoming album Plays with Music.
April 28
Dorthaan Kirk
NJPAC
New Jersey's First Lady of Jazz is honored on her 80th birthday in the Victoria Theater by music legends Don Braden, Jimmy Heath, Steve Turre and Cassandra Wilson.
May 3
Worship Night In America
Prudential Center
Grammy winner Chris Tomlin headlines a show that includes Kim Walker Smith, Matt Maher, Christine D'Clario, Tauren Wells and Pat Barrett.
FOR THE KIDS
April 14
Journey to Oz
Kean Stage 11:00 am
This new adaptation of Frank Baum's beloved tales set in the Land of Oz features audience involvement in sound effects and call and response with the onstage characters.
April 20
Wild Kratts Live
State Theatre 6:30 pm
Martin and Chris Kratt come to life in a high-energy, multimedia
adventure.
April 29
Charlotte's Web
UCPAC 2:00 pm
Theatreworks performs the beloved E.B. White tale of a girl and her pig. The production is part of the Sensory Friendly Theatre program, featuring live shows adapted for children with autism and other sensory sensitivities.
May 4 & 5
The Wizard of Oz
State Theatre 2:00 & 7:00 pm
A spectacular celebration of the iconic 1939 MGM film, starring Dorothy and Toto, along with the Scarecrow, Tin Man and Cowardly Lion. There is no 2:00 pm performance on the 4th.
May 12
Panda-Monium
NJPAC 2:00 & 3:30 pm
The New Jersey Symphony Orchestra performs Music from the Animal Kingdom in a pair of family-friendly afternoon programs.
June 3
E.T. The Extra-Terrestrial
State Theatre 3:00 pm
Constantine Kitspooulos conducts the New Jersey State Orchestra in John Williams's Oscar-winning score live during a screening of E.T.
May 4
The Piano Guys
NJPAC 8:00 pm
The YouTube sensations blend a wide range of iconic music, from Bach to Bruno Mars.
May 5
New Jersey
Symphony Orchestra
NJPAC 8:00 pm
Violinist Ning Feng is the main soloist and Dima Slobodeniouk conducts the NJSO in a program featuring Mendelssohn's Violin Concerto.
May 6
Patti Lupone
State Theatre 4:00 pm
Tony winner Patti Lupone takes the stage in Don't Monkey with Broadway, her tribute to the unforgettable show tunes of the Great White Way.
May 11 to 13
Alvin Ailey American
Dance Theater
NJPAC
(See web site for showtimes)
The company's annual stop in Newark features Revelations, the signature masterpiece that pays homage to the African-American experience.
May 12
Marin Mazzie & Jason Danieley
NJPAC 6:00 & 8:30 pm
The golden couple of Broadway performs beloved show tunes in the intimate setting of NJPAC's Chase Room.
May 13
The Temptations & The Four Tops
State Theater 7:00 pm
Two of the greatest Motown acts join forces in New Brunswick for a live concert featuring all of their signature hits, from "My Girl" to "I Can't Help Myself."
May 18 & 19
The Original Misfits
Prudential Center
Glenn Danzig and Jerry Only reunite in their return to New Jersey, where it all started three decades ago for the legendary horror-punk-metal pioneers.
May 19
William Shatner
NJPAC 7:30 pm
William Shatner (aka James T. Kirk) takes the Prudential Hall stage following a screening of Star Trek II: The Wrath of Kahn.
May 20
New Jersey Symphony Orchestra
State Theatre 3:00 pm
Violinist Eric Wyrick is among the featured NJSO soloists in a performance of Bach's complete Brandenbrg Concertos.
May 31 to July 1
Half Time
Paper Mill Playhouse
(See web site for showtimes)
From the director-choreographer of Kinky Boots comes the remarkable true story about a group of seniors who became hip-hop dancers for a big-time basketball team.
June 15
Happy Together
State Theatre 8:00 pm
An all-star constellation—including The Turtles, The Cowsills, and Gary Puckett & The Union Gap—performs beloved hits from the 1960s and 1970s.
June 15
Journey + Def Leppard
Prudential Center 7:00 pm
Don't stop believing—both bands have created all-new shows for their 2018 tour, which stops in Newark on the 15th.
Editor's Note: This overview of local entertainment, curated by Rachel Stewart, is just a taste of our area's overall performance picture. For full listings, log onto the
following web sites:
Kean Stage • keanstage.com
Paper Mill Playhouse • papermill.org
State Theatre • stnj.org
NJPAC • njpac.org
Prudential Center • prucenter.com
Union Country Performing Arts Center
& Hamilton Stage • ucpac.org