by Erik Slagle
No matter the variables, treating patients like family is part of the Trinitas equation. 
By Erik Slagle
When Martin Mintz went into cardiac arrest on September 30th, 2015, he was far from home and the hospitals he was familiar with. A 95-year-old resident of Brooklyn, Martin was visiting family in Elizabeth when the heart attack occurred. The responding paramedics administered the "Code Frosty" protocol—induced hypothermia that preserves brain function in patients following cardiac arrest—and rushed him to Trinitas. There, says his daughter Selena, he experienced a level of care and compassion that met or exceeded that of the most prestigious New York medical centers, making his stay in an unfamiliar hospital a little easier.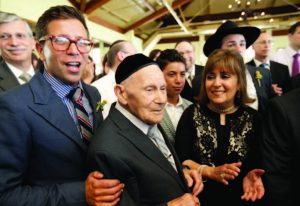 Martin, a Holocaust survivor, spent five years in a concentration camp in Poland. The Jewish faith is an indomitable trait of the Mintz family, and at a time of crisis they were able to find some solace in the hospital's Bikur Cholim Room. Bikur Cholim is the Hebrew phrase for "visiting the sick," and Martin's family was impressed that Trinitas, a Catholic hospital, makes this accommodation available for Jewish families in need of support and a place to come together in prayer.
Beyond the spiritual support, Selena says the medical care her father received was equally outstanding.  "The doctors were thorough, attentive and caring," she says. "The nursing staff was very helpful and calm as they went about their work. They made sure all the patients were comfortable. One of the nurses even offered to work with my father on her day off because she was so concerned about him.  Our family was so very impressed with the whole staff."
Several of her father's doctors, adds Selena, stand out for reasons that went beyond just their medical expertise. Dr. Maria Khazai of the Nephrology Department told her, "I'm taking care of him like that is my father in the bed."  Selena appreciated the candor of cardiovascular specialist Dr. Mehrewan Joshi in assessing Martin's condition. Along with Drs. Arthur Millman, Clark Scherer, Ying Tao, and Michael Chen—and ICU Director Dr. Michael Brescia—they formed
a team of constant support. Selena also singles out Dr. Leon Pirak for the attention and assistance he provided during Martin's care.
"Dr. Pirak was simply unbelievable," she says. "He oversaw everything and ensured that our family always got answers to our questions, and were always fully aware of what was happening.  We were able to discuss everything with him and make sure all aspects of my father's care were being addressed. Everyone here is an advocate for family members—they constantly check to see how they are doing, if there's anything they need, down to little details like a cup of coffee to pick someone up. Everyone we came into contact with at Trinitas was simply wonderful."
Martin passed away later that autumn, but Selena says it was a comfort knowing he was so well cared for in his final days. The doctors, nurses and staff at Trinitas made every effort to give care—"beyond what we had seen when my father was admitted to other hospitals in Brooklyn and New York City." 
"My father was treated with great dignity and humanity," she says. "We're very grateful to Trinitas for the way he was tended to and the care he was given."