STOP THE CLOCK!
The first baby born in 2018 at Trinitas Regional Medical Center arrived at 11:17 am on January 2nd. Proud parents Rose Demosthene and Willick Joseph of Rahway pose with baby Isaac Joseph who measured 19.5 inches and weighed in at 6 pounds, 13 ounces. The nursing staff kept a long-standing tradition by gifting a complete layette to the New Year's baby. Pictured are (left to right): Gabriella Moncayo, RN, Val Sivadasan, RN, Sabina Klos, RN and Mayra Via, RN.
ACADEMIC EXCELLENCE
The Academy of Our Lady of Peace, New Providence has been awarded Blue Ribbon School status by the U.S. Department of Education based on its overall academic excellence.
The Blue Ribbon School award affirms the hard work of students, educators, families, and communities in creating a safe and welcoming school where students master challenging content. This prestigious award is given to a select number of private or public schools that exceed the criteria and represents exemplary teaching and learning. Only 229 public schools and 50 private schools out of the 133,000 public and 36,000 private schools in the USA had this honor bestowed on them. Pictured from left to right are Mr. Joel A. Castillo, Principal of the Academy of Our Lady of Peace, Mrs. Mary Rose Raleigh, Technology Teacher and Coordinator, and Father William A. Mahon, Pastor of Our Lady of Peace Church.

TRINITAS MINTS 71 NEW NURSES
Members of the Trinitas School of Nursing Class of January 2018 recite the Nightingale Pledge at the conclusion of convocation exercises held at St. Michael's Church, Cranford. The 71 graduates are now are eligible to sit for the registered nurse licensing exam. Congratulations to the Trinitas School of Nursing's 159th graduating class!
MLB MVP'S
MLB Residential Lending, LLC and Springfield Township officials held a rebranding ribbon-cutting ceremony last November. Officials conducting the ceremony were Springfield Township Mayor Diane Stampoulos and Springfield Township Deputy Mayor Maria Vasallo. MLB Residential Lending executive board includes Samuel Lamparello, Francis Lamparello, Justin M. Demola, Richard Doran, Marty Bronfman, and Daniel Gorczyca. MLB Residential Lending, LLC. is a community mortgage banker, founded under the belief that homeownership is the most viable means to secure a family's financial future. The corporate office is located at 51 Commerce Street in Springfield.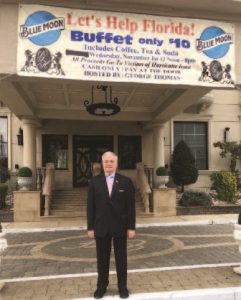 GALLOPING TO THE RESCUE
Galloping Hill Inn and Galloping Hill Caterers in Union held a special event for the benefit of victims of Hurricanes Harvey and Irma. George Thomas, entrepreneur, philanthropist and owner of Galloping Hill, hosted the fundraiser. George (left) emigrated to the United States from Greece in 1951. He has been a leader in the food business and a generous supporter of local and national charities ever since.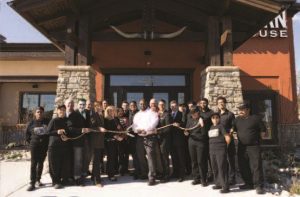 LASSO-CUTTING ON 22 WEST
LongHorn Steakhouse recently celebrated the opening of its new Springfield location at 272 route 22 West. Joining managing partner Anthony Levy and his staff for this special "Lasso Cutting" was Springfield Mayor Diane Stampoulos, along with members of the Springfield Patriot Chamber of Commerce. The 5,869 sq. ft. restaurant, which seats over 200 guests, has created more than 90 new jobs for the community. Its design celebrates the natural beauty of the American West, with a wood-and-stone interior featuring contemporary artwork and sculpture. As part of its pre-opening training period, the restaurant hosted Friends & Family events with proceeds benefiting a local nonprofit. LongHorn Steakhouse (LongHornSteakhouse.com) prides itself on fresh, never frozen, expertly grilled and boldly seasoned steaks, prepared by a certified LongHorn Grill Master.