Trinitas celebrated Heart Month with a fashion show and heart talk, "Paint the Town: Go Red for Women" in February at Lord & Taylor in Westfield, where women learned about heart disease and had fun in the process.  
Heart Month and National Wear Red Day were celebrated in style at Trinitas in a number of ways. At the start of the month, Elizabeth Mayor Chris Bollwage proclaimed National Wear Red Day at a special presentation in the Trinitas lobby. Dr. Mirette Habib addressed 40 women on heart health during a "Going Red for Women" event held at Lord & Taylor in Westfield.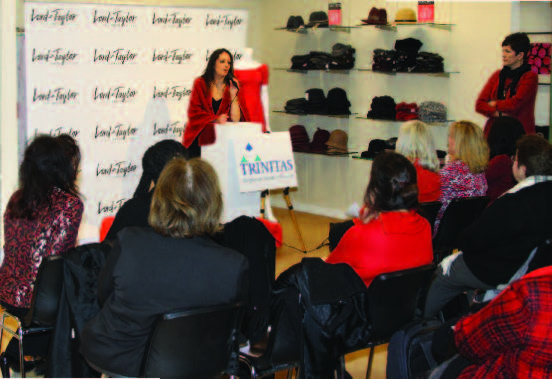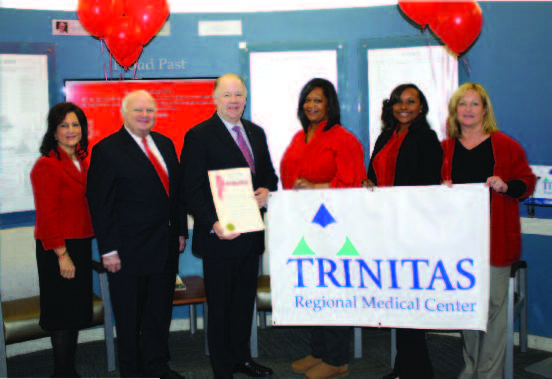 FOOD FOR THOUGHT
In February, Gwen Hassell (in orange and black) organized a Black History Month celebration feast for the Trinitas Operating Room staff. Gwen is joined by (left to right) Corssette Pratt, Joan Richard and Cathy Gittens.
AMAZING STARTS HERE
Kiddie Academy of Springfield, an educational childcare center, is open and enrolling new families. A brand new, state of the art facility with highly trained teachers and Life Essentials curriculum, the academy creates the opportunity for children to become truly amazing. They recently held their Grand Opening and ribbon-cutting ceremony which was accompanied by Jeff Pleis, Kiddie Academy Corporate, Nancy Kovacs, Director,  Aanal Parikh, Owner, Mike Scalera, Chamber Co-Chair, Springfield Police Captain Pat McLaughlin and Lieutenant Jon Rachel, Chamber Co-Chair Scott Seidel and Chamber VP Elliot Merkin.
SKY'S THE LIMIT
State and local dignitaries joined the management team of Sky Zone to celebrate the opening of its 35,000 square feet indoor aerial action park on Route 22 in Springfield. The facility offers trampoline courts, a warped wall, "Skyslam" slam dunking, an Ultimate Dodgeball Court and a Foam Zone. Left to right for the ribbon cutting are Elliott Merkin of the Chamber of Commerce, Township Committeeman Chris Capodice, Sky Zone GM Rich Niemczyk, State Senator Tom Kean, Springfield Mayor Rich Huber, franchise owner Mike Janay, Operations Manager Keith Wilhelmy, and Chamber of Commerce Co-Chair Mike Scalera.
WE HEAR YOU NOW
Thank you, Phillips 66 Bayway Refinery for the donation of five new Motorola APX 6000 portable radios for the Trinitas Mobile Intensive Care Unit (MICU).
The donation was celebrated by (left to right): Gerard Muench, Director of Pre-Hospital Services at Trinitas; Nadine Brechner, Vice President/Trinitas Health Foundation, Chief Development Officer; Gary S. Horan, FACHE, Trinitas President & CEO; Nancy Sadlon, Public Affairs Manager, Phillips 66 Bayway Refinery, and Mary Phillips, Community Relations Coordinator for the Refinery.
EVENING AT THE RACES
On Saturday, February 17, 2018, more than 180 guests gathered at the Meadowlands Racetrack in East Rutherford to place their bets with Trinitas! Thanks to their support and the support of our amazing sponsors, we raised more than$72,000—the most money this event has garnered in more than seven years!
A special thank you goes out to everyone who attended and/or supported the event. You helped us make our first fundraising event of 2018 a huge success. To those in the know, Trinitas is always a sure bet! Pictured: Michael Klein, Arlene Horan, Jill Sawers (Foundation Board Chair), Gary Horan (President & CEO of Trinitas Regional Medical Center).
SEEING IS BELIVING
Team Martucci is gearing up to participate in the Saturday, April 14th VisionWalk in New York's Central Park. The event supports research for the treatment and prevention of retinal degenerative diseases. Among the many NJ supporters of the team is the Hilton Garden Inn in Springfield. For more information visit FightingBlindness.org.