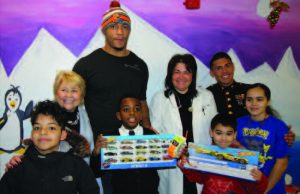 TOYS FOR TOTS MAKES A SPECIAL DELIVERY
Toys for Tots paid a visit to the Trinitas Pediatric Health Center and brought along two surprise guests. NFL Player Desmond Bryant (center) and Marine Ramon Perez (far right) made a special delivery for all the children visiting the health center on December 15th. The gifts were donated to the center as part of  Toys for Tots' continuous effort to make the holidays special for every child. Nadine Brechner, VP of the Foundation (far left) and Dr. Samofalov made sure the gifts were distributed to some of the center's proudest patients.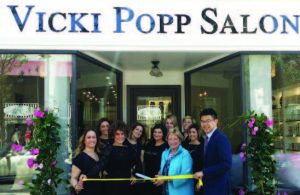 POPP CULTURE 
Summit Mayor Nora Radest joined salon owner Vicki Jimenez and her team of stylists to celebrate the opening of the new Vicki Popp Salon in Summit. Jimenez is passionate about great hair care and is committed to offering area residents a personalized beauty experience in her new state-of-the-art salon. "Our goal is to ensure that our clients' hair doesn't just look good the day they leave the salon," says Jimenez, "but that they will be able to style it easily themselves and look amazing every day." The salon is located at 456 Springfield Avenue.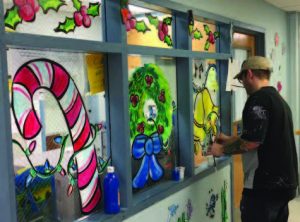 KEEPING TRADITION ALIVE
The George Miller Art Society kicked off the holidays by donating its artistic services to the Trinitas Child and Adolescent wing of New Point Campus. George Miller, a North Arlington based high school teacher, touched the lives of many students in his 30-year career before his passing in 1993. Co-founders and former students Andrea Jennings (left) and Daniel Marck (right) strive to continue this tradition to spread cheer and promote artistic expression in Miller's memory. Special thanks to the family and friends of George Miller for their help in keeping one of Mr. Miller's finest philanthropic traditions alive.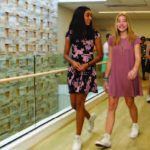 ROOM TO GROW
Chatham Day School recently completed a $6 million expansion project, which includes a new wing for Upper and Middle Schoolers. Students have a new theater, dining hall and S.T.E.A.M. Suite.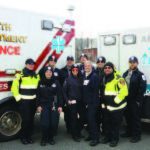 TRINITAS EMS RAISES THE BAR  FOR SAVING LIVES       
The American Heart and Stroke Association honored Trinitas Regional Medical Center Mobile ICU with the 2016 Mission: Lifeline EMS Recognition Gold Award for decreasing the "door-to-needle" timeframe for cardiac patients. The success of the Trinitas Mobile ICU program is due in great part to the joint effort between the Trinitas EMS squad and the local Elizabeth Fire Department.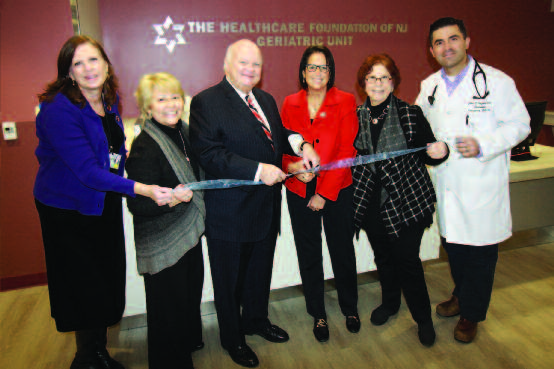 DEDICATED TO EXPANSION
From Left to Right: Kathleen Shevlin, Nadine Brechner (Trinitas Health Foundation) and Gary Horan (President & CEO of Trinitas), pose with Beth Levithan, PhD and Marsha Atkind, from the Healthcare Foundation of New Jersey, and Dr. John D'Angelo  as they dedicated three key areas of the new Emergency Department at Trinitas Regional Medical Center. The Foundation granted$500,000 for the geriatric unit, $250,000 for the diagnostic suite, and$1 million for the transitional care unit.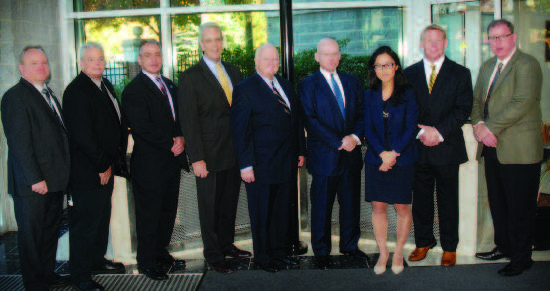 HOSPITALS JOIN FORCES  TO FIGHT DRUG OVERDOSES 
Trinitas Regional Medical Center in Elizabeth, Overlook Medical Center in Summit, and Robert Wood Johnson University Hospital in Rahway, all recently signed memorandums of understanding with the Union County Prosecutor's Office to provide the counter-active drug — commonly known as Narcan — to all police departments in the county at no charge to the police. This drug is used to counteract opioid overdoses, and saved 124 lives in the first 10 months of use by police officials throughout Union County.