PURPLE HATS FOR NEWBORN NOGGINS
The Stitch Club of the Church of the Holy Innocents in West Orange lovingly crafted purple hats for babies at Trinitas in support of Shaken Baby Syndrome Month, observed in September. Michael Lisa, Trinitas CPR instructor, also the husband of Stitch Club member Robin Lisa, made the annual delivery to Hana Baudendistel, MS, BSN, RN, NE-BC, Clinical Information Systems Design Coordinator.
WATCH THE PRESIDENT OF TRINITAS SOAR!
The SOAR! 34th annual New York Awards Gala honored Trinitas President/CEO Gary S. Horan, FACHE with the Saint Elizabeth Ann Seton Award at the virtual event in September. Horan is a former member of the Board of Directors of SOAR! (Support Our Aging Religious). This national organization provides grants to help Catholic religious congregations in the US care for their elderly and infirm members.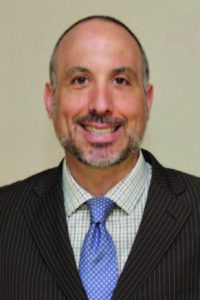 BEHAVIORAL HEALTH LEADER
Salvatore G. Savatta, MD has been appointed the Chairman of Behavioral Health and Psychiatry at Trinitas. Dr. Savatta previously served as the Interim Chairman of the Department since 2019.
Dr. Savatta is Board Certified in Adult Psychiatry. He received his Bachelor of Arts Degree in Economics from New York University and his M.D. from NYU School of Medicine. In addition, he holds a M.S. in Biostatistics Clinical Research Methods from Columbia University Mailman School of Public Health. Prior to completing his Psychiatry Residency at St. Vincent's Catholic Medical Center, he served three years as a surgical resident. He also completed a Forensic Psychiatry Fellowship at University of Pittsburgh Medical Center – Western Psychiatric Institute and Clinic.
FOR THE LOVE OF MIDWIVES
When Nikita Lazo of Union delivered her baby, Dylan Ramirez, she wanted to let the midwives at Trinitas know how thrilled she was with her birthing experience.
"Carol Rose-Trzaska my midwife was wonderful," Nikita said. "She was so sweet and helpful to me; I felt very comfortable with her since day one. When I met her I liked the way she explained everything to me and also listened to what I had to say. She was more of a mother to me. Shanaya Recalde, CNM, helped me with breastfeeding and showed me what to do so it wasn't painful. Other nurses like Pat Henn, Analisa Rameriz, and Margaret Waldrop, were also very helpful. I would recommend them and rate them 10 stars. I will always remember that team."
DRIVEN BY THE GOSPEL
The Pastoral Care Department at Trinitas celebrates Father Stephen Chukwuemeka Aribe's 25 years as a priest. Father Stephen was ordained a Catholic Priest on July 15, 1995, at Mater Dei Cathedral in Umuahia Diocese in the Eastern region of Nigeria. As he has been a committed, dedicated servant of God, Father Stephen says, it's important to add, "driven by the Gospel of Truth."
DOCTOR FOR  THE WOUNDED
Dr. Michael R. Zaboski has joined the Trinitas Center for Wound Healing & Hyperbaric Medicine. Known for his razor-sharp memory and calming presence, Dr. Zaboski is a true asset to the team. He is no stranger to wound care. While attending medical school at Saint George's University School of Medicine, he received extensive experience in wound care management in his surgical rotation at Queen Alexandria Hospital in Portsmouth, England. He was named Chief Resident at St. Elizabeth Hospital in what is now the Rutgers New Jersey Medical School/Trinitas Regional Medical Center Internal Medicine Residency Program.