POWER PLAYER 
Gary S. Horan, FACHE, President  & CEO, has been named to the prestigious Power 50 Healthcare list published each year by NJBIZ.  This marks the fourth year that he has made the Power 50, during which he improved his standing by moving up 4 notches to #27. Horan is also the 2016 recipient of the New Jersey Hospital Association's Distinguished Service Award – the highest recognition given by NJHA.
A NAME KNOWN 'ROUND THE WORLD       
The reputation of the Trinitas School of Nursing stretches across the US and around the world. Nursing educators from the University of Auckland recently visited the school while in the New York metro area. Professor Melanie Birks and Associate Professor Jane Mills, of the University of Auckland, and Dr. Karen Hoare of the Centre for Nursing and Midwifery at James Cook University, shared findings in a study inspired by a previous visit to the school in 2011, when they learned about the patient simulation teaching model used here. 
SHE'S NOTEWORTHY! 
At the 11th Annual Harmabee Breakfast of the Greater Elizabeth Area Section of the National Council of Negro Women, Pamela Glover (second from left), Program Coordinator, Nursing Division, received the Section Award for her dedication and service.  Pam celebrated with Cleadal Waye, Dr. Patricia Bennett, Erica Blount, and Joann Blount. 
NEW NURSING LEADER       
The New Jersey Chapter of the National League for Nursing recently announced that John Lanier, RN, MS, NE-BC, OR Manager, Bloodless Medicine & Surgery Program and Nursing Performance Improvement, has been appointed its president-elect to serve from 2016 – 2019.  
JUST WHAT THE DOCTOR ORDERED! 
While there are no people in these "People Page" photos, the completion of Phase 1 of Trinitas' ER construction project will help many people – more than 73,000 per year to be exact.  The new space will include 45 treatment rooms (up from its current 28), and separate treatment areas for families, children and seniors. Coming on line this month are a new reception/waiting/registration area, and a 128-slice CT Scanner.  The overall project will be completed next year.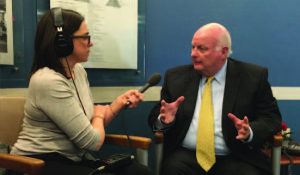 GARY HORAN INTERVIEWED ON NPR 
Freelance science writer Katie Hiler recently conducted a radio interview with President and CEO Gary S. Horan that was broadcast on WNYC, the local affiliate of National Public Radio. Ms. Hiler sought out Mr. Horan because of his passionate support of the reconfiguration of the Omnia plan of Blue Cross and Blue Shield.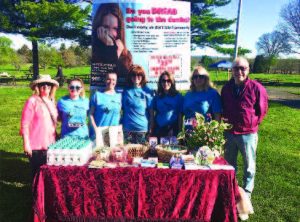 MILES OF SMILES 
Westfield Smiles was one of the sponsors and participated on Sunday, April 24, 2016, in the 5th Annual NJ Miles with Moms 5k and Fun Run at Oak Ridge Park in Clark.  The event was hosted by the Mothers' Center of Central NJ  with families and athletes throughout the local community running and walking to support mothers and families.