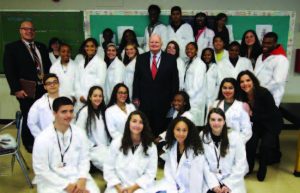 TRINITAS DONATES  LAB COATS TO "HOSPITAL" AT LINDEN HIGH SCHOOL 
On behalf of Trinitas Regional Medical Center, Gary S. Horan (center), President and Chief Executive Officer of Trinitas, donated 30 lab coats to the Anatomy & Physiology honors class at Linden High School. Science teacher Kelly Gallagher had contacted the hospital to ask if there might be used lab coats available to her students. She explained, "I run my Anatomy & Physiology classes like a hospital and treat my students like they are new residents treating 'patients' by researching and running labs based on case studies." According to Mr. Horan, the opportunity to help the students was a "perfect match" with Trinitas' many programs designed to introduce young people to health careers.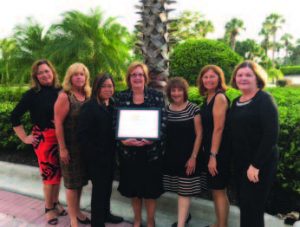 TRINITAS EXPANDS IN EXCELLENCE 
The Nursing Division at Trinitas was honored at the National League for Nursing Summing in    Orlando,  FL   with  a second-time designation  as a "National League for Nursing Center of Excellence for Creating a Workplace Environment that Supports the Academic Progression of Nurses." Trinitas is one of only four hospitals in the US to receive this designation. "Over the last four years, 160 nurses at Trinitas have enrolled in BSN and MSN education and increased the BSN rate by 14.3%. This is a great accomplishment that demonstrates how strongly Trinitas nurses believe in the value of academic progression and its subsequent improvements in patient care," says Mary McTique, Vice-President, Patient Care Services and Chief Nursing Officer.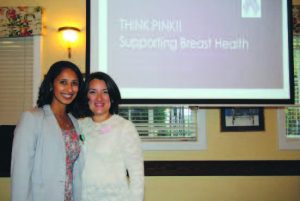 THINK PINK!
Dr. Michelle Cholankeril (left) and Dr. Adriana Suarez-Ligon (right) teamed up to host a breast health seminar for the community at the Garden Restaurant in Union. The seminar,  a part of Trinitas' ongoing community initiatives, shed light on early detection, treatments, and new developments in breast cancer. The lecture brought ease and insight to those attendees looking to heal wounds of the past and present.
LAILA'S GEMS BRING HOPE 
Laila a'merie Hall visited Trinitas Regional Medical Center in august with her parents Curtis and veronica to donate handmade bracelets to the hospital's Pediatric Clinic. Laila participated in the n.a.M. (national american Miss) Princess Pageant august 12th and 13th, representing the state of new Jersey. Laila's Community Service Platform, Laila's gems, are hand-made bracelets made by Laila that are delivered to little girls in hospitals who are dealing with a traumatic illness or disease. it is Laila's hope and prayer that when each little girl looks down at her wrist, it will bring a smile to her face and will enable her to think of a much happier time and place. it is her desire to make every little girl feel special, no matter the circumstances. Laila's gems are not only the bracelets that she makes but are the many beautiful friends she meets along her journey to "bring rays of sunshine" to a little girl's life.
Pictured above: (left to right) Curtis Hall, Rob Eccles (Trinitas Health foundation), Laila Hall, and veronica Hall.
PICTURE PERFECT 
Clark resident Thomas Wacaster shows off his painting, daily Commute, which won first Place overall in the Union County Senior Citizen's art Show, and Second Place in the category of Oil Painting in the new Jersey Seniors show.  The painting depicts the historic Erie Lackawanna train terminal in Hoboken.  a local realtor, Tom has indulged in his hobby for over 50 years.
PERFECT MATCH
Trinitas extended a big "thank you" to the Rotary Club of Elizabeth recently, for the club's $10,000 donation to Trinitas' Emergency department expansion program. Rotary members visited Trinitas for lunch and a behind-the-scenes tour of the ER, including the new 128-slice CTscanner.  Thanks to a challenge grant from the JC Kellogg foundation, the club's gift was matched, resulting in$20,000 going to Trinitas!
RECORD BREAKING TURNOUT 
Springfield¹s annual Township Street fair shattered its previous attendance record. Organized by the Springfield Patriot Chamber of Commerce and proudly supported by Wolf Premier Properties, the event offered something for people of all ages. Each fall, the fair features an innovative twist. This year it was horse and carriage rides. Crowds enjoyed lively music, tasty food, a vintage car show and great news and information on the town.