TRINITAS NAMES NEW ER AFTER CEO 
To honor his five decades of healthcare leadership in both New York and New Jersey, Trinitas Regional Medical Center named its new $18.7 million Emergency Department after Gary S. Horan, FACHE, Trinitas President and CEO. The expansion will deliver emergency care more quickly, and with higher quality, raising the number of treatment beds from 27 to 45, and providing separate treatment areas where the most appropriate care can be given to seniors, families, and behavioral health patients. For more on this difference-maker see "Partners In Time" on page 45.    
SHARING IS CARING!
In partnership with HRSA and Workplace Partnership for Life, The NJ Sharing Network recognized Trinitas Regional Medical Center for its efforts to promote awareness about the life-saving benefits of organ and tissue donation. More than 1,000 hospitals came together across the country to participate in the 2017 Hospital Campaign. In total, this campaign added 26,975 donor registrations over a seven-month period.  Trinitas was recognized with the Sharing Network's Platinum Award for its vigorous marketing and education focused on the importance of organ and tissue donation. 
PAINT THE TOWN PINK!
With a goal of spreading breast health awareness during October and all year round, Trinitas partnered with the City of Elizabeth and Elizabeth Department of Health and Human Services to "Paint the Town Pink!" With pink ribbons displayed throughout the city's buildings and storefronts, the initiative hosted two events: one at Bloomingdale's at Short Hills Mall and another at Proceed Inc. Special thanks to all partners for making this event possible: Union County Board of Chosen Freeholders, Union County Office of Women, Susan G. Komen- North Jersey, Greater Elizabeth Chamber of Commerce, and the Elizabeth Avenue Partnership.  
GARDEN OF HEALTH 
Gary S. Horan (President & CEO, Trinitas RMC) and Nancy DiLiegro (VP, Clinical Operations and Physician Services/Chief Clinical Officer, Trinitas RMC) recently took a stroll through the new community garden located at Trinitas' New Point Campus in Elizabeth. The Community Garden was made possible by Groundwork Elizabeth, The Fruit Tree Planting Foundation, and the Union County Board of Chosen Freeholders. The garden will be tended by the Child Adolescent Program within Trinitas's Behavioral Health Department, and serve as a long-term therapeutic tool for these patients. 
THE PINK ROOM 
Maria Sparacio, owner of The Pink Room in Union, NJ has partnered with Trinitas Regional Medical Center to provide shapewear garments for new moms. Maternity and post-partum body girdles will be offered at a discounted rate for the next year only at Trinitas! The Pink Room was founded in May of 2008 and has great reviews and results from clients all throughout New Jersey. 
SHARING A PINK EVENING
Trinitas collaborated with Bloomingdale's at Short Hills Mall to host an event focused on breast health awareness. From left to right: Dr. Clarissa Henson, Radiation Oncologist; Dr. Heidi Fish, Pathologist; Dr. Dipti Pandya, Radiologist; Dr. Michelle Cholankeril, Medical Oncologist; Dr. Adriana Suarez-Ligon, Breast Surgeon; provided key information on preventative care, screening, and treatment. If you missed this event and would like more information on Trinitas Comprehensive Cancer Center and its team of specialists call (908) 994-8000.
Submit your EDGE People event at www.edgemagonline.com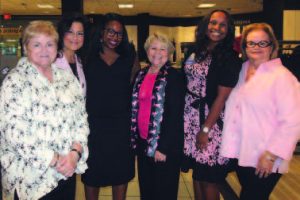 Connie Dwyer of the Connie Dwyer Breast Center Foundation (far left), was also in attendance. From left to right Connie is accompanied by Nancy DiLiegro (VP, Clinical Operations and Physician Services), Marlie Messina (Public Relations Manager, Bloomingdale's Short Hills & Bridgewater), Nadine Brechner (Chief Development Officer and VP of the Trinitas Health Foundation), Roselena Twyne (Community Initiatives/Clinical Support Services Specialist), and Janet Lesko (Executive Director, Connie Dwyer Breast Cancer Foundation).