by Robin Robertson
Rediscovering the slow cooker in COVID times.
The irresistible appeal of a slow cooker is its convenience and simplicity. Turn it on, and it cooks dinner while you do other things. You have no pot to watch. It doesn't burn or spill over. Just set it and let it do its work. Next thing you know, your kitchen smells heavenly, and you feel like your personal chef did all the work. One profound effect of the current pandemic stay-at-home culture is that we are doing more home cooking. In and of itself, this can be a good thing. However, it has also given rise to stress eating and weight gain. Remember the "Freshman 15," the weight-gain trend on college campuses? The pandemic gives us a new trend being called "The COVID 19." Two ways to counter unwanted weight gain are to stop eating junk food, and keeping lots of healthy foods on hand, especially plant-based whole food meals made with beans, whole grains, and vegetables.
The growing interest in slow cooking has come at a time when more and more people are focused generally on better health and healthy eating, and specifically on the benefits of a plant-based diet. When you factor in a widening awareness of world cuisine, we may well be looking at a game-changing culinary moment. This confluence of trends encouraged me to revisit a book I wrote nine years ago, Fresh from the Vegan Slow Cooker. In 2020, I authored a new book that features more than 225 recipes using only plant-based ingredients—with chapters on everything from breakfast to main courses, appetizers to desserts, and condiments and beverages. These are some of my favorites…
Root Vegetable Bisque with Herbs de Provence
6 to 8 hours
Traditional bisques are often thickened with rice, so I've added some to this recipe. The soup is puréed after cooking and then returned to the pot to serve. If you prefer a chunky rather than creamy soup, you can omit the puréeing step. Just don't call it a bisque!
1 medium-size yellow onion, chopped
3 garlic cloves, chopped
2 carrots, coarsely chopped
2 medium-size parsnips, peeled and coarsely
chopped
1 small turnip, peeled and diced
1 medium-size Yukon Gold potato, peeled
and diced
1/3 cup (63 g) raw brown rice
1 (14-ounce, or 395 g) can diced tomatoes, drained 4 cups (960 ml) vegetable broth
2 teaspoons dried herbes de Provence
Salt and freshly ground black pepper
2 tablespoons (8 g) chopped fresh flat-leaf parsley,
for garnish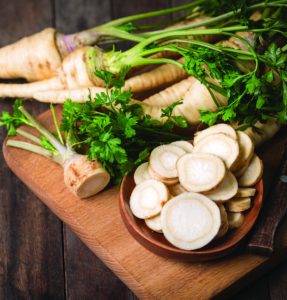 1. Combine the onion and garlic in the slow cooker. Add the carrots, parsnips, turnip, potato, and rice. Stir in the tomatoes, broth, herbes de Provence, and salt and pepper to taste. Cover and cook on Low until the vegetables are tender, 6 to 8 hours.
2. Use an immersion blender to puree the soup right in the pot or transfer the soup, in batches, to a high-powered blender or food processor and puree until smooth, then return to the pot. Taste and adjust the seasonings, if needed. Serve hot, sprinkled with the parsley.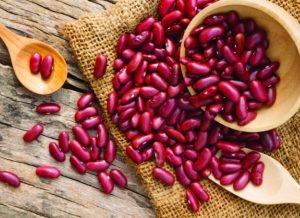 Holy Mole Red Bean Chili
6 to 8 hours
The rich depth of flavor from the mole sauce elevates a humble chili to new heights. I especially like the addition of chopped seitan in this chili, but you may substitute Soy Curls, tempeh, or jackfruit, if you prefer.
1 large yellow onion, chopped
4 garlic cloves, minced
1/2 small green bell pepper, seeded and chopped 3 tablespoons (48 g) tomato paste
2 tablespoons (10 g) unsweetened cocoa powder 2 tablespoons (32 g) almond butter
2 to 3 tablespoons (15 to 22.5 g) chili powder
1 tablespoon (17 g) minced chipotle chiles in adobo 1/2 teaspoon ground cinnamon
1 (14.5-ounce, or 410 g) can diced fire-roasted
tomatoes, drained and juices reserved
1 (14-ounce, or 395 g) can crushed tomatoes 3 cups (768 g) cooked dark red kidney beans
or 2 (15-ounce, or 425 g) cans beans, rinsed and drained
8 ounces (225 g) seitan, chopped
2 cups (480 ml) water
1 teaspoon salt
1/4 teaspoon freshly ground black pepper
Diced avocado, pepitas (green pumpkin seeds)
chopped scallions, and/or chopped fresh cilantro, for garnish
1. In the slow cooker combine the onion, garlic, and bell pepper. Stir in the tomato paste, cocoa, almond butter, chili powder, chipotles, cinnamon, and the juices from the diced tomatoes, stirring to blend.
2. Stir in the diced tomatoes, crushed tomatoes, beans, seitan, water, salt, and pepper. Cover and cook on Low for 6 to 8 hours.
3. Taste and adjust the seasonings, if needed. Serve hot, garnished with desired toppings.
A World of Beans
Because bean cooking was the intended use of the first slow cookers, it almost goes without saying that beans are a natural fit for the slow-cooking method. While many of us enjoy cooking a variety of different beans, it's a safe bet that most of us have barely scratched the surface in terms of what types are available. Believe it or not, there are more than 13,000 different beans and legumes in the world. That's a lot of beans!
Because beans take longer to cook than most vegetables, I prefer to use beans that I have already cooked in most of my recipes to avoid overcooking the vegetables. Another reason for using precooked beans in recipes is that it allows me to drain off the cooking liquid after cooking beans, making them more digestible. Cooking beans from the dried state in the slow cooker is both easy and economical. Here are some of the basics…
● A convenient way to prepare dried beans to use in recipes is to cook the beans in your slow cooker overnight on Low. They will be done by morning.
● A small piece of kombu sea vegetable added to the pot while the beans cook will help tenderize the beans while adding flavor and nutrients.
● Dried herbs should be added to beans during the final thirty minutes of cooking time. However, it is best to add fresh herbs after the beans are cooked for the best flavor.
● To keep cooked beans from drying out, cool them in their cooking liquid. For improved digestibility, be sure to drain the bean cooking liquid first before using the cooked beans in a recipe.
● Consider cooking a large amount of beans, portion them into airtight containers, and store them in the refrigerator for up to one week or in the freezer for up to six months.
Artichoke Risotto
2 hours
In order to achieve the right texture and flavor, this risotto requires a few minutes of skillet time before combining in the slow cooker. It's not a bad trade-off when compared to all of the hands-on stirring involved in making conventional risotto. Using nutritional yeast makes this soy-free, although you can substitute a soy-free vegan Parmesan instead.
1/4 cup (60 ml) water, or 2 teaspoons olive oil 1 small yellow onion or 2 shallots, minced
1/4 cup (60 ml) dry white wine
1 1/4 cups (237.5 g) Arborio rice
3 1/2 cups (840 ml) vegetable broth, plus more
if needed
2 teaspoons chopped fresh thyme leaves,
or 1 teaspoon dried thyme
1/2 teaspoon salt
2 cups (600 g) canned or frozen artichoke hearts,
thawed, chopped
2 tablespoons (7.5 g) nutritional yeast, or 1/4 cup
(33.5 g) Almond Parmesan
2 teaspoons fresh lemon juice
Freshly ground black pepper
1/4 cup (30 g) chopped toasted walnuts, for
garnish
2 tablespoons (6 g) snipped fresh chives, for garnish;
1. Heat the water or oil in a medium-size skillet over medium-high heat. Add the onion and sauté until softened, about 5 minutes. Stir in the wine and cook for 30 seconds, then add the rice and cook, stirring, for 2 minutes.
2. Transfer the rice mixture to the slow cooker. Add the broth, thyme, and salt, cover, and cook on High until all of the liquid is absorbed and the rice is just tender, about 2 hours.
3. Stir in the artichokes, nutritional yeast, lemon juice, and pepper to taste. Taste and adjust the seasonings, if needed. If the mixture is too dry, stir in a little more hot broth as needed.
4. Serve hot, spooned into shallow bowls. Sprinkle each serving with the toasted walnuts and chives.
Why Slow-Cook?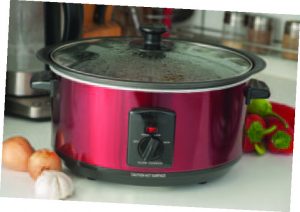 • It's a convenient way to prepare healthy home-cooked meals.
• It allows you to cook and serve in the same vessel, so it saves on cleanup time.
• It can have dinner ready and waiting for you at the end of the day.
• The slow, gentle cooking adds depth of flavor to foods.
• It keeps the kitchen cool on hot days.
• It's an ideal way to cook beans and seitan from scratch.
• It doubles as a chafing dish or hot punch bowl at parties.
• It's economical because it uses less energy than oven cooking and makes great leftovers.
• It can be used as a mini-oven to slow-bake cakes, casseroles, potatoes, and more
• It frees up stovetop burners when cooking for parties or for a crowd on holidays.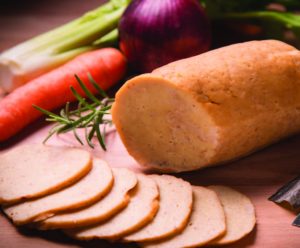 Rustic Potpie Topped with Chive Biscuits
5 to 7 hours
This rustic potpie features a top crust of tender drop biscuits that cook right in the slow cooker. The steam heat produces a soft and tender biscuit topping. If you prefer a drier texture to the biscuits, let the cooked potpie sit uncovered for about 10 minutes before serving. To make this gluten-free, use diced tempeh or extra-firm tofu instead of seitan and use a gluten-free flour blend. For soy-free, omit the soy sauce and use Soy-Free Sauce, or coconut aminos, or add some soy-free vegetable broth base or additional salt, and a soy-free plant milk.
2 tablespoons (30 ml) plus 2 teaspoons olive oil 1 medium-size yellow onion, minced
2 large carrots, peeled and minced
2 tablespoons (32 g) tomato paste
1 teaspoon dried thyme
1/2 teaspoon dried marjoram
1 cup (124 g) plus 3 tablespoons (23.25 g)
all-purpose flour
3 tablespoons (45 ml) dry red wine
1 tablespoon (15 ml) soy sauce
1 cup (240 ml) vegetable broth
2 medium-size Yukon Gold potatoes, peeled and
cut into 1/2-inch (1 cm) dice
8 ounces (225 g) cremini mushrooms, coarsely
chopped
8 ounces (225 g) seitan, cut into 1/2-inch (1 cm) dice Salt and freshly ground black pepper
3/4 cup (97.5 g) frozen green peas, thawed
11/2 teaspoons baking powder
1 tablespoon (0.2 g) dried or (3 g) snipped fresh chives 1/2 cup (120 ml) plain unsweetened plant milk
1. Heat 2 teaspoons of oil in a large skillet over medium-high heat. Add the onion and carrots and sauté for 5 minutes. Stir in the tomato paste, thyme, and marjoram and cook for 1 minute longer. Sprinkle on 3 tablespoons (23.25 g) of flour and cook for 30 seconds. Add the wine, soy sauce, and broth, stirring after each addition.
2. Transfer the onion mixture to the slow cooker. Add the potatoes, mushrooms, seitan, 1/2 teaspoon of salt, and 1/4 teaspoon of pepper. Cover and cook on Low until the vegetables are tender, 4 to 6 hours. Taste and adjust the seasonings, if needed, then stir in the green peas.
3. In a large bowl, combine the remaining 1 cup (124 g) of flour, the baking powder, chives, and 1/2 teaspoon salt. Quickly stir in the plant milk and the remaining 2 tablespoons (30 ml) of oil until just blended. Drop the biscuit mixture by large spoonfuls onto the surface of the simmering stew. Turn the heat setting to High, cover, and cook until the dough is cooked through, about 1 hour longer.
4. Serve within 15 minutes after the biscuit dough has finished cooking.
Variations: Instead of the seitan, use cooked chickpeas or chopped tempeh. You could also use sweet potatoes instead of the white potatoes, or add turnips in addition to the carrots, and so on. Different herbs could be used in the biscuits—instead of chives, try dill and a little dried savory, if you have some.
Happy Half-Century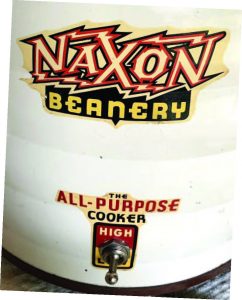 The Rival Crock-Pot turns 50 this year. In 1971, Rival bought the "original" consumer electric slow cooker, the Naxon Beanery, which was originally developed for bean cooking. The Crock-Pot was marketed to working women as a way to make a home-cooked meal while they were at work, and they quickly put it to use in preparing pot roasts and other meat-centric dishes. A phenomenal hit at the time, the Crock-Pot fad faded, only to enjoy a resurgence some 30 years later. Since the early '70s, more than 80 million slow cookers have been sold.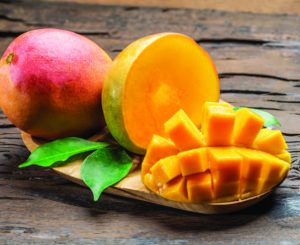 Coconut Rice Pudding
with Mango
1 1/2 to 2 hours
A favorite dessert in Thai restaurants, rice pudding with fresh mango is easy to make at home in your slow cooker. If you prefer a sweeter pudding, add up to 1/4 cup (50 g) extra sugar.
1 1/2 cups (300 g) raw jasmine rice
1/2 cup (100 g) granulated natural sugar,
or more to taste
1/4 teaspoon salt
2 (14-ounce, or 395 g) cans unsweetened
coconut milk
1/2 cup (120 ml) unsweetened plant milk, plus
more if needed
1 teaspoon coconut extract
1 teaspoon pure vanilla extract
1 large ripe mango, peeled, pitted, and chopped
1. Lightly coat the slow cooker insert with vegan butter or nonstick cooking spray. Combine the rice, sugar, and salt in the cooker. In a saucepan or the microwave, heat the coconut milk and plant milk just to boiling. Slowly add the heated milks to the slow cooker, stirring to dissolve the sugar. Cover and cook on High until the rice is tender, about 1 1/2 hours.
2. Turn off the slow cooker and stir in the coconut and vanilla extracts. Allow to cool, uncovered, for 10 minutes, then stir in the mango. To help thicken the pudding, stir it gently to let it absorb any remaining liquid; it will continue to thicken as it cools. If the pudding is too thick, stir in a little more plant milk until it's the consistency you like. The pudding can be served warm, at room temperature, or chilled. To serve chilled, spoon the pudding into dessert glasses, cover, and refrigerate until cold.
A slow cooker is an easy way to prepare nourishing and comforting dishes such as chili, casseroles, stews, and hearty soups made with beans, grains, and vegetables. Preparing food in a slow cooker retains all the nutrients and condenses the delicious flavors. And because slow-cooked dishes can be made without oil, they are low in fat and contain no cholesterol, making them ideal for these challenging times when we may be prone to eating more. EDGE
Editor's Note:
Robin Robertson is a veteran restaurant chef, cooking teacher and columnist. She has authored numerous cookbooks, including The Plant-Based Slow Cooker ($27.99 Harvard Common Press) and best-sellers Fresh from the Vegan Slow Cooker, Vegan Planet, Vegan on the Cheap, and Quick-Fix Vegan. For more info visit her web site robinrobertson.com.