by Christine Gibbs
10 Ways to Live Longer (and Better)
You may be one of the 47% who "doesn't pay taxes," but that other inevitability—death—is a little harder to sidestep. Indeed, sooner or later the predator time catches us all. The trick, of course, is to push "later" as far forward as possible. We do this by eating well, exercising and not smoking. At least, that is what we are told to do. The reality is quite different. According to the CDC, one third of our population qualifies as obese, and a Duke University study projects a rise to 42% by 2030—adding $550 billion to national healthcare obligations. With obesity running rampant through America, some of us actually breathe a sigh of relief that we are merely "overweight." Meanwhile, we spend billions on exercise equipment that gathers more dust than sweat, gym memberships that can't be cancelled, and workout wardrobes that still have their tags on—more than $70 billion a year, according to the Sporting Goods Manufacturers Association. And although we have come a long way from idolizing the Marlboro Man and athletes sponsored by Virginia Slims, smoking is actually on the rise among women and teens. We all know what to do. So why aren't we doing it? What is it that triggers yo-yo dieting, couch potato-ing, and closet smoking? We all want to live longer…so why are we so bad at it? In many cases, it turns out, the prospect of making major life changes is so daunting or dispiriting that folks unconsciously have given up before they even begin; one bump in the road and they revert back to bad habits. A successful outcome is far more likely if you take on small, achievable challenges and fold them into your current lifestyle. In that spirit, we've identified 10 smart ways to keep you going strong: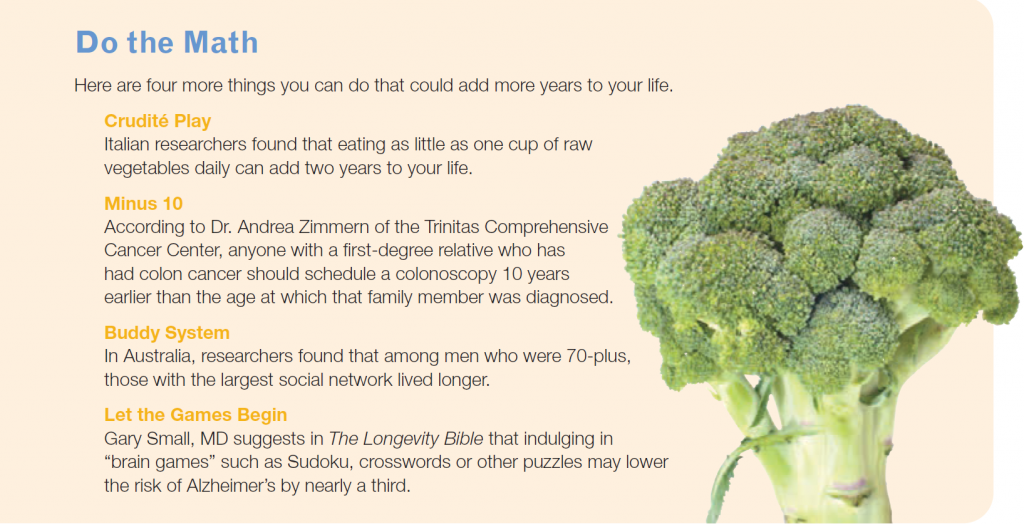 1 DRINK UP The Mayo Clinic has adjusted the longstanding "8 by 8" rule (eight 8-ounce glasses of water daily) to include any healthy fluids. And a Loma Linda University study indicates that as little as 5-8 ounces daily can be helpful.
2 SWEET SURRENDER According to a 15-year study conducted by Dutch researchers, eating about 4 grams of cocoa a day could cut your risk of heart disease. Dark chocolate with a high cocoa content is ideal.
3 LAUGHTER IS THE BEST MEDICINE According to a study by Dr. Michael Miller at the University of Maryland, laughter can reduce blood pressure, lower cholesterol and improve blood flow to the heart by as much as 50%. Start DVR-ing The Colbert Report!
4 ACID TEST The International Journal of Cardiology tells us that chronic heartburn can lead to a heart attack. A high acid level in the esophagus, when untreated, can decrease blood flow to the heart by 20%. According to a CNN report last year, if you suffer from heartburn you might try sleeping on your side to reduce acid reflux.
5 CATCH SOME Zs According to the CDC, 41 million Americans don't get enough sleep, with consequences ranging from a higher risk of diabetes to depression to slower reaction time in emergencies. How much sleep is right for you? The next time you have a totally free weekend—or better yet, a vacation—go to bed when you're tired and wake up when you want. If you get through the day without feeling tired, that's probably your "sleep number."
6 CURRY FLAVOR Rutgers University scientists have determined that combining curry with cruciferous vegetables (cabbage, bok choi, turnips, broccoli, cauliflower) appears to help ward off prostate cancer.
7 GO NUTS Loma Linda University researchers tracking the lifestyle habits of 34,000 Seventh-Day Adventists (a population famous for its longevity), discovered that those who munched on two ounces of nuts almost daily lived on average almost three years longer.
8 PERK UP Numerous studies have linked coffee drinking (often 2-3 cups per day) with a positive impact on diabetes, heart attacks and strokes—and even Parkinson's and Alzheimer's.
9 STAND UP FOR YOURSELF Whether in front of the TV, computer or anywhere, sitting for long periods at work or at home can be almost as risky as smoking or being obese, particularly for your heart. Dr. James Levine, a professor at the Mayo Clinic, suggests that even sitting for an hour straight is sitting too long.
10 THINK POSITIVE A Yale University study of older adults showed that those with a positive outlook on aging lived about seven years longer than those with less optimism.
Dr. Kevin Lukenda, who chairs the Family Medicine Department at Trinitas, also believes in keeping things simple. He advises his patients to live by the following 10 rules:
1 Reduce stress by not taking anything too seriously.
2 Set aside quality time with friends and family; share your feelings, thoughts and fears with them.
3 Do something selfish and productive for 15 minutes every day.
3a Do something selfish and productive for one hour once a week.
4 Read a book, magazine, newspaper—anything.
5 Do nothing to the extreme.
6 Keep your carbs to a minimum.
7 Get enough sleep!
8 Life is hard—be a strong person rather than asking for an easier life.
9 Take walks.
10 See your family doctor as needed. Regardless of which (or whose) nuggets of wisdom you follow, the good news is that you have a lot of interesting and attainable options. Still better news is that some of them you might even enjoy! The best news? All of these not only add up to living longer. They add up to living better.
Editor's Note: Log onto edgemagonline.com for six more ambitious ways to improve and extend your life.