"The world has changed over the last 10 years. Automotive technology has changed along with it."
Jim Sawyer
How cool would it be to walk into a car dealership and see something truly revolutionary—an out-of-this-world technology so new that no one had even thought of it a year ago? Well, revolutions don't happen overnight, at least not in the automotive industry. Improvements in in-car technology tend to be incremental. And thank goodness for that. We are consumers,  not crash-test dummies—we want all the kinks worked out of the new cars we buy before we drive them off the lot, and are willing to wait until they are more or less perfected.
Which is why great leaps forward are few and far between. However…if you take what I like to call the "Rip van Winkle" approach and assess improvements in performance, safety, and design in decade-long chunks, the last 10 years (2009 to 2019) have offered plenty to get excited about. Of course, being human, we now take most of them for granted, but they are well worth appreciating.
Just Around the Corner
Vehicle-to-vehicle networking.  Right now, if the car ahead of you senses an obstacle or impending accident, its sensors can give the driver an extra split-second to react. You, on the other hand—in the "third car"—are out of luck. The future of connectivity will give your car (and others in close proximity) the same warning at the same time.
"This is going to be a big deal," predicts DCH Audi General Manager Al Kouri, adding that networking technology will also be a game-changer in the development of fully autonomous vehicles.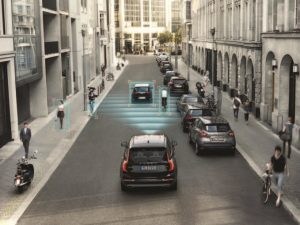 The fact is that 2009 was a big year for auto tech. Many of the now "standard" features on 2019 vehicles were just finding their way into showrooms back then. Among the groundbreaking bells and whistles were rear-mounted radar that could detect oncoming traffic when a car shifted into reverse, as well as portable routers that turned vehicles into Wi-Fi hotspots. Live GPS vehicle tracking (for paranoid parents or vigilant business owners) also became widely available. And smaller, lighter turbocharged engines could be found in cars across the MSRP spectrum, boosting power and efficiency—a huge game-changer.
The 2010's saw a number of other noteworthy changes and improvements, some of which are everywhere now, some which are not and, a few (like sophisticated back-up cameras) that became mandatory in all new cars. In 2010, for instance, Volvo introduced a crash- avoidance system that sensed pedestrians, cyclists and other urban hazards, which it dubbed City Safety. This technology, which has become more important in new cars as more and more people step off curbs while glued to their smartphones, will be a key part of making driverless cars a reality. An autonomous vehicle can do a lot of things, but can it ever replace a human driver who can read and react to what a cyclist or pedestrian or loose pet might do? We shall see.
"Pre-sensing technology has been the most significant improvement," confirms Al Khouri, General Manager of DCH Millburn Audi in Maplewood. "Safety features used to be about protecting passengers in an accident. Vehicles now assist the driver in avoiding that accident. This has changed the conversations we have in the showroom. It used to be that people wanted to feel how a car drove and handled. Now they want to know all about safety technology. These questions were rarely asked a decade ago. Consumers have done their research and are well-informed."
Given that car design and technology usually reflect trends in the wider world, it should come as no surprise that many of the game-changing technologies we've seen over the last decade are related to our love of electronics. Indeed, the headline news in the auto industry seemed to come from the Consumer Electronics Show every winter. Lasers, sensors, satellite receivers, display screens, sophisticated driver-assist functions, connectivity and more apps than can fit on a smartphone combined to enhance the in-car experience for drivers and passengers.
At the beginning of the decade, the automotive green revolution got important boosts from a couple of noteworthy cars: the Tesla Roadster and Ford Fusion Hybrid (pictured on the previous page). The Tesla was the first truly heart-pounding electric super-vehicle (in that it looked more like a sexy sports car than an appliance on wheels). The Fusion, which hit the road at about the same time, targeted a different segment of the market with the look of an everyday sedan but with the efficiency of a hybrid. Together, these two cars pushed other companies to up their games and convinced a lot of reluctant consumers to consider an environmentally friendlier option when it was time for their next new car.
Do they qualify as great leaps forward? That depends on your definition of great or, perhaps, your definition of leap. The term "Great Leap Forward" was famously adopted by the People's  Republic of China in the late-1950s to describe an ambitious plan to move from an agrarian to an industrialized society. It turned out to be an economic demolition derby—it was an utter catastrophe. So how ironic that, when car industry experts look back at 2019 years from now, a legitimate great leap forward may have come from China's neighbor, Taiwan. Last spring, engineering researchers at National Qinghua University announced that they had found a way to potentially double the efficiency of the alkaline fuel cells used to power electric vehicles while reducing manufacturing costs by as much as 90%.
That, my friends, would be a great leap forward!
Near Future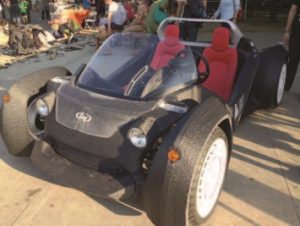 3-D Printed Cars. Not the whole car, of course,  just the parts that make people ooh and aah. Pick your engine and your options, and then go crazy designing the car of your dreams. The functional technology exists already, however, the cost is still prohibitive. But man, just think of the wild stuff we'll be seeing on the road. The fringe benefit of this technology is that the same 3-D printers will also be able to create parts on demand, drastically reducing repair costs and doing the environment a solid.
Not So Distant Future
Fully autonomous driving should be a reality. Not only will all the kinks be worked out of the technology, but so will various legal issues and (hopefully) any unintended social or cultural consequences. What unintended consequences? Well, in a city like New York, where traffic is bad and parking hideously expensive, self-driving cars might potentially worsen congestion. Why park for $50 during a one-hour meeting or meal when you could "tell" your car to just circle the block? And if the city outlaws this practice, how do cops stop and ticket a driverless car? Interesting, right? Undoubtedly, technology will address this problem, but it won't happen overnight, as we've been led to believe.
Not In Your Lifetime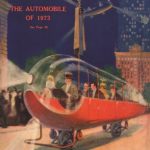 Flying cars. Well, 1973 came and went, didn't it? So here's the deal: You might finally get that long-awaited personal jetpack, but automobiles will remain earthbound. Yes, it's fun to imagine hovering over the potholes on Rte. 22 on your way to and from work, but no one wants to be in a Rte. 22 fender- bender "at altitude"—or, especially, be driving underneath one!