by Andrea Clurfeld
"Cucharamama is the image of its chef-owner: visionary, scholarly, driven to educate."
Before there were more chefs than size-2 starlets on TV, there was Maricel E. Presilla, doctor of medieval Spanish history, making her students at Rutgers late to their next classes by feeding them irresistible snippets from the Latin world's diverse culinary cultures. Dr. Presilla's lectures were like tapas: bites that whet the appetite for more. She'd pluck them from her vast pantry of knowledge and drop them into the topics of the day, effectively setting the table for the bounty of Latin cuisines soon to come in New Jersey. Her students circa the 1980s and '90s are her "students" now. But Dr. Presilla's classroom today is a restaurant kitchen—two, specifically, and both in Hoboken: the Pan Latin Zafra, born in 2000, and the high-style South American Cucharamama, 2004. (There's also an atelier-cum-store exploring and selling Latin American provisions, Ultramarinos, opened in 2010.)
The professor is a chef, but still a scholar, still a visionary, still a teacher at heart. She is, arguably, the most respected Latin chef in America, the winner of the 2012 James Beard Award for Best Chef in the Mid-Atlantic for her work at Cucharamama. Just as her body of work transcended her classroom at Rutgers, so has her culinary expertise transcended her restaurants' kitchens by way of critically acclaimed cookery books, articles in magazines and keynotes at conferences where all manner of intelligentsia convene. Maricel Presilla even has cooked at the White House. On this night, Presilla's Cucharamama is the center of the culinary universe for me. I first was here in the spring of 2004, a week before Cucharamama officially opened its doors, to see the wood-fired oven Presilla was using to cook chicken, suckling pig, lamb, breads, peppers and arepas, the massive jars of marinating olives and escabeche of eggplant, and the rustic tools such as the batan, a grinding stone from the Andes her crew employed to muddle spices.
The corner storefront in Hoboken had been transformed into another world, one where respect for South America's as-yet-unheralded cuisines reigned. That's still the way at Cucharamama—which means "mother spoon"—and I find decades worth of periodic conversations with Presilla, as professor, as author, as chef, weaving through my mind as I dig into dishes I've both had before and am trying for the first time. There's octopus, more tender than a strong sea creature deserves to be, awash in a smoky, rather fruity panca pepper sauce balanced by the salinity of black olives. There's calamari done Peruvian style, its crunchy crust giving way to silky squid sprayed with a tangy, faintly heat-licked tamarind-rocoto chile sauce.
There are nuggets of chicken, coated in nutty, crackling quinoa, mouthfuls that would be pleasing to any child who tries them. Cucharamama's soups are legend, and I'm reminded why as the Ecuadorian creamy corn soup blended with plantains and studded with shrimp rolls over my tongue. Ah! And there are little plantain-filled empanadas on the side! Reverie. The white bean and tomato soup, pureed to an ultra-thick creaminess and served with my all-time favorite cabrales-onion empanadas, re-focuses and soothes as those wood-fired savory pastries set me on a mission: I need to figure out the exact proportion of that Spanish blue cheese to sweet onion confit in time for my next dinner party. However, Presilla's arepas, those addictive South American corn cakes that here are blistered beautifully in the wood-fired oven, are menu items I never could hope to duplicate. These days, they're given dollops of salmon roe and Venezuelan crème fraiche, a true step above the Mexican crema I score every time I stop in at my favorite bodega. That smoky-fruity flavor of panca chilies comes through loud and clear in another dish cooked in the wood-driven oven—shrimp, deftly roasted in the sultry panca sauce.
Don't miss whatever ceviche Presilla has on tap. On this night, there's a veritable aquarium of shellfish and finfish sitting in a soupy broth of tomato and citrus, a tribute to Ecuador sprinkled with chopped peanuts and crisp plantain chips. I like this better than the somewhat wan shrimp and palmito salad, which lacks the personality and passion of much of the rest of the menu. But the tamals? Always soulful, particularly so with thick shreds of longbraised duck hop-scotching with skinny, apricot-y mirasol peppers atop that grainy, gutsy corn tamal. Ever since Presilla described for me the lengths she went to procure just the right ingredients to make a bitter orange mojo for her wood-oven-roasted chicken, I've not been able to leave Cucharamama without ordering it. Perfection—it's perfection, this young, juicy half-a-bird,half-a-bird, basted with the garlicky, sour-orange glaze and served  with a high-octane, spiced-up potato puree that leaves all those butter-dominated incarnations of spud in the dust.
There are more potatoes to love, including those plied with a musky cheese-tomato sauce and accompanying the Argentinean chimichurri'd skirt steak. Once upon another time at Cucharamama, I wasn't all that keen on the cannelloni filled with creamy spinach and walnuts, topped with a pair of intersecting sauces—a white number sporting riffs of manchego and parmigianoreggiano and a red of tomatoes warmed with, I suspect, a pinch of baking spices. This time, I was charmed, because the filling, not the sauces, took center stage. The grand dame of desserts here is the Argentinean millefeuille, a many, many, many layered confection of super thin puff pastry with dulce de leche, walnuts and a meringue spiked with malbec. It's almost frightening when it's presented, this elegant, yet seriously over-sized wedge, but it's also intrinsically light. Order it alongside the wispy apple crepe or the Amazonian sorbet sundae ripe with tropical fruits, acai and, in season, suriname cherries, and share, definitely share. The only quibble I have with Cucharamama 2012 is the wine list. While it's admirably and correctly focused on South America and Spain, it's short and outdated. There's more variety and many more quality producers available in the American market than when the restaurant opened in 2004. The list doesn't reflect that, and it should. But in every other way, Cucharamama is the image of its chef-owner: visionary, scholarly, driven to educate. As Presilla once happily told me, "My former (Rutgers) students are coming here! I feel like I'm living history now." And making it, as well.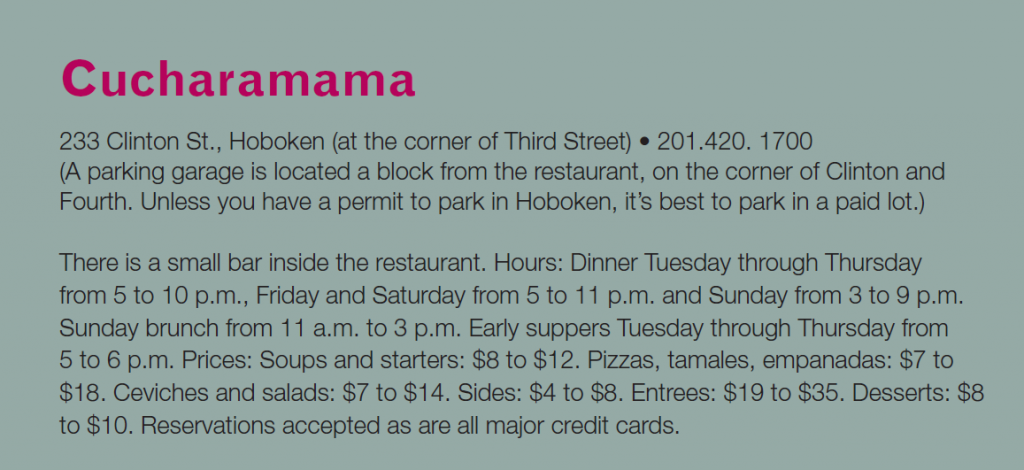 Editor's Note: Andy Clurfield is a former editor of Zagat New Jersey. The longtime food critic for the Asbury Park Press also has been published in Gourmet, Saveur and Town & Country, and on epicurious.com.